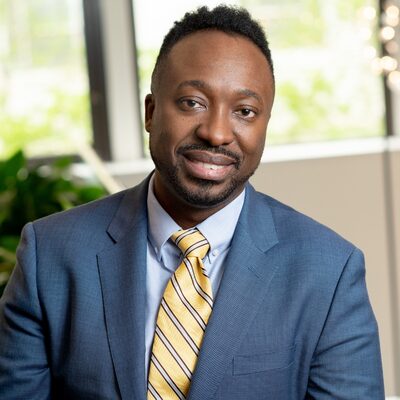 Chief of Staff
Elevate
"I became an architect because I thought things needed to be pretty," said Malik Benjamin, chief of staff at Elevate. "It took a path through economic development to realize that stabilizing communities has to happen from the inside out, not the outside in."
Elevate is a multistate nonprofit that provides affordable and clean heat, energy and water solutions to communities in need. Elevate seeks to address the history of resource extraction and pollution by the utility sector in communities of color through services such as replacing heating systems that use fossil fuels with electric alternatives and helping execute solar energy projects on neighborhood, city, county, regional and statewide scales.
"We focus on the facilities and infrastructure that make it possible for nonprofits, families and communities to thrive," he said.
Benjamin is focused on a triple bottom line:
training young people of color who have traditionally been underserved or left out of the clean energy economy, including people with juvenile or criminal records and people who have aged out of foster care;
providing new technology and affordable power to young families; and
financing construction businesses led by young builders.
"Children and families are both an opportunity and a lever," he said. "In particular, workforce development programs — in energy efficiency and solar energy jobs — improve the lives of participants while lifting up others with them. By improving the lives of young people, we can improve entire communities."