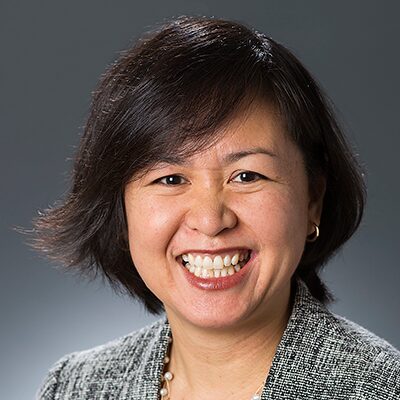 Vice President, Chief Investment Officer
The Casey Foundation's mission to ensure all children have the opportunity to succeed has special significance for May Ng. Growing up in a working class immigrant family, she says she was fortunate to have parents who were committed to see their children have a better life and teachers who helped guide her toward opportunities to excel in school. "Every child deserves that same chance," notes Ng. As a vice president and chief investment officer, she manages a $2.7 billion diversified investment portfolio. Her goal is to grow the Foundation's endowment in a sustainable way and maximize the resources available to support Casey's mission and programs.
A graduate of Williams College with a master's in public affairs from Princeton University's Woodrow Wilson School of Public and International Affairs, Ng served in the Peace Corps in Thailand for two years and later worked in seven different countries as a management consultant for the Monitor Company, helping companies to take advantage of growth opportunities. In her travels, she found "a lot of similarities in terms of looking at the roots of poverty and inequality and the role of strong families, communities and institutions in helping people to change their lives and futures."
Prior to joining Casey, Ng was a senior investment officer at George Washington University. In that role, she researched, sourced and implemented new investments globally and across all asset classes for the university's endowment. Previously, she worked in the corporate development group at Freddie Mac, and served as director of knowledge and product development at the United Way of America as part of a "career sabbatical" to explore her interest in the nonprofit sector.
Ng, a mother of two young children who first joined the Casey Foundation in 2013 as director of public market investments, has found her niche. "It's intellectually stimulating work that I just relish, and I consider it a privilege to be able to use my skills in a way that ultimately improves the lives of vulnerable children and their families."