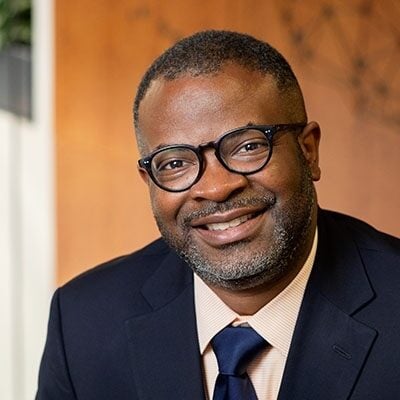 Director
Ewing Marion Kauffman Foundation
When Sherman Whites was a manager at Target Corporation, he worked with a large team of people, many of whom were not formally educated beyond 12th grade.
"So many of my colleagues were talented but had dropped out of school because of teen pregnancy or postponed college due to financial struggles," he said. "I witnessed many lost opportunities for people to reach their full career potential."
That experience led him to pursue a career in educational opportunity. After spending over a decade in philanthropy, Whites is passionate about providing multiple pathways to improve the life outcomes of the next generation as a director at Ewing Marion Kauffman Foundation.
"I am excited about the organizations that serve as support systems to K–12 districts, from community-led parent advocacy groups to talent pipeline programs," he said.
Whites is also interested in helping to rewrite the rules of philanthropy, shifting it away from making the minimal investments required by law toward catalytic, sustainable change.
"Influencing how investment strategy is formed, how dollars are deployed and how beneficiaries are engaged is critical to overlaying a lens of equity onto our work," he said. "I'm excited to leverage my eclectic set of experiences to lead system-level change."