1 in 5 Kids in America Speaks A Second Language at Home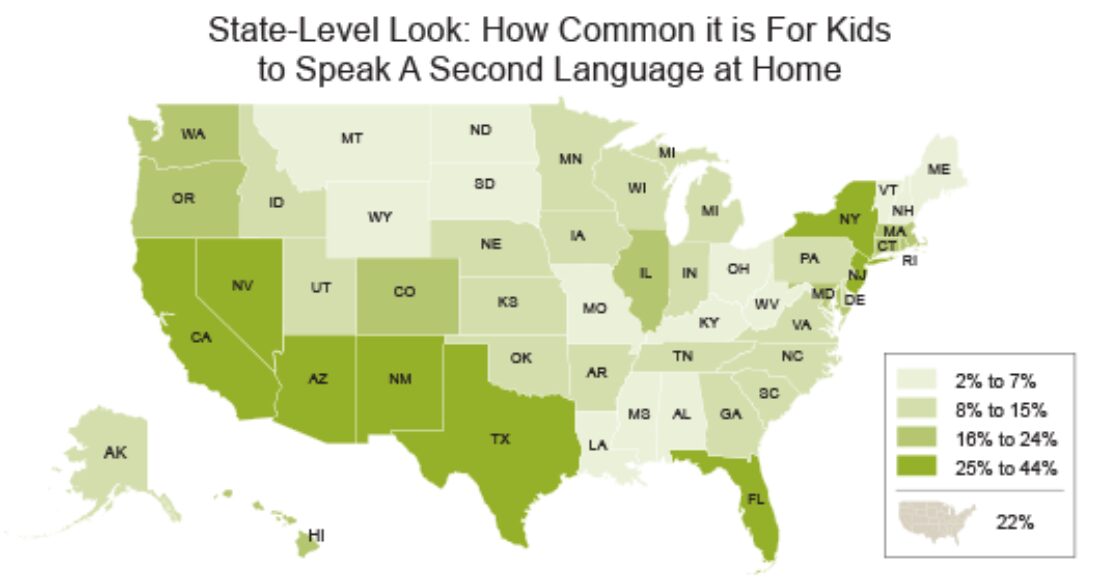 Being mul­ti-lin­gual is an asset in today's glob­al econ­o­my — and it's a skill worth sup­port­ing and devel­op­ing, accord­ing to experts.
In Amer­i­ca, 12 mil­lion kids speak a lan­guage oth­er than Eng­lish at home. This fig­ure rep­re­sents 22% of the child pop­u­la­tion — a rate that varies great­ly by state.
For instance, kids are more like­ly to speak a lan­guage oth­er than Eng­lish in the bor­der states of Cal­i­for­nia (44%), Texas (36%) New Mex­i­co (33%) and Neva­da (also 33%).
Kids are least like­ly to speak a sec­ond lan­guage at home in West Vir­ginia (2%) and Mon­tana (3%), as well as in Mis­sis­sip­pi, Maine and North Dako­ta (all 4%).
Explore more fam­i­ly and com­mu­ni­ty sta­tis­tics — at the state and nation­al lev­el — in the KIDS COUNT Data Center.
This post is related to: