Asian Americans United Provides Safe Haven for Philadelphia Youth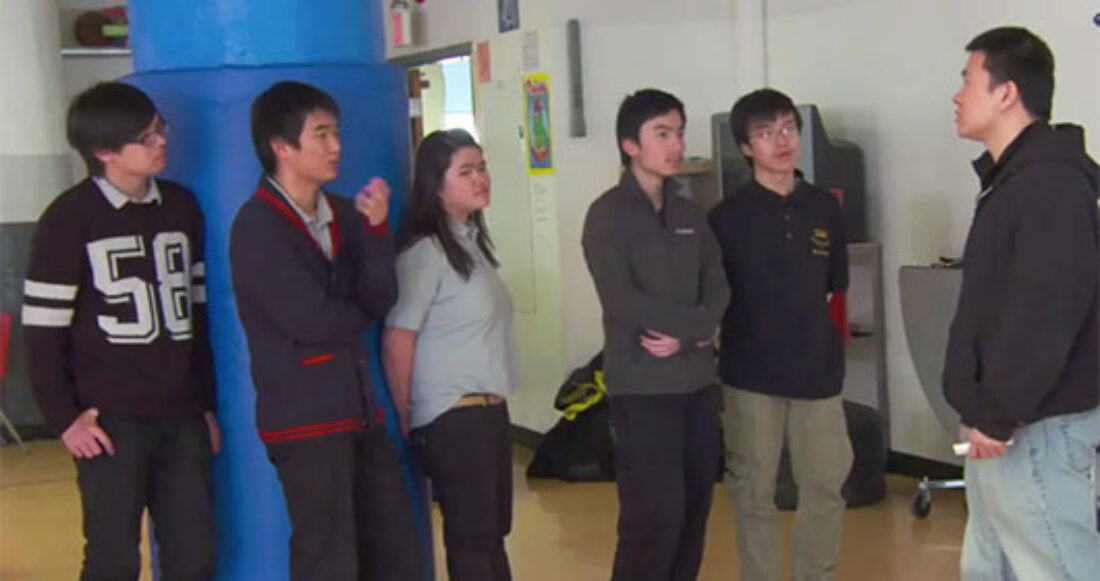 Asian Amer­i­cans are the fastest-grow­ing eth­nic group in the coun­try. The Foundation's Race for Results report notes that chil­dren of Asian her­itage in the Unit­ed States make up about 5% of the total pop­u­la­tion of chil­dren, and that, over­all, Asian Amer­i­cans do rel­a­tive­ly well com­pared to oth­er non-white groups. In fact they often index high­er than white kids.
For our report­ing we went to Philadel­phia, which has a very diverse Asian pop­u­la­tion — from Cam­bo­di­ans and Bhutanese to Chi­nese and Kore­ans — many of them recent immi­grants or refugees. But con­trary to the ​"mod­el minor­i­ty" myth, we dis­cov­ered that Asian Amer­i­cans are not uni­ver­sal­ly well edu­cat­ed — South­east Asians in Philly, for exam­ple, have rates of edu­ca­tion­al attain­ment sim­i­lar to those of African Amer­i­cans and Lati­nos and the num­ber of unem­ployed Asian Amer­i­cans in Philly has quadru­pled between 2007 to 2011. Dur­ing this same peri­od the num­ber of Asian Amer­i­cans liv­ing below the pover­ty line grew 52% in Philadelphia.
There are stark dif­fer­ences between Asians born in the U.S. and immi­grant fam­i­lies: 59% of U.S.–born Asian fourth graders were read­ing pro­fi­cient and 65% of eighth graders were math pro­fi­cient; among recent Asian immi­grants, those num­bers were only 15% in read­ing and 20% in math. Clear­ly, the degree to which young peo­ple are pro­fi­cient in these skills has a major impact on their abil­i­ty to find good pay­ing jobs and careers. The chil­dren of Philadephia's recent Asian immi­grants often have dif­fi­cul­ties com­mu­ni­cat­ing in Eng­lish that lim­it their abil­i­ty to access job oppor­tu­ni­ties. These kids often expe­ri­ence pres­sure to work while in school to sup­ple­ment fam­i­ly incomes, and suf­fer a lack of sup­port sys­tems that rec­og­nize their cul­tur­al and lin­guis­tic barriers.
We con­nect­ed with a non­prof­it group in Philadel­phia, Asian Amer­i­cans Unit­ed, which is mak­ing great strides address­ing these prob­lems. AAU's Helen Gym told us how they group was formed in 1985 to real­ly address issues of jus­tice. ​"We fought around afford­able hous­ing, police bru­tal­i­ty issues and edu­ca­tion­al jus­tice." The group respond­ed to a lack of bilin­gual edu­ca­tion in Philly's pub­lic schools — and by ris­ing rates of anti-Asian vio­lence there — by form­ing their own char­ter school, where they also hold after-school pro­grams for kids attend­ing city schools.
We filmed a meet­ing of their Com­mu­ni­ty Youth Lead­er­ship Project, com­posed of recent Chi­nese immi­grant kids, many of whom are employed in fam­i­ly-run restau­rants whose jobs involve long hours. Tenth grade Ming­hang Chen describes work­ing ​'til mid­night after school sev­er­al times a week. ​"It's not real­ly a job — it's more I'm help­ing my par­ents, but I don't want to depend on them, I don't want their mon­ey — I want to learn skills to work out­side my own job." Because his par­ents nev­er went to school in Amer­i­ca, hav­ing emi­grat­ed from Chi­na, ​"they absolute­ly don't under­stand me, or the hard­ship of learn­ing Eng­lish." He speaks mov­ing­ly about being ridiculed for his accent and feel­ing an out­sider at school.
Viet­namese-born junior Van Sam began to cry when talk­ing about how, in her home coun­try, she was ​"real­ly out­go­ing and fun­ny, but here I shut down," self-con­scious about her accent. She's also is very emo­tion­al about the grow­ing cul­ture gap between her­self and her par­ents: ​"My father came here twen­ty years ago and he still doesn't speak Eng­lish. He goes to work in a fac­to­ry at five AM and doesn't return ​'til sev­en at night — com­plete­ly iso­lat­ed from life in Amer­i­ca, real­ly… He's lone­ly, and doesn't under­stand my life at all." She tear­ful­ly admit­ted, ​"I feel I can't do any­thing for him."
Van's friend Angela Zeng Spoke of the guilt imposed on her by her par­ents, who were dis­ap­point­ed when her grades laps­es: ​"They get upset — they say ​'my life in Chi­na was good, but we came here for your edu­ca­tion'… and make me feel like I'm not liv­ing up their high expectations."
AAU is there to pro­vide a safe place where youth can come build self-con­fi­dence, improve their job and lan­guage skills — and hold on to their native cul­ture. ​"AAU is a place where I can share my feel­ings," says Angela, ​"with oth­er kids fac­ing sim­i­lar chal­lenges. Peo­ple are there to sup­port you, and I feel like I'm grow­ing a lot." Most impor­tant­ly, from AAU's per­spec­tive, the pro­gram is help­ing form future com­mu­ni­ty lead­ers. As Van Sam told us, ​"There are so many things that need to be fixed. If we don't speak up, no one will fix it for us."
This blog post and accom­pa­ny­ing video were pro­duced by Starfish Media Group and jour­nal­ist Soledad O'Brien.
This post is related to: