Breaking the Cycle of Poverty by Helping Kids and Their Parents Succeed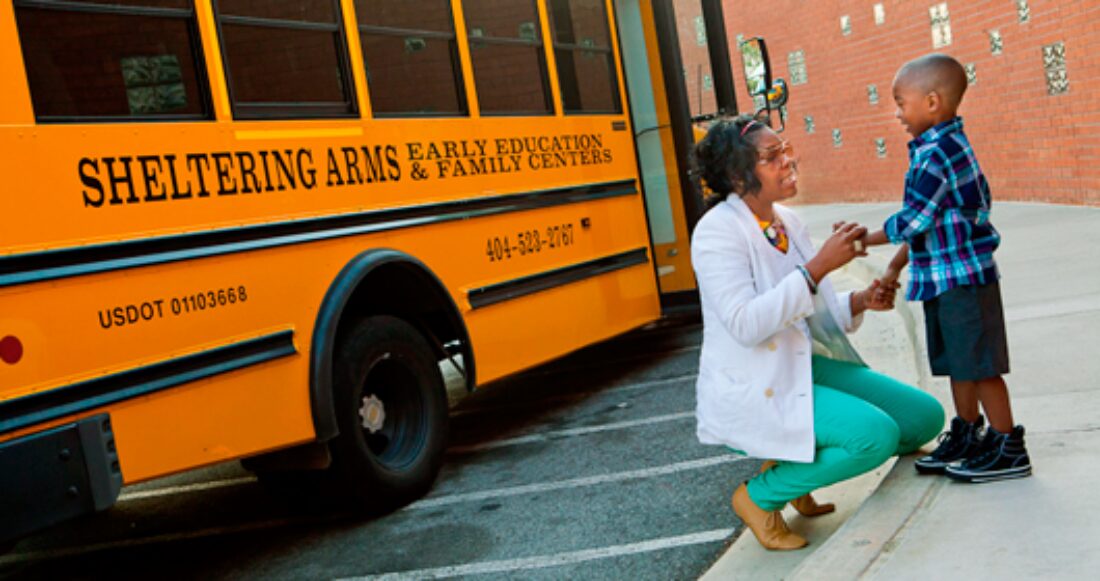 Children's suc­cess in school is close­ly tied to their par­ents' abil­i­ty to pro­vide for them emo­tion­al­ly and eco­nom­i­cal­ly. For the past sev­er­al years, the Cen­ter for Work­ing Fam­i­lies Inc., Edu­care Atlanta and Dun­bar Ele­men­tary School have been tak­ing advan­tage of their prox­im­i­ty — and the fact that they serve some of the same fam­i­lies — to help kids and their par­ents suc­ceed togeth­er. This coor­di­nat­ed approach empha­sizes three core com­po­nents: employ­ment and train­ing; high-qual­i­ty ear­ly child care and ele­men­tary edu­ca­tion; and increas­ing par­ents' involve­ment in their children's edu­ca­tion, as well as their abil­i­ty to sup­port their kids' healthy development.
This approach has already seen some suc­cess: In the first two years after Edu­care Atlanta opened in 2012, the Cen­ter for Work­ing Fam­i­lies saw a 33 per­cent rise in employ­ment and an aver­age week­ly wage increase of $35 among the Edu­care Atlanta par­ents using cen­ter-pro­vid­ed child care sub­si­dies. The chil­dren of those par­ents out­per­formed their peers in read­ing when they moved into kindergarten.
Despite those acc­com­plish­ments, both enti­ties rec­og­nized the need for fur­ther col­lab­o­ra­tion so that the 126 fam­i­lies they serve could achieve even greater results. This year, they have tak­en a num­ber of steps to bet­ter align their efforts. Lead­ers and front­line staff from the cen­ter and Edu­care Atlanta have par­tic­i­pat­ed in mul­ti­ple train­ing ses­sions that have allowed them to build rela­tion­ships with one anoth­er, bet­ter under­stand the roles each of them plays in sup­port­ing fam­i­lies and stream­line their process­es for enroll­ment and ser­vice deliv­ery. And in their joint bian­nu­al meet­ings with fam­i­lies, cen­ter and Edu­care Atlanta staff now use a new tool called the Atlanta Bridge to help them ass­es, togeth­er, where a fam­i­ly is in terms of sta­bil­i­ty, well-being, edu­ca­tion and train­ing, employ­ment and finan­cial man­age­ment — and iden­ti­fy goals for each area. Edu­care Atlanta has also com­mit­ted to using the same data man­age­ment sys­tem as the cen­ter to fur­ther facil­i­tate com­mu­ni­ca­tion about the fam­i­lies they both serve.
As some of the first Edu­care Atlanta chil­dren are now in ele­men­tary school, the part­ners have extend­ed their net­work to include Dun­bar Ele­men­tary, which togeth­er with Edu­care Atlanta makes up the Dun­bar Learn­ing Com­plex. Edu­care Atlanta and Dun­bar Ele­men­tary are align­ing their edu­ca­tion­al pro­grams to keep their kids on track to be pro­fi­cient read­ers by the end of third grade. The ele­men­tary school's involve­ment in the part­ner­ship also helps ensure par­ents con­tin­ue mak­ing progress as their kids grow.
This post is related to: