Carla Javits is Focused on Jobs (Millions of Them)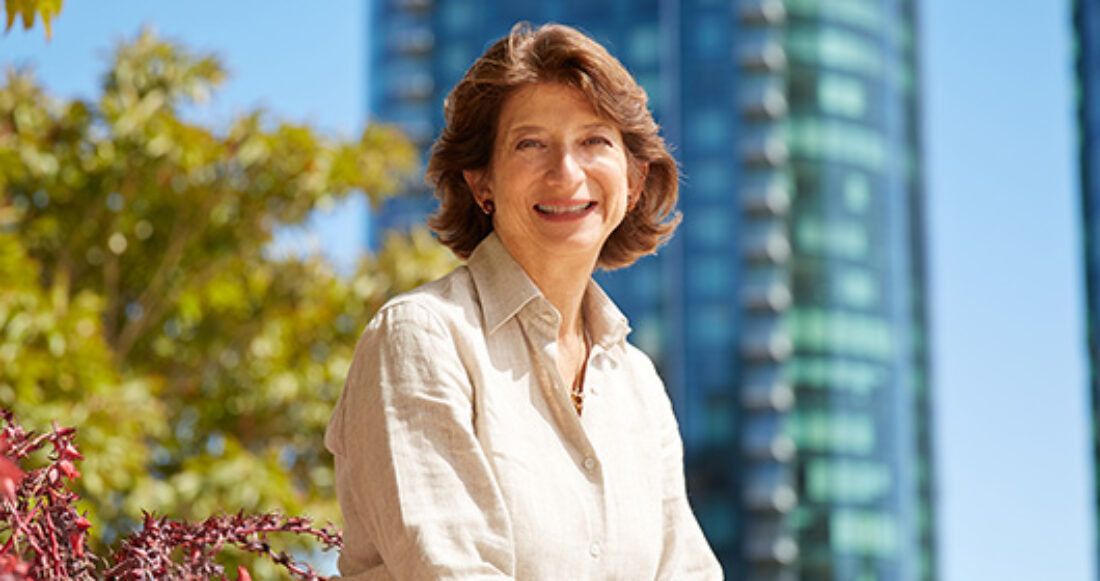 Mil­lions of Amer­i­cans strug­gle to find work because of their his­to­ry with home­less­ness, incar­cer­a­tion, behav­ioral health issues, sub­stance use or inad­e­quate education.
REDF is here to help.
REDF is the nation's only ven­ture phil­an­thropy invest­ing exclu­sive­ly in social enter­pris­es that help Amer­i­can work­ers get — and keep — jobs.
The organization's pres­i­dent and CEO, Car­la Jav­its, recent­ly spoke to Casey's Lisa Hamil­ton about REDF's mis­sion and impact. Their con­ver­sa­tion explores — among oth­er points — how the tra­di­tion­al work­force sys­tem fails to address seri­ous employ­ment bar­ri­ers and how social enter­pris­es can step in to help.
A huge thank you to Jav­its for shar­ing her thoughts and for her con­tin­ued work help­ing vul­ner­a­ble employ­ees — and the orga­ni­za­tions that sup­port them — succeed.
Find Cas­ey­Cast on Your Favorite Pod­cast Service
What You'll Learn in This Episode
About

REDF

.
What the term social enter­prise means.
What role social enter­prise plays in the broad­er land­scape of work­force development.
Some key chal­lenges fac­ing America's workers.
How

REDF

is expand­ing nationally.
Links and Show Notes
Con­ver­sa­tion Clips
In Car­la Javits's own words…
"The tra­di­tion­al work­force sys­tem was not real­ly set up to address these most seri­ous employ­ment barriers."
"Unlike tra­di­tion­al busi­ness­es, social enter­pris­es are tak­ing their prof­its and they're invest­ing them in help­ing peo­ple get a job and build the skills so they can stay in the work­force over the long haul."
"Just the size and scale of the need is great… This can lit­er­al­ly be a life and death issue for people."
"We real­ly need to see employ­ers will­ing to invest in the man­age­ment prac­tices and the train­ing and to have con­sid­er­a­tion around fam­i­ly-sus­tain­ing wages and work­ing con­di­tions to help peo­ple be suc­cess­ful at the front-lines."
About the Podcast
Cas­ey­Cast is a month­ly pod­cast pro­duced by the Annie E. Casey Foun­da­tion and host­ed by its exec­u­tive vice pres­i­dent and chief pro­gram offi­cer, Lisa Hamil­ton. Each episode fea­tures Hamil­ton talk­ing with a new expert about how we can build a brighter future for kids, fam­i­lies and communities.
Enjoy the Episode?
We sure hope so! Go to Apple Pod­casts to sub­scribe to the series or leave a rat­ing or review.
Lisa Hamilton:
Too many adults and young people lack the skills or training they need to get jobs that pay a family-supporting income. This means that their children are more likely to grow up in poverty, which can have a huge impact on their development. That's why the Casey Foundation invests in solutions that expand access to education, jobs, and careers for young people and working families.
Today, I'm thrilled to discuss the field of social enterprise, an innovative approach that works to build successful businesses that focus on employment programs as well as profits. Joining me for this conversation is Carla Javits, the President and CEO of RED-F, a California-based venture philanthropy that focuses on building social enterprises. Under Carla's leadership, REDF has expanded beyond its Bay Area home in recent years to now serve tens of thousands more people across the nation. To help grow their network, REDF has been awarded two prestigious federal Social Innovation Fund grants by the Corporation for National and Community Service. Welcome to the podcast, Carla.
Carla Javits:
Thank you so much for having me.
Lisa Hamilton:
Well, why don't we start by explaining a couple of terms for our listeners. REDF has been described as a venture philanthropy. Why don't you explain to us what venture philanthropy is.
Carla Javits:
I'd be glad to do that. Really, this is a way to adapt a business investment approach that many people know about, that venture capital might use, or private equity, but instead of in the profit-making sphere, to bring that to the mission-driven investing arena. Most important is the focus on results, so we set out very clearly, with the organizations we work with, what's to be accomplished. We measure progress, and adapt the strategy and the investments in light of the results that were achieved.
Venture philanthropy means that we carefully vet the organizations that might get the investment to make sure the leadership, the strategy, are lined up with achieving those projected results, that we invest kind of flexible financial resources that are dedicated, again, to achieving those results, and that we deliver kind of hands on advisory services that are dedicated to supporting the organization's achievement of both the financial and social objectives. And, maybe more from the seat of the funder, in our case, also managing our whole portfolio so we can maximize the results that we achieve. That's really how we define venture philanthropy.
Lisa Hamilton:
You're doing this in the area of social enterprise. Explain to us what social enterprise is.
Carla Javits:
Yes. It's a term of art, not a dictionary definition, but here's how we look at it. Like a traditional business, social enterprises sell quality products and services to the market. They have to deliver with quality at the right price point and be able to fill a real niche in the marketplace. But unlike traditional businesses, social enterprises are taking their profits and they're investing them in helping people get a job and build the skills so they can stay in the workforce over the long haul.
The people that are employed are men and women who are striving to overcome some very real challenges that might include histories of homelessness, incarceration, substance use, sometimes mental health issues, limited education. This includes young adults and older adults, many with either custodial or non-custodial children. Even though they're highly motivated to work, they might not come in the door fully prepared to succeed, and that's where the supportive management practices and the services that a social enterprise provides to the employees is so important.
It's probably important to remember, also, that running the business side of this isn't easy, because just relying on the social mission doesn't give them enough of a competitive advantage to win the customers that they need. They have to compete on price, quality, and service, but at the same time they're really focused on preparing their employees for a traditional job, with their best employees moving on. So, the people who run these social enterprises really have to be exceptional to run them really effectively.
Lisa Hamilton:
Are there concentrations of social enterprises in particular industries or do they span all kinds of businesses?
Carla Javits:
You know, the ones that we work with are in many different industries, and it really depends on the locale and where the market opportunities are, but in general, you're trying to create lots and lots of jobs for people who maybe don't have very advanced skill levels and a lot of work experience. So, it ranges from everything from landscaping services, outdoor sort of beautification types of services, screen printing, manufacturing, food service, recycling, electronic waste recycling, deconstruction of buildings, there's really a wide array of products and services that are delivered.
Lisa Hamilton:
Are they typically started as social enterprises, or are they other type, you know, a regular for-profit business that decides it wants to add a mission focus to their work?
Carla Javits:
Yeah, that's a great question. What we've seen generally is that this is largely either not-for-profits or for-profit entrepreneurs, who get interested in adding something to their repertoire, especially for the non-profits. Maybe they provide affordable housing, or they've been providing some sort of workforce training but they've become frustrated that the people that they're working with are not doing as well as they'd like to see, getting jobs and keeping jobs, so they might start a social enterprise. Or a younger entrepreneur, who maybe comes from a community where people experience these very same challenges, decides they want to start a business, but they want to start a business with this social mission of really preparing people to join the workforce.
On the nonprofit side, we see it's a mix. Sometimes just an organization that starts up purely to run a social enterprise, sometimes they're doing other kinds of support services or things, again, like housing, and then they decide they want to add kind of a line of business to that.
Lisa Hamilton:
You said these businesses take their profits and use them to help build the workforce, build the skills of the people who are employed there.
Carla Javits:
Right.
Lisa Hamilton:
Talk a bit about how a social enterprise fits into the larger context of workforce development.
Carla Javits:
I'm glad to hear that question. Here's the reality. The traditional workforce system was not really set up to address these most serious employment barriers. I mean, really, over the years the funding and the benchmarks for these programs are really about people who had been working, and maybe their factory or where they had been working shuts down in the area. They need some retraining and then go back to work.
When those who have faced kind of greater challenges have been served by the workforce system, often what they get is maybe some help with their resume, or interview skills, kind of a brush-up, or sometimes maybe some in-classroom type skill building, but not really real, on-the-job opportunities, paid jobs in a supportive work environment that's meant to build their skills. That's not really what's been provided.
There's a new mandate from the Congress, when it reauthorized the Workforce Investment Opportunity Act, which is the big act that funds workforce programs all over the country, to try to emphasize a little bit more, people who face more serious challenges, and especially young adults who are disconnected from school and work. That mandate, if you will, from the Congress is just beginning to permeate at the state and local level now. It hasn't really fully been implemented, but you do see some really innovative workforce leaders in places I'd cite, especially like Los Angeles and San Diego, that are beginning now to invest in social enterprise as a way to better serve the workforce development needs of people who face greater challenges to getting into the workforce.
Lisa Hamilton:
Are they getting other types of education or certification or credentials in addition to this on-the-job training?
Carla Javits:
Many people do take advantage of other certifications and the opportunity to get additional education, and many of the social enterprises are focused both on building the essential skills that people need, and helping them gain some hard skills that the market values, but what I would say is that our role, and the role of these social enterprises, is really to help people get to the point that they're going to be successful in a regular company, and we're very deliberately working with the social enterprises to connect them with local businesses and bigger businesses that are interested in the well-being and the advancement of their employees.
I think, where the disconnect has been is a lot of the people that we're seeing get jobs in social enterprise maybe would have gotten a job, but unfortunately also would have quickly lost that job because they perhaps weren't fully prepared for it and instead, now they're able to keep the job and then take advantage of whatever training is provided by the employer, or made available more broadly in the community by community colleges or other training programs. We're really trying to set people up for success so that they're able to continue what, I think, in the current economic environment, frankly, is really a lifelong learning need in order to be really successful at work.
Lisa Hamilton:
What challenges do you see facing America's workers? You've talked about social enterprises connecting to those who might be harder to employ, or needing people to understand this lifelong learning process. What kinds of challenges do you see people having in trying to get and maintain jobs these days?
Carla Javits:
The biggest hill to climb is adequate wages, benefits, and working conditions that allow people to have a reasonable quality of life, and support to take care of their children and their families. And then, of course, just availability of jobs to those who face the challenges we just discussed. Employers who are willing to take a chance on people who maybe wouldn't have traditionally fit into their notion of who was going to be really well prepared for employment.
You know, on wages, I was just reading… I guess some of the economists are saying productivity recently has not been increasing as much as they've seen in the past, and that that's to some extent been holding back employer willingness to pay more. Minimum wage campaigns have started to shift wages a little bit, and frankly, there are several large corporations we've seen that have voluntarily started to adopt higher minimum wage standards across the board, and, and I think this is really important, look at working condition issues, like shift scheduling, that really matter to families. If you change your shift every week, it's very hard to have a stable family life, so some companies are starting to look at that.
I think, obviously, we know that in terms of availability of jobs for those who are entering the workforce, technology is having a big impact, like online shopping is having a huge impact on retail, environmental concerns are shutting down coal-fired energy plants, for example. That's really changing what jobs are available, especially for front-line workers, and I think the trends are likely to continue. But, when one door closes, another opens up. We don't know what the jobs of the future are going to be, but we need more emphasis on this, around thinking about entry into the workforce and advancement.
Something I think is most critical here, maybe a challenge that I think we could better address, is employer investments in their front-line workforce. We really need to see employers willing to invest in the management practices and the training and, of course, consideration around family-sustaining wages and working conditions to help people be successful at the front-lines. As I said earlier, I think lifelong learning, not just sort of one-time degree acquisition, is really going to be the watchword here.
Lisa Hamilton:
Sort of makes me wonder if regular companies are taking up some of the lessons from what you're learning.
Carla Javits:
Yeah. We have seen employers increasingly interested because, as the economy is heating up, they are really looking for well-prepared employees to come in at the front-line so that they can reduce their levels of turnover, and they're eager to better understand how to provide the kind of management and support in partnership with some of the community-based organizations that really help people to succeed on the job. We've certainly seen a lot more interest there, and I think social enterprise in that sense is a really wonderful example of how to provide support, and at the same time kind of deliver on the business results that are required.
Lisa Hamilton:
RED-F has primarily invested in its hometown of San Francisco, but you're now expanding your reach to Southern California and across the country. Why did you feel the need to scale so significantly? It sounds like there's interest across the board in your work.
Carla Javits:
Yeah, another great question. I mean, you know, look. First of all, just the size and scale of the need is great, and it's really urgent. I mean, this can literally be a life and death issue for people who you could imagine, like are exiting prison and have no job options and therefore might return to crime, or return to homelessness and life in the streets, which can put your life at peril.
A second reason why we wanted to expand is that we have data from a big study we did with Mathematica, a big research firm, that shows the powerful and positive results of this approach. So we saw, wow, this is something that really works. We haven't had a lot of things, and Mathematica noted this, that really have worked for people who face these sort of significant challenges, so we know that this is something that seems to be having real results. And we know that there are social enterprises increasingly across the US that are doing good work, and are hungry for the capital and the advisory services to accelerate their growth, and more kind of deeply impact the people who they're employing so that they really can go on and work and advance.
Lisa Hamilton:
How have you gone about doing this, and what's REDF's role in helping organizations do this work?
Carla Javits:
First of all, we worked closely with our board, of course, to consider the opportunity, what the possibility would be, and we established a new big goal with our board to help 25,000 people go to work by 2020 in social enterprises that we support directly with funding and direct advisory service, and 25,000 people employed through some of our other slightly more indirect efforts around public policy, partnerships, et cetera. So, a total of 50,000 employed by 2020. I think that's, first of all, very important. We set a big, audacious goal, and then lining up the work that we do in support of that goal.
The heart and soul of the work that REDF does is the funding and advising, as well as developing the data and the evidence of results and sharing that broadly to build a wider community that is capable of doing this work and supporting this work. Very specifically, first, we did a large-scale national competition that resulted in our big portfolio of 21 social enterprises. We tried to cluster these in communities where we saw there were lots of strong social enterprises, interest from the public sector and the private sector in both hiring and investing. A second thing we've done is provide smaller grants and advisory services to additional social enterprises around the country.
Then we started a new accelerator, and we also did a national competition for that, and we provided kind of a boot camp style leadership and business development program for smaller social enterprises that we thought had the possibility of significant growth. All of that meant that we touched about 60-plus social enterprises directly with money and advice in 2016, compared to maybe the seven or eight that we did prior to the launch of the strategy.
Then we decided to go deeper in some communities to create kind of public/private partnerships, again that could accelerate growth. We started that in LA with a program we call LA:RISE. Now, we're doing that in the Bay Area, and we're also looking at Seattle, Chicago, and some other places, where we'll just go a little deeper, both with the money and advisory service, but also trying to build the partnerships with government and the business community that will allow this to really grow farther, faster.
Lisa Hamilton:
You mentioned advisory services. Are you advising these social enterprises on both the workforce development side and the business side?
Carla Javits:
Yes, we do. Sometimes we find an entity that's running a really successful business, and it's growing and they can employ more people but they're really not yet delivering the quality of management and support services that allow the person to really get that strong foothold into the mainstream business community and advance. They need more help creating the right kinds of, sometimes trauma-informed care, because a lot of people who are coming into these jobs have experienced a lot of trauma in their lives, or other sorts of connections to the mainstream business community that really allow people to advance and to get those long-term jobs, so sort of the workforce development piece.
Other times, we find an organization that's tremendously strong on the trauma-informed care and the services and the support, but they're running a business that really could use sharpening up in terms of markets, product, service, business planning, et cetera, and so we concentrate our advisory service there. We do provide, as you said, that full spectrum of service, but we target it kind of where it's needed most, depending on the organization we're helping.
Lisa Hamilton:
Fantastic. Well, you have quite an ambitious goal ahead of you. In business, return for investment is often the measure of success. How are you all defining and measuring the success for your efforts?
Carla Javits:
First of all, we have our big goal, so we're counting. We want to see that a certain number of people get employed, so we want that. In terms of the people who are employed, social return on investment has really been our hallmark, and we focused on a combination of social and financial results. We want, obviously, the people who are employed to get jobs and move on, and we want the social enterprises to be sustainable and at least cover their business costs with their revenue.
And then, we actually had Mathematica measure social return on investment, and we found that for every dollar spent by a social enterprise, there's $2.23 in returns to all of us, to society, because the social enterprises are earning revenue that offsets what would otherwise be public costs to support the social service intervention, if you will, then there's the earnings of those employed, their earnings go up, and then there's the reductions in public benefits and services. All of that adds up to a really fantastic social return on investment.
Lisa Hamilton:
That's wonderful. Well, I'm sure you get the chance to meet some of the men and women who have gained employment and opportunities through these social enterprises. What's a story you've heard from them? What are they saying about this experience?
Carla Javits:
It's really been interesting to talk to the people who get these jobs, and I've met so many wonderful people who are just so happy to be able to contribute. It was interesting. When I was at San Quentin, not that long ago, we were talking to some of the men there who were coming out fairly soon, and interestingly, they all said they really wanted to work when they got out, but many of them, and these were fairly young men who had gone, unfortunately, to prison fairly early in their lives, wanted a first experience in a supportive work environment. They were a little nervous about initially starting out right in that kind of hard core, competitive environment.
And then, of course, when we speak to people who have gone to work in social enterprises, you'd think the first thing they'd talk about is a paycheck, because a lot of them have extremely low incomes. But interestingly, generally what they focus on is their pride in kind of doing an honest day's work, in contributing to their team, and in being productive and adding value and doing something good that makes their children and their families and their communities proud of them.
Lisa Hamilton:
That's absolutely a great return on that investment, to be able to instill that kind of pride and experience in folks who may not necessarily believe they've got that kind of future ahead of them, so thank you so much for the incredible work you're doing, and for your partnership with Casey.
Carla Javits:
My thanks to the Annie E. Casey Foundation because you have been tremendous partners down this whole road and we couldn't have done it without you, so thank you so much.
Lisa Hamilton:
Well, thank you so much for joining us today, Carla, and I want to thank our listeners for joining as well. If you've enjoyed today's conversation, rate our show on Apple Podcast to help others find us. You can also ask questions and leave us feedback on Twitter using the CaseyCast hashtag. To learn more about Casey and find notes for today's show, visit us online at AECF.org/podcast and follow the Casey Foundation on Twitter @AECFNews. Until next time, I wish all of America's kids, and all of you, a bright future.
This post is related to: