Casey Selects 15 Sites to Train Juvenile Justice Frontline Staff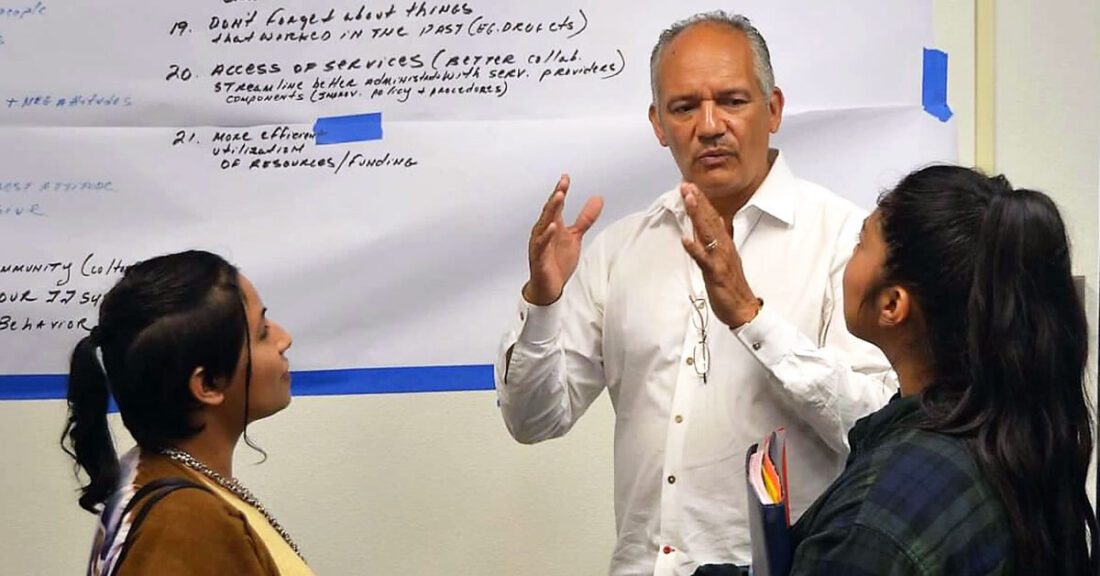 The Casey Foun­da­tion has select­ed 15 state and local juve­nile jus­tice agen­cies and relat­ed orga­ni­za­tions to par­tic­i­pate in its inau­gur­al Reimag­in­ing Juve­nile Jus­tice (RJJ) Train-the-Train­er Insti­tute this May. The institute's goal is to accel­er­ate the spread of the RJJ cur­ricu­lum, a six-part pro­fes­sion­al devel­op­ment oppor­tu­ni­ty for front­line staff work­ing with youth involved in the juve­nile jus­tice sys­tem and their families.
RJJ helps front­line staff bet­ter sup­port, divert and redi­rect youth to appro­pri­ate and fair jus­tice options. The cur­ricu­lum includes the fun­da­men­tals of pos­i­tive youth devel­op­ment, encour­ag­ing juve­nile jus­tice pro­fes­sion­als to build on young people's strengths and assets and to cen­ter their work in racial and eth­nic equi­ty. Pro­fes­sion­als will learn how to nav­i­gate and col­lab­o­rate with oth­er pub­lic sys­tems to take advan­tage of resources for young people.
"RJJ will go a long way toward deep­en­ing approach­es and prac­tices that reflect what we know about pos­i­tive youth devel­op­ment," says David E. Brown, senior asso­ciate in the Foundation's Juve­nile Jus­tice Strat­e­gy Group.
What's next for the
15

train­ing sites?

In May, each juris­dic­tion will send a team of train­ers to the two-and-a-half-day RJJ Train­ing Insti­tute, which will be led by School & Main Insti­tute (SMI). The teams of train­ers then will deliv­er the RJJ cur­ricu­lum to pro­fes­sion­als in their home com­mu­ni­ties and juris­dic­tions between May and Decem­ber 2019. A num­ber of state agen­cies, says Brown, have indi­cat­ed their inter­est in con­tin­u­ing the train­ing beyond the ini­tial group.
Will the
RJJ

cur­ricu­lum be avail­able broadly?

Casey and SMI plan to make the RJJ cur­ricu­lum more broad­ly acces­si­ble to the field, includ­ing inter­ac­tive por­tions that will be avail­able online. The cur­ricu­lum will be refined based on feed­back from the 15 sites.
Where are the sites?
After a com­pet­i­tive process, the Foun­da­tion select­ed the following:
Ari­zona Supreme Court and Pinal Coun­ty, Arizona
Arkansas Admin­is­tra­tive Office of the Courts
Cal­casieu Parish Office of Juve­nile Jus­tice Ser­vices, Lake Charles, Louisiana
Coun­ty of San­ta Bar­bara Pro­ba­tion Depart­ment, California
Mass­a­chu­setts Depart­ment of Youth Services
Dou­glas Coun­ty Youth Cen­ter, Oma­ha, Nebraska
Mary­land Depart­ment of Juve­nile Services
Ohio Depart­ment of Youth Ser­vices and the Ashtab­u­la, Franklin, Mont­gomery and Sum­mit Coun­ty Juve­nile Courts, Ohio
Pierce Coun­ty Juve­nile Court, Taco­ma, Washington
Racine Coun­ty, Wisconsin
Ram­sey Coun­ty Juve­nile Cor­rec­tions, St. Paul, Minnesota
San­ta Clara Coun­ty Pro­ba­tion Department/​Juvenile Divi­sion and East Side Union High School Dis­trict, San Jose, California
State of South Dako­ta Uni­fied Judi­cial System
Ten­nessee Depart­ment of Children's Ser­vices and the Juve­nile Court of Mem­phis and Shel­by Coun­ty, Tennessee
Vir­ginia Depart­ment of Juve­nile Justice
Relat­ed resources:
Juve­nile Jus­tice Sys­tem Focus­es on Strengths of Youth and Fam­i­lies in Massachusetts
Pima Coun­ty Reform­ing Juve­nile Jus­tice With Casey-Spon­sored Training
This post is related to: