CaseyCast Podcast Tackles a Silent Issue: Parental Incarceration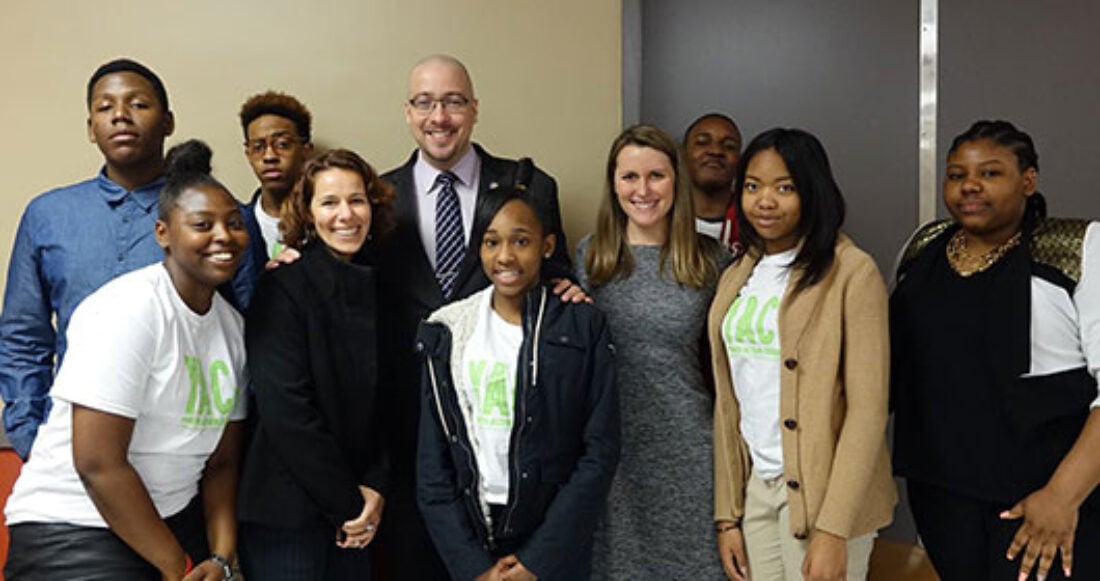 It's a sim­ple question.
What would you want if you were sep­a­rat­ed from your kids?
In the Foundation's new pod­cast, social work­er Tanya Kru­pat chal­lenges lis­ten­ers to place this very per­son­al frame­work around the issue of parental incarceration.
It's an inti­mate per­spec­tive that imme­di­ate­ly expos­es the many strug­gles of grow­ing up with a par­ent in prison or jail. It's a trag­ic — and all-too famil­iar — sto­ry­line rife with ambigu­ous loss, damn­ing stig­mas, finan­cial insta­bil­i­ty and a slip­pery sense that life's play­ing field is unlevel­ing just steps from the start­ing line.
The larg­er con­ver­sa­tion takes a sweep­ing look at parental incarceration's dev­as­tat­ing impact on kids, fam­i­lies and com­mu­ni­ties. It also tells why we must enlist a par­tic­u­lar­ly pow­er­ful set of experts — the chil­dren involved —to help smarten our sup­ports and solu­tions on this silent issue.
The 24-minute con­ver­sa­tion is part of Cas­ey­Cast, a month­ly pod­cast devot­ed to bring­ing peo­ple togeth­er to help build a brighter future for kids, fam­i­lies and communities.
About Tanya Krupat
Tanya Kru­pat is pro­gram direc­tor for The Osborne Asso­ci­a­tion, an orga­ni­za­tion devot­ed to trans­form­ing lives, com­mu­ni­ties and the crim­i­nal jus­tice sys­tem. In this role, Kru­pat coor­di­nates the NY Ini­tia­tive for Chil­dren of Incar­cer­at­ed Par­ents, which aims to raise aware­ness about the effects of incar­cer­a­tion on chil­dren and fam­i­ly relationships.
LInks and Show Notes
Find Cas­ey­Cast on Your Favorite Pod­cast Service
Lisa Hamilton: Welcome to the Annie E. Casey Foundation podcast, a monthly conversation focusing on how all of us can work together to build a brighter future for kids, families, and communities. I'm Lisa Hamilton, Vice President of external affairs at the foundation. I'm delighted to be your host, and I'm so glad you've joined us for a hopefully inspiring and interesting conversation today. The Casey Foundation is focused on giving kids what they need, strong families, vibrant communities, and financial stability. In these efforts the foundation is fortunate to work with innovators who develop, test, and implement solutions to help kids thrive. Each month we'll bring you an in depth conversation with one of these experts right here on the Casey Foundation podcast.
Currently there's a debate about Americas policy of mass incarceration, and ways to find more effective and less costly approaches to public safety. While this is an important national conversation the needs of the 5.1 million children whose parents are or were incarcerated are largely ignored. Also absent is the impact of mass incarceration on neighborhood stability. The Casey Foundation recently published a kids count policy report recommending ways to support these kids, their caregivers, and effected communities. To discuss these solutions and issues I'm joined today by Tanya Krupat, who's been working with incarcerated parents and their children for more than sixteen years.
Tanya currently is program director at the Osborne Association where she works to help law enforcement, criminal justice systems, and child serving systems to better respond to the needs of children whose parents are involved in correctional systems. She also oversees a number of programs that work directly with young people. I'm delighted to share Tanya's insights and experience with all of you. Hi Tanya, welcome to Casey podcast.
Tanya Krupat: Thank you so much Lisa I'm really happy to be here with you.
Lisa Hamilton: Tanya why don't you start by sharing how you came to the work that you do focused on children with an incarcerated parent?
Tanya Krupat: I came to this work through one family, actually changed the course of my professional life. I was in graduate school in the University of Michigan for social work and public health. I'm including this because it's related to my journey is that I wanted to work in the area of teen sexuality, I wanted to be someone safe that kids could go to and talk about taboo subjects such as sex and sexuality. I had a great supervisor, she had a social public health degree and that's what I went to pursue. I was placed in an elementary school in Detroit, on the East side of Detroit which was incredibly impoverished and really at that time abandoned by the rest of the city.
I was assigned to work with three siblings whose older brother had just been shot and killed in a drive by shooting. I was completely overwhelmed, brand new social worker supposed to support this family at this traumatic moment and come to find out that their mother was incarcerated and they were living with their dad who was really struggling to provide, and then had this traumatic loss on top of it. The children had never been referred for any kind of support or services when their mom was arrested or incarcerated. I was really moved by that and like a good social worker went back to my Laws and Bereavement class and tried to find something about the loss of a parent to a child due to incarceration, I couldn't find anything. Started searching through community resources, where could I refer them, I couldn't find anything.
I just became fascinated by the compelling nature of this incredibly challenging event in a child's life and yet the absence of it in resources, and literature, and mention. Really since than I've been focusing on it. There were people working on it, though not many, and those were really the pioneers and champions who many of them are still doing the work today.
Lisa Hamilton: You mentioned that this is largely an invisible issue. Given this countries problem with mass incarceration could you share how many kids are effected by this issue and why do you think we don't hear more about it?
Tanya Krupat: Yeah absolutely, I think you included some very compelling numbers in your introduction, on any given day it's estimated that over two million children in the country have a parent who's incarcerated in jail or prison. The numbers skyrocket if you include children who have ever in their lifetime experienced parental incarceration. Breaking that down a little further the same racial disparity that we see across the criminal justice system plays out in which children who is most effected. One in nine African American children has an incarcerated parent, one in twenty eight Latino children, and one in fifty seven white children.
These are really, we don't have good data because the invisibility runs so deep and I think we don't hear more about this because of who we're incarcerating, because of who is effected we have to look at issues of race, and class, and also because those who are in the criminal justice system are so deeply criminalized that tragically their children get criminalized too and they don't get the attention they need. One example of what it might look like if children were paid attention to, and that not all children unfortunately in this country are treated the same way on the basis of race and class. When there was a couple in the Enron Scandal and they were both being sentenced to do prison, to serve time in prison. The judge took into consideration that if he incarcerated both parents at the same time those children would not have either parent at home. It was a decision made in the courts that he would stagger the parents sentences so that the children would at least have one parent home at all times.
That is unheard of for the millions of children who are effected but it shows that it's possible what the criminal justice system might look like if we did consider children, and right now we really, we don't.
Lisa Hamilton: Earlier in your career you spent some time working in a women's correctional facility and I'm sure you had lots of opportunities to talk to those moms about their worries, and their aspirations for their kids. What did you hear most often?
Tanya Krupat: Yes I did, my first job actually was in a state women's prison here in New York State working with the mothers and they were probably among my first teachers in really learning about the diversity of how this plays out. I think I would hear poignantly and urgently probably what any mom or dad would expect if you were separated from your children. They were worried about them, they are very limited in making phone calls, their kids can't contact them, they would urgently, I heard all kinds of concerns about kids who were dropping out, who would run away, or just are they eating, how are they doing, and even if they are safe, missing those milestones, not being there for the first steps, or the birthdays, or kind of small but huge things that we take for granted, seeing our children pass through these different stages.
There's a lot of pain, and worry, and tremendous guilt, feeling just so bad that their children are in this situation because of a decision or choice that they had made.
Lisa Hamilton: Given the situation what are some of the biggest challenges that children that have incarcerated parents face?
Tanya Krupat: I think the challenges, it's interesting, Ann Adalist Estrin is the director of the natural resource center for children and families of the incarcerated. She says that children with incarcerated parents are like all children, like some children, and like no children. I think what she means by this, it may be obvious but the biggest challenges children of incarcerated parents face are what any child who's separated from a parent would be facing. That is a very traumatic separation for a child. They face the challenges that come with separation and loss and so they share with some children. There are other children who are also separated from their parents and that could be due to military deployment, or hospitalization, or traveling for work, and so those children also miss their parents and struggle with what's referred to as an ambiguous loss, a parent who's physically not there but emotionally and psychologically present.
Then their challenges are really unique and that's really because of the stigma that accompanies this particular type of loss making it incredibly difficult. With other losses there's often a flooding of social support, and a community recognition that this family is struggling or going through a hard time. With incarceration that's not the case, in fact often children in families feel further isolated. We've heard from lots of children and caregivers, they had play dates cancelled, the whole family was kind of criminalized and left alone to struggle. I think the biggest challenge that children face is how people respond to the issue of incarceration, where as Ann Adalist-Estrin says, "The meaning made of this makes it much harder." It's very hard to reach out for help because people are so ashamed and don't want people outside the family to know.
Lisa Hamilton: What kind of supports do these children and families need to be successful? How do we help them navigate this risk terrain?
Tanya Krupat: It's also important to recognize really how incredibly resilient children and families are and yet we don't want them to have to tap out their resilience left alone to struggle with this. I think children and families on the very concrete side, they often need financial resources. There's often a loss of financial support when a parent is incarcerated and then also legal fees, and the cost of visits, enormous costs associated with it not to mention the caregiver who is a non parent caregiver and wasn't planning on having three kids in their home, or a grandparent caregiver. The issue of subsidized guardianship for caregivers is a really important issue to talk about.
Then beyond that, children benefit enormously from peer support, from meeting other children who are in the same boat. It's so isolating and I think it's astounding given the numbers we talked about in the beginning, that almost every child, maybe every child who has an incarcerated parent at some point, or maybe through most of their experiences, feels alone. It's astounding that they often have not met other children, that they know of and they may be sitting next to each other in the same third grade class, but they don't know it. There's real missed opportunities to create those bonds. At the Osborne association we offer peer support programs, and the kid of relationships that we see formed between the children, and the trust, the safety that they feel with one another in the ability to be their whole selves because they can say, "Oh I went on a visit," or, "That CO was really nice," or, "He was really mean." They don't have to explain that CO is a corrections officer or that they were visiting in a prison room. The ability just to kind of connect and feel comfortable is really important.
Then children in families also need information and access to resources and support, many times they would like to access mental health support with providers who were non judgmental but they are afraid of seeking that. Then many health professionals don't receive training in this particular issue also, so building up the supports available. Then young people need opportunities to thrive like any children do, and they really also would benefit from more programs that accept them for who they are and don't judge them by their parents decisions. One of the main goals of our programs is actually to liberate the children and youth from feeling that their futures are limited by their parents.
We had a young woman in our program who wanted to be a language interpreter for the government, that was her dream. When you asked her what she wanted to be she had a very specific answer. She came in one day really very sad and we asked her what was wrong and she said, "My teacher says I can never work for the government because my dad is incarcerated." She was ready to give up her dream, she felt like that seemed legitimate to her that there would be such discrimination on her because of her dads decision. We really don't want children to feel that their futures are limited at all.
Lisa Hamilton: There's obviously a number of different stake holders who play a role in providing these kinds of supports to kids. You've worked inside of a corrections, and child welfare system, and now you're at a community based organization. What role do you think each of these play in supporting kids. Are there any other organizations or sectors that you think need to be involved that may be unlikely people to support these children?
Tanya Krupat: I've worked inside of a women's prison and then spent seven years inside of New York City's child welfare system. Now I'm at the Osborne Association, a long standing community organization serving individuals and their families in the criminal justice system. I think there's a role for everybody and I gain deep appreciation for the challenges, and the mandates that corrections has, that child welfare system has, and also the value of partnerships. There's a huge role for corrections, law enforcement, and criminal justice agencies, in looking at their policies and how they're effecting the children of those in their custody. I think a lot of the advocacy we do through the New York Initiative for Children of Incarcerated Parents is working in partnerships with the systems that we're trying to change. We don't work adversarially, we like to collaborate and recognize that a lot of the harm being done is not intentional, these systems were not setup with relationships in mind, they were setup to hold accountable or punish individuals, not recognizing the ripple effects that individuals are part of families, and part of communities.
I think there's a huge role for corrections, there's a huge role for child welfare and other government systems. When I was with ACS, the Administration for Children Services in New York City we were very fortunate to be able to create what we think is the nations only program within a public child welfare system dedicated to children in foster care who have incarcerated parents. That program is called CHIP and it still exists today. That program was able to partner to bridge corrections has the parents in their custody, and child welfare had the children in theirs. The two systems really sat down to say, "How can we work together in the interest of children, and families?" Out of that came a special visiting program, but it was possible. I think at the end of the day when we start from what would we want if we were separated from our children most people can't deny they would want access to their children, they would want their children well cared for.
Then there's also huge roles for the partnership between community based organizations and government working together. It's really going to take all of us working together, I believe strongly in that it takes a village. It's often, it's an overused phrase but it's the truth. I think you asked about other stake holders also, I mean it's about family courts, it's about pediatricians, mental health providers, even librarians. We have a children's book list, there's actually quite a number of books that have been written specifically to support children of incarcerated parents. I think there's a role really everybody has to play.
Lisa Hamilton: Thanks. At Osborne you provide direct services to children, and families, and you also advocate for policy change, you mentioned a little earlier, about how important it is to have the right policies in place to support young people. Can you talk a bit about the relationship between your direct service work and your advocacy?
Tanya Krupat: We like to refer to our advocacy as practitioner-based advocacy so we really draw on our expertise and knowledge that we gain from the children, and families, and individuals that we're serving including incarcerated parents. There's direct dialogue constantly between our policy advocacy, and our programs. I think we learn the most about the kinds of policy changes that are needed from listening to children and families. There's a document that was created by Youth in San Francisco in 2005 called, "The Children of Incarcerated Parent Bill of Rights." That was really young people calling for changes in the criminal justice system. In terms of the rights they have, and that's eight rights and it starts with, "I have the right to be kept safe and informed at the time of my parents arrest, and includes the right to have access to their parent, their right not to be judged, blamed and labeled because of their parents incarceration, the right to be well cared for during their parents incarceration, and the right to a life long relationship with their parents."
I think listening to children's voices is an incredibly powerful advocacy tool. One example of a victory that we had here in New York state was actually kind of unintentional, we brought one of our youth programs to meet with Senator Montgomery, a Brooklyn senator who's very dedicated to youth. She was just having a conversation around a table with three young people of whom had currently incarcerated parents. Ashley started to share how hard it was to visit her dad, and how random the rules seemed when she got there. One day she would be allowed to visit, to bring something, and the other day not. It just seemed like there wasn't a way to actually know what the rules were. Senator Montgomery listened, and then created a bill that she called, "Ashley's Law," that would require the state prison system to post publicly what their rules are for visitors.
That bill was actually signed into law a year ago, and so Ashley, just by sharing her story actually changed things for all visitors actually to New York state prisons. Our state prison system now posts the rules per each of the prisons and also makes a phone number available. I think that's one example of what can happen also when children lead the way and kind of tell us what they need.
Lisa Hamilton: That's fantastic, you know a lot of our conversation has been about the impact of mass incarceration on children, and families but they live in communities that provide the sorts of resources and supports they need. What's your sense of what we need to do to help communities become more stable places for the children who live there?
Tanya Krupat: A mass incarceration definitely weakens communities and there was some very important research done by Todd Claren, Dina Rose several years ago that talked about a tipping point. That a certain amount of incarceration, research has shown, is related to public safety. After a certain tipping point when it hits mass incarceration and high incarceration rates communities are really weakened and actually made less safe. If you think about it, it makes perfect sense. If you're removing so many people from a community, and there's so much destabilization that it is really important to look at investing in communities, and that incarceration usually is often proceeded by cumulative traumas, poverty, unemployment, lack of access to quality schools, safe playgrounds, it doesn't come out of nowhere.
If communities had these resources, which every community deserves to have. Good schools, safe playgrounds, healthy food, libraries, and you know, they would do better. There's also something, we tend to spend money kind of at the back end and there was research done here in New York City that looked at million dollar blocks, that actually communities with high incarceration rates, there were actual blocks where millions and millions of dollars were spent to incarcerate, and provide community supervision. The authors had to question, "What if that same amount of money had been invested in the front end? If those communities had that money they would be rich and they would have parks, and schools," and all of these things I just mentioned.
I think that led to a movement called, "Justice Reinvestment," which is very important to look at. We really need to support, and heal, and provide opportunities within communities and to involve the communities in this. There was a recent report that came out called, "Who Pays? The Hidden Cost of Incarceration on Families." This report is incredibly important, not only for it's findings but really for the process of how they did the research. It was a nation report that went to different communities, taught and trained community members to be the researchers, to do research on themselves about what they need. It goes with the saying, "Nothing about us, without us." That communities generally know what they need but are often left out of the discussions about what they need.
Lisa Hamilton: Well, Tanya, you have provided so much information, if people wanted to learn more about this issue where would you direct them?
Tanya Krupat: Great question, I think I would first direct them to a fantastic website called Echoes of Incarceration, which is young people who've experienced their parents incarceration making films about what this is like for them. They have at least three or four movies that you can watch on their website, and several more are coming. These are incredibly talented young people who are debunking the myth that children with incarcerated parents are more likely to be incarcerated themselves and really share tremendous amount of insight with us about what this experience is. The Sesame Street also came out with a really wonderful toolkit for families and children about the experience of having an incarcerated parent, there's a DVD, and coloring books. They really want to help caregivers have these really tough difficult conversations with children. Children will ask questions and they need an age appropriate truth but it can often be hard to answer these questions. Sesame Street is a great place to go.
Then I mentioned earlier the National Resource Center for Children in Families of the Incarcerated, has a lot of fact sheets and tool kits as we do also on the Osborne Association website.
Lisa Hamilton: Well Tonya Krupat thank you so very much for joining us today.
Tanya Krupat: Thank you so much.
Lisa Hamilton: I want to thank our listeners for joining as well. If you've enjoyed today's conversation rate our podcast on iTunes to help others find us. To learn more about our podcast and for show notes visit our website, AECF.org and follow the Casey Foundation on twitter @AECFNews. Until next time I wish all of America's kids and all of you a bright future.