Child Poverty Declines After Peaking in 2011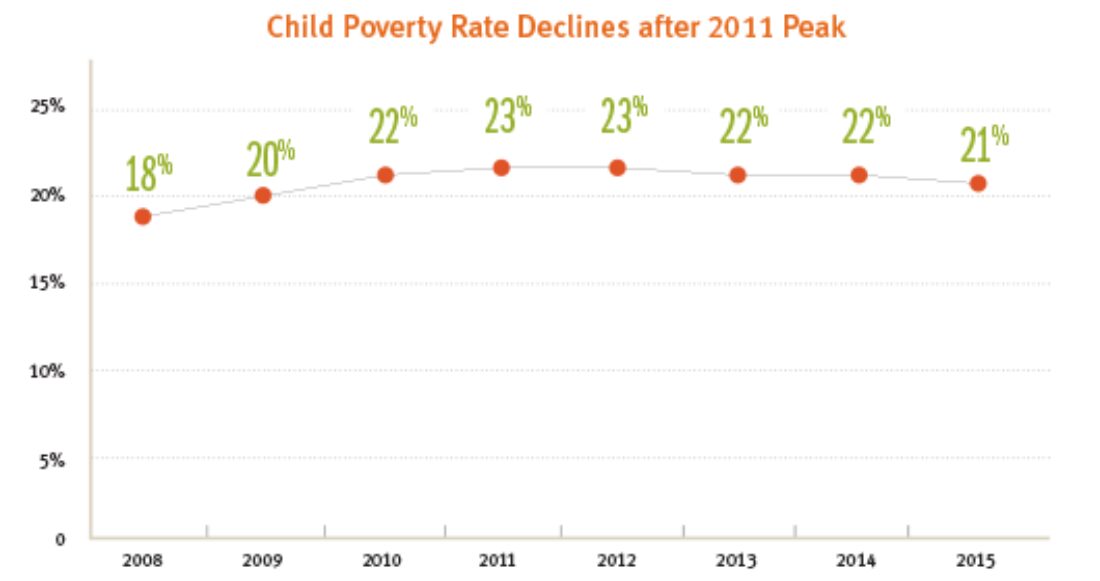 After the Great Reces­sion, the nation's child pover­ty rate increased steadi­ly, peak­ing at 23% in 2011. Since then, the rate has been on a slow decline and, in 2015, reached its low­est lev­el in five years, at which point one out of every five chil­dren lived in pover­ty. Although the child pover­ty rate in most states con­tin­ues to be high­er than before the reces­sion, a large num­ber of states have seen drops since the 2011 peak. Forty-three states and the Dis­trict of Colum­bia saw their rates improve. Five states have main­tained the same rate, and New Jer­sey and Delaware saw their rates increase.
Child pover­ty rates also dropped across all racial and eth­nic cat­e­gories. Even with these improve­ments, African Amer­i­can (36%), Amer­i­can Indi­an (34%) and Lati­no (31%) chil­dren are near­ly three times as like­ly to live in pover­ty as white and Asian children.
States With the Largest Drops in Child Pover­ty Rates
STATE

2011

2015

PER­CENT
CHANGE

North Dako­ta

15%

12%

-20% *

Utah

16%

13%

-19% *

Wyoming

16%

13%

-19%

Hawaii

17%

14%

-18% *

Col­orado

18%

15%

-17% *

Ore­gon

24%

20%

-17% *

* Change is significant
States With the Largest Increas­es in Child Pover­ty Rates
STATE

2011

2015

PER­CENT
CHANGE

Delaware

17%

19%

12%

New Jer­sey

15%

16%

7%

* Change is significant
This post is related to: