Cigarette Use Drops Among Youth and Young Adults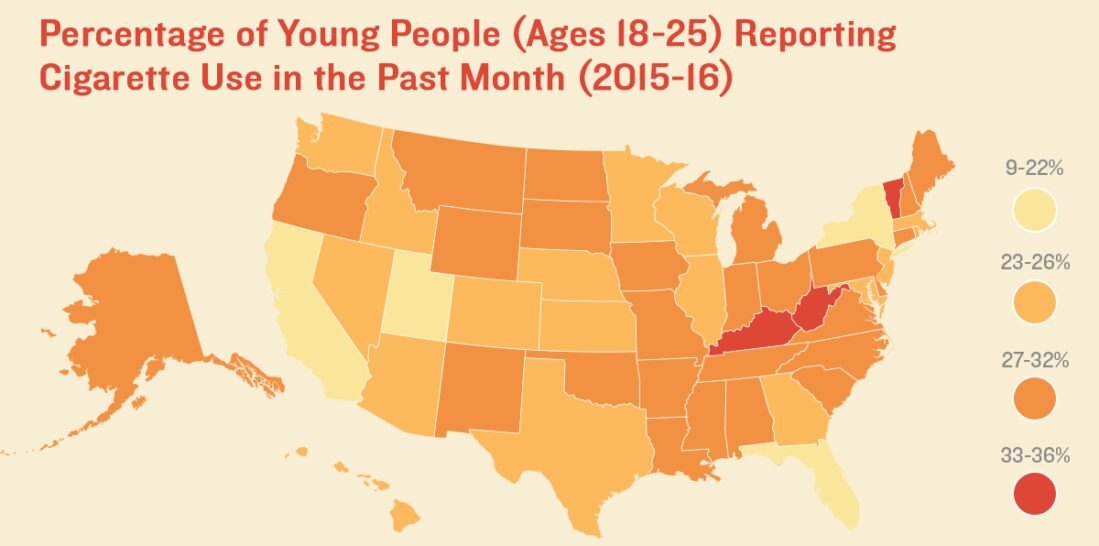 Ready for some good news? In the last decade, cig­a­rette smok­ing rates have fall­en for both youth and young adults.
The like­li­hood of recent cig­a­rette use among youth between the ages of 12 and 17 fell from 11% in 2005-06 to just 4% in 2015–16. This same sta­tis­tic also dropped for young adults between the ages of 18 and 25 — from 39% in 2005-06 to 25% in 2015–16.
Across the coun­try, cig­a­rette smok­ing rates among youth dipped to a low of 3% in 14 states and peaked at 8% in West Vir­ginia. State rates for young adults run from a low of 19% in Cal­i­for­nia and Utah to a high of 36% in Ken­tucky, Ver­mont and West Vir­ginia. Despite the rates mov­ing in the right direc­tion, there's still room for improvement.
In 2015–16, 947,000 youth and 8.7 mil­lion young adults across the coun­try report­ed smok­ing a cig­a­rette with­in the last month. Also worth not­ing: The rate of young adults using mar­i­jua­na is on the rise, jump­ing from 16% to 20% in the last decade.
Explore more nation­al and state health data in the
KIDS

COUNT

Data Center