Columbus Youth and Artists Team Up to Introduce the Real Weinland Park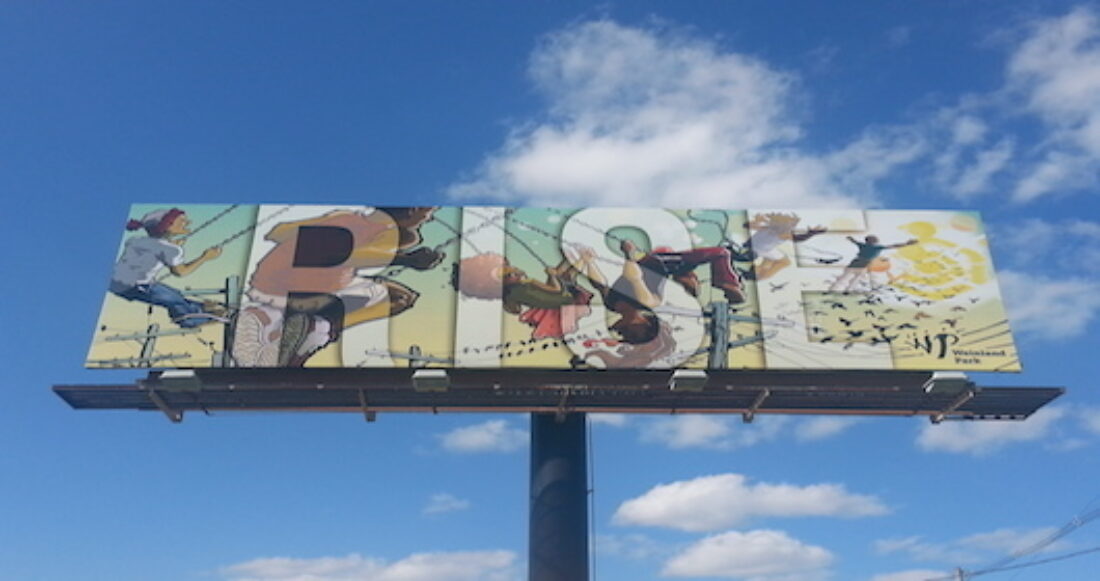 First impressions matter, and for Columbus' Weinland Park neighborhood, this rings all too true.
Weinland Park is one of three communities where the Foundation is working with a local initiative committed to improving the well-being of kids and families. The urban community of about 4,800 residents is next door to the Ohio State University and just over a mile from downtown Columbus.
Until April 2015, it was also home to a highly visible billboard, right at its entrance and on a main thoroughfare for city commuters, that gave passersby a strong — and wrong — first impression.
"It was advertising that you are entering a party area of OSU," recalled Jean Pitman, who oversees youth programs at the university's Wexner Center for the Arts.
"The kids in the neighborhood were very aware of it," artist and Weinland Park resident John Grosvenor added. "They knew the billboard was selling booze — and specifically what kind of booze. They called it that big blue vodka ad."
The billboard's unflattering content and extensive reach — with an estimated annual audience of 3 million — prompted the residents to take action.

In early 2015, with support from the Columbus Foundation, Ohio State and others, the neighborhood joined forces with a diverse group of local partners to draft new billboard options. A group of 20 or so youths led the design process. These students were part of the R.I.S.E. Youth Club, which provides after-school programming for middle and high school students living in Weinland Park. A team of professional artists — including local talent like Grosvenor plus Wexner Center staff — helped bring the youths' ideas to fruition.
These student-artist collaborations yielded "a ton of designs," Pitman said. Weinland Park residents voted on the designs, ultimately selecting four to display.
In April, the neighborhood unveiled its first community-driven billboard. Each winning design has a three-month run, which translates into a year of positive, powerful first impressions. A new design was unveiled last month.
"We specifically chose designs that weren't super sign like. They don't say 'Welcome to Weinland Park,' and that was deliberate," Pitman said. "There is no email or address or telephone number. No one is being sold anything. But it just creates this visual image that makes people pause and wonder."
For residents, the difference is dramatic. "There is a palpable pride in the neighborhood that wasn't here before," Grosvenor. "This was something that our entire community was involved with and got behind, and it feels really good to be a part of this change."
Two winning billboard designs (the two top images), plus the original advertisement (bottom in the series), which Pitman said made parents embarassed to walk down the street with their kids.