Craving Opportunity: Baltimore Youth Describe What They Need For a Better Future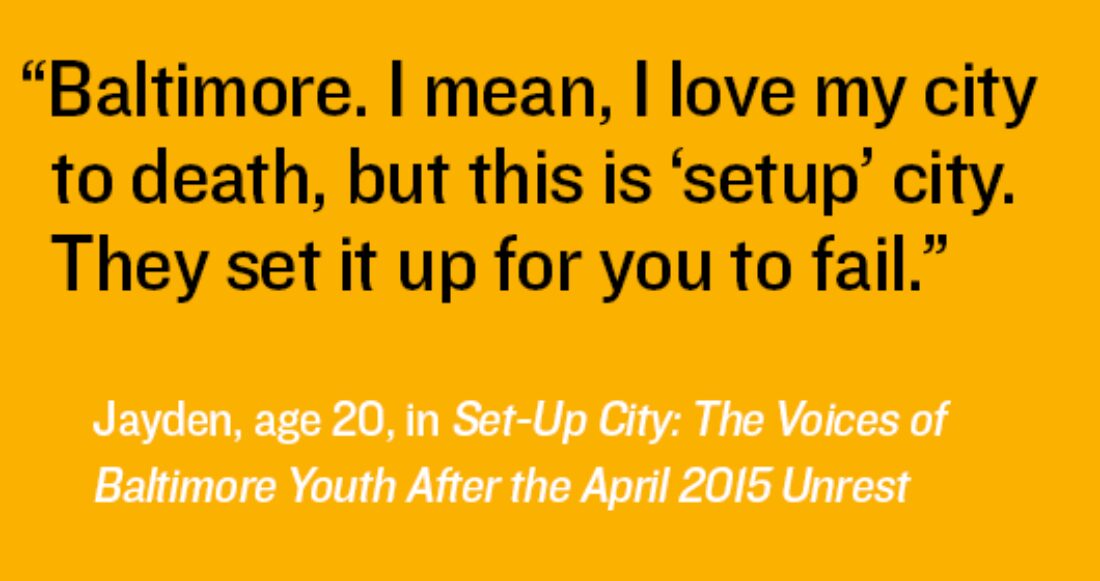 Young people in disinvested Baltimore neighborhoods long for — but lack confidence in the city's ability to deliver — positive activities, jobs and safe spaces, according to research commissioned by the Casey Foundation in the aftermath of the April 2015 unrest over the death of Freddie Gray.
To inform the work of its Baltimore Civic Site, the Foundation partnered with the Poverty and Inequality Lab at the Johns Hopkins University to conduct interviews with 58 young people living in the city's poorest neighborhoods. Researchers asked these individuals, ages 15 to 24, how they responded to the unrest and how the subsequent onslaught of negative, stereotype-laden news cycles had shaped their lives.
The report, Set-Up City, The Voices of Youth After the Baltimore Unrest, shares key insights from the interviews, such as:
Young people supported peaceful protests, but condemned the violence, looting and destruction of property that happened after Freddie Gray's death. They were especially distressed by the destruction of important institutions in disadvantaged Baltimore neighborhoods.
Those interviewed also generally disapproved of the city's response to the unrest, especially the closing of schools the next day and a citywide curfew.
While they recognized the National Guard's role in restoring order, the young people interviewed felt "intimidated and even terrified by its presence," researchers found.
They also wished for a more empathetic response that acknowledged their anger over the circumstances of Gray's death and the daily difficulties they faced.
They craved opportunities for recreation, employment and other positive activities and felt that the city was not doing enough to make such opportunities possible.
They expressed a belief that the 2015 unrest may have prompted action—and positive change—in Baltimore.
None of the young people interviewed voiced a desire to stay in Baltimore long term. They cited pervasive drug activity and a lack of quality education options as reasons they would leave the city if they could.
"This research is important because it gives insights from youth that no one hears from," says Kimberly Spring, the Foundation's director of Research and Evaluation.
Tomi Hiers, director of the Foundation's Baltimore Civic Site, says that the voices of local youth are informing her team's strategies, including a new workforce development initiative in East Baltimore and a peer-to-peer youth entrepreneurship pilot.
City youth, advocates, professors and community members have gathered to review the report's findings and discuss ways to boost opportunities for Baltimore's young residents. Three promising ideas identified include: 1) giving youth a greater voice in local policy; 2) recognizing how public safety is connected to employment, housing, health and other systems that affect quality of life; and 3) ensuring that nonprofits and community groups are strong enough to deliver needed services and programs.
This post is related to: