Derek Douglas on How the University of Chicago Supports Local Kids and Families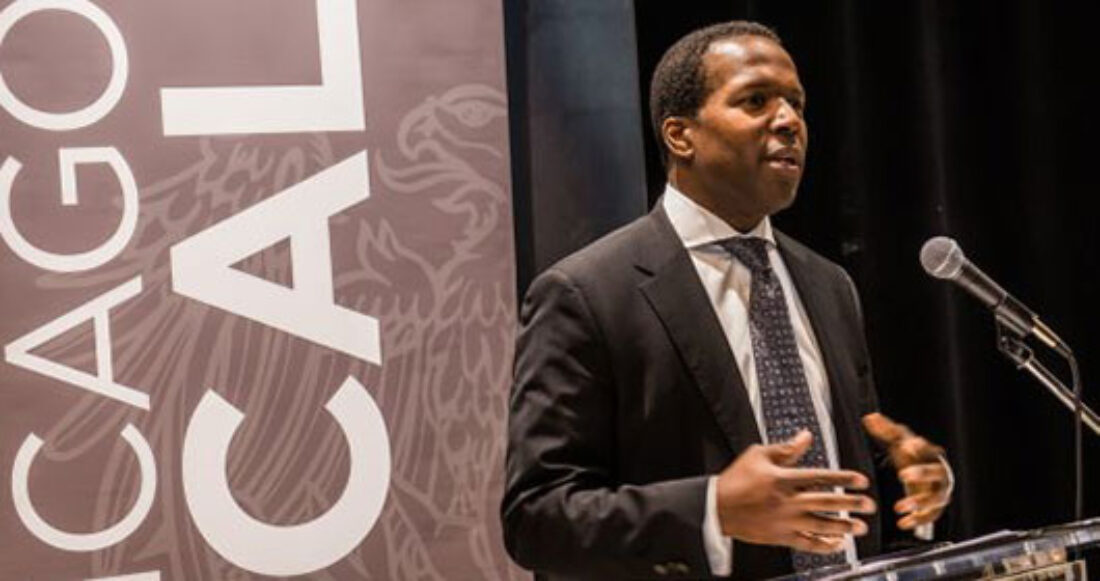 Anchor insti­tu­tions, such as hos­pi­tals and uni­ver­si­ties, can be pow­er­ful eco­nom­ic dri­vers in the com­mu­ni­ties they serve.
It's a crit­i­cal role — and one that can be strate­gi­cal­ly lever­aged, accord­ing to Derek Dou­glas, who leads the Uni­ver­si­ty of Chicago's urban devel­op­ment and civic engage­ment efforts on a local, nation­al and inter­na­tion­al scale.
In a new pod­cast episode, the Annie E. Casey Foundation's Lisa Hamil­ton inter­views Dou­glas, who served as Pres­i­dent Barack Oba­ma's senior advis­er on urban pol­i­cy from 2009 to 2011. Their con­ver­sa­tion explores the untapped poten­tial of anchor insti­tu­tions and why these orga­ni­za­tions deserve a seat at the local deci­sion-mak­ing table. Lis­ten­ers will also learn how anchor insti­tu­tions across the coun­try are col­lab­o­rat­ing in inno­v­a­tive ways to help strength­en fam­i­lies and communities.
A huge thank you to Derek Dou­glas for chat­ting with us!
Stream the lat­est Cas­ey­Cast episode
This Episode is Avail­able On
What You'll Learn in This Episode
Exam­ples of anchor institutions.
What kinds of oppor­tu­ni­ties these insti­tu­tions cre­ate in their communities.
About

CASE

, a con­sor­tium of anchor insti­tu­tions in Chicago.
Exam­ples of anchor net­works that are active in cities today.
Tips for anchor insti­tu­tions that are inter­est­ed in build­ing a network.
Con­ver­sa­tion Clips
In Derek Douglas's own words…
"This is not about char­i­ty. It's about invest­ing in strong busi­ness in our communities."
"By work­ing col­lab­o­ra­tive­ly we can achieve more good togeth­er than we can on our own."
"I think that the poten­tial for anchor insti­tu­tions to play a role in upping the strength in our com­mu­ni­ties and the strength in our families…it's off the charts."
"When you're fight­ing against inequal­i­ty or for eco­nom­ic mobil­i­ty or what­ev­er it may be, anchor insti­tu­tions need to be on the front lines."
LInks and Show Notes
About the Podcast
Cas­ey­Cast is a reg­u­lar pod­cast pro­duced by the Annie E. Casey Foun­da­tion and host­ed by its vice pres­i­dent of exter­nal affairs, Lisa Hamil­ton. Each episode fea­tures Hamil­ton talk­ing with a new expert about how we can build a brighter future for kids, fam­i­lies and communities.
Enjoy the Episode?
We hope so! Go to Apple Pod­casts to sub­scribe to the series or leave a rat­ing or review.
Lisa Hamilton:
From the Annie E. Casey Foundation, I'm Lisa Hamilton — and this is CaseyCast.
A community's economic strength plays an important role in the well-being of children. Allowing parents to secure family-supporting jobs and connect their children with opportunities for growing and learning. Increasingly, to boost economic development, a number of communities are turning to anchor institutions. Organizations such as hospitals and universities that are deeply rooted in neighborhoods, with the potential for serving and employing residents.
Talking with us today is Derek Douglas. Since 2012, he has served as the vice president for civic engagement and external affairs at the university of Chicago; one of the nation's leading research institutions. Prior to joining the university, Derek served as a special assistant to President Barack Obama where he led the White House domestic policy councils work on urban and metropolitan issues. Welcome to the podcast Derek.
Derek Douglas:
Thank you. It's a pleasure to be with you.
Lisa Hamilton:
Wonderful. Well why don't we start our conversation talking about what an anchor institution is. I've described the University of Chicago where you work as one, but why don't you tell us how you describe an anchor institution.
Derek Douglas:
Sure. An anchor institution is an organization or an entity that is located in a place: a neighborhood, a city, wherever you may be. It does things like employs people, hires people, builds things that create benefits for the communities around it or had the potential to create benefits for the communities around it. It's an entity that's not going to go anywhere. So, unlike a company where companies kind of come and they move, and they go around, universities, medical centers; these are institutions that typically are in a place and that's where they're going be for as long as they are in existence. So, they are very focused on trying to think about ways in which the economic engine of the institution can also create benefits for the surrounding communities.
Lisa Hamilton:
Wonderful and we often talk about jobs, but are there other types of opportunities that anchors have the potential to create in a community?
Derek Douglas:
Oh, yeah. So, jobs is just one piece, the hiring side. Anchor institutions are also big purchasers, so they can support local businesses by buying from the businesses in the neighborhoods. In our case, we also have the medical center, so we provide health care for a lot of people in the surrounding neighborhood. We also happen to have a police force that has a very large patrol area that provides additional safety, meets the safety needs of the surrounding community. We also run programs. So, we do a lot around educational programs. Whether it's classes to help kids get prepared for college and to succeed and continue through college. We do programs in the arts. We have entrepreneurship programs. We do leadership development and capacity building for nonprofits. So, there's the suite of things that we do that are all connecting really the university to the community. And, the way we talk about it is this notion of mutual benefit where we try to identify things that leverage the strengths of the university but do it in a way that creates benefits and is connected to and builds in partnership with the surrounding community.
Lisa Hamilton:
You know, when we often think about asking for-profit companies to engage in communities, there's always this issue of a tension between their mission to maximize profits versus an interest in having them be responsible corporate citizens. Do you ever find that, at least in the university context, is there tension between the mission you generally have around educating students and the commitment or connection to the surrounding physical community you're in?
Derek Douglas:
Yeah, I would say that that's not the tension. There is a tension that exists between universities and their surrounding communities. It's not so much though through the educational mission and the research mission of the institution.
Its more about the footprint really of the university. Because most universities — we have been around for 125 years, you have some that have been around 200 plus years — and they continue to grow every 10 to 20 years, they get larger, more students, more faculty, more physical infrastructure. And as universities continue to grow, that has implications and can be viewed as an encroachment on the surrounding communities. So, they get very concerned about the development and the growth of the university. What that means for them, what it means for their neighbors. What does it mean for their schools and how can that growth happen in a way that is not at the expense of the community, but that's in furtherance of the community.
Through partnership. So that I would say is the main kind of tension one sees between universities and communities and is something that we're often trying to negotiate in our work.
Lisa Hamilton:
You talked about the communities that surround the university. I don't know what the neighborhood the University of Chicago is based in looks like, but cities certainly have changed, particularly formerly industrial cities have changed. So often, theses anchors are in communities that may have been blighted by disinvestment. Can you talk a bit about some of the community conditions that often make anchors so important in the places where they are?
Derek Douglas:
Oh, yes. So, in the case of the University of Chicago, we're on the South Side of Chicago. And, we are, the university… most of its campus is in the neighborhood Hyde Park, which is a very diverse community: racially, ethnically, socio-economically diverse. The part of our campus is also in the neighborhood of Woodlawn, and we have some presence in a neighborhood to our west called Washington Park. Those neighborhoods are much more economically challenged.
For example, 50 years ago or so, Woodlawn use to have around 100,000 residents in the neighborhood; today it's around the low 20,000s. Washington Park used to be over 50,000; today its around 11,000. So, you see massive depopulation happening in these two communities. There is a lot of vacant land. If you go through the other demographics — unemployment, average income, all those sorts of things — they are very challenged in many ways. And so one of the things that happens with universities and these anchors is that they can provide some stabilization which has happened in Hyde Park through just presence of student, faculty, others living there, the activities that help to drive, that are needed to support the university, but unless you're intentional, you can also see disinvestment happening around, you can see depopulation happening around, unless there's intentional strategies to be engaged with those neighborhoods.
So, one of the thing that I'm excited about is that the neighborhoods of Woodlawn and Washington Park are two where the university has not historically been as engaged in terms of permanent economic-development standpoint, but we're right now talking and trying to have conversations with the community to see if there's ways in which we could be supporting the development goals and needs of those communities.
Lisa Hamilton:
Well you described a wide range of assets that universities in particular have to bring to communities, from jobs to procurement, to training to entrepreneurship. You're involved in a pretty innovative collaboration there called Chicago Anchors for a Strong Economy, or CASE. Tell us a little bit about how that got started and what your aspirations are for this collaboration.
Derek Douglas:
Yeah, so thanks for asking about that. CASE is actually an interesting case study, not to use a pun. A big strength of ours, is our procurement power. When you add up the amount of dollars both the university and the medical center spend every year, it's in the hundreds of millions of dollars buying stuff. So, we said as opposed to buying all these things from New York and California and places all over, what if we tried to dedicate more of our spend to businesses in Chicago, particularly businesses on the South Side? We would still be getting our needs met. It's not doing anything differently than we were doing before but we're getting them met in a way that it actually helps strengthen the communities around us, create jobs in the communities around us. So, you get more of a win-win, than if you bought the same stuff from say, a company in another part of the country.
I was a part of a group that was called World Business Chicago, I was on one of the committees that was focused on developing the neighborhood strategy. So, I put on the table, this program, we call it Youth Chicago Local, ways in which we can invest in local businesses using our procurement strength. We're doing this at the University of Chicago and we're going to focus on South Side businesses, but one idea would be for us to band with other anchors across the city on the West Side, the South Side, the North Side, where we all kind adopt essentially a consortium approach to seeing how we can invest more in businesses in the city and in particularly in neighborhoods of need.
I remember Terry Peters said, who was at Rush Medical Center at the time, said "Fantastic, sign me up." The city was there. The department of planning and development they said: "the University of Chicago is interested in doing this; we have got to take this on." [President] Julia Stash from the MacArthur Foundation chaired the neighborhood's committee. She was on board. So, from there, it grew, and you know it started out as just one idea of something we were doing, but we were happy to share it. It now has become this very powerful engine in the city of Chicago. It's got, I think, over 15 or 16 different anchors working collaboratively to figure out how we can invest in companies here. How we can hire more people here and just be these engines for economic vitality and prosperity in the neighborhoods that need it most.
Lisa Hamilton:
And you've brought together some unusual partners, some of whom might actually be competitors in the city, it sounds like. How have you all navigated that?
Derek Douglas:
Well what was interesting was that for a lot of cases when we started putting the internetwork together, these folks never worked together before and like you said there was a competitive aspect to it, but there was also just a we're all busy, we're all doing our thing and they hadn't thought about what if we banded together. Could we actually create more leverage with suppliers, with different companies we work with, in order to benefit the city? I think one of the most powerful things about CASE is that it has broken down some of these perceived barriers between anchors, where we don't see each other as the other, as the competitor, but now we see that on some things, certainly we compete for certain things, but we also see that in some areas by working collaboratively, we can achieve more good together than we can on our own.
And the other thing I would say, though, is we took a broader definition of an anchor. So typically, when people talk about anchor institutions they think about "eds and meds"; educational institutions, medical centers. They're the ones going nowhere, they do all the stuff we discussed. We said there are other kinds of anchors though. Entities that are located in place that are not going anywhere and they have the attributes of other anchors. They hire, they buy, they build, they provide programming and services.
So, we brought in the museums. That was unusual. A lot of times, what was interesting about that was the recruitment process so myself and Julia Stash who is the president of MacArthur. We would actually go and meet with the heads of these different organizations as part of the recruiting and one the things we had to do with the museums was get them to see themselves as anchors. And that they can play this role collectively to help support this broader mission that we had for our communities and for the city. So, we brought in all of them.
We also said, let's get corporations. Now corporations can move. They are anchors when they're in the city but they're a bit more mobile than the "eds and meds," but we said they can also play a big role. They purchase stuff, they hire people, they have economic strength that we want to bring to the table. So, we went out and we started recruiting corporate anchors as well to participate. We've even started having conversations with athletic teams.
Lisa Hamilton:
That's great. Yeah, I've heard of stadiums. Even stadiums are viewed as anchors or airports.
Derek Douglas:
Yeah stadiums. Here we've got the Bulls, the Bears, the Blackhawks, the Cubs, and the White Socks and they have stadiums. And they could also be in the mix, so slowly you start to put together this coalition of people and organizations that now see themselves as an anchor in a way they didn't before. And not only that, start getting excited about the idea of partnering to bring this kind of impact.
Derek Douglas:
To be honest, it wouldn't have been successful, we wouldn't have been able to get the procurement officers of the anchors to even engage, unless we gave them the commitment. This is not about charity, it's about investing in strong businesses in our communities.
Lisa Hamilton:
That's great. Tell me a little bit about what it looks like on the ground. What kinds of pipelines have you created into jobs or procurement opportunities and what's the impact it's having?
Derek Douglas:
A perfect example is the university is served through a company called Bon Appetit. Others use Aramark or Sodexo; those are larger food service companies. We put an RFP out to identify who was going to be providing food service for the entire university. That's all of our students, all of our staff, the dorms, everything. We put in there these goals around CASE and Use Chicago Local. That we would like a company to respond to how they would hit certain numbers of local purchasing and the like. Bon Appetit, who ended up winning, agreed to our goals. I think it was 35, 40%, they've exceeded it. They're hiring over 50% of the people now coming from the local community.
Lisa Hamilton:
Fantastic.
Derek Douglas:
The business that supply them, they have a huge percentage of them that are coming from the local neighborhoods. That's a concrete example of how the university, by making a priority around this idea of what CASE is about and Use Chicago Local is about, directly impacting a major contract, multi-million-dollar contract at the university that's now spitting out or spilling out benefits to the businesses and the workers cause they're hiring people locally. So, there's a variety of stories, I don't have off the top of my head the number of businesses we've worked with.
Lisa Hamilton:
I've got something here. I've got CASE assisted 443 businesses.
Derek Douglas:
Wow.
Lisa Hamilton:
Created 180 jobs and $52 million in revenue to small businesses.
Derek Douglas:
Yeah, I knew it was over $50 million.
Lisa Hamilton:
That's amazing, amazing statistics.
Derek Douglas:
And this is going from zero to that.
Lisa Hamilton:
Wow.
Derek Douglas:
In just a couple of years. A few years.
Lisa Hamilton:
That was. There was huge untapped potential there, obviously. What about training? Have any of the CASE partners come together to create training issues, I think of healthcare institutions and the issues they often have in staffing. Have they come together to create any kind of pipeline training programs?
Derek Douglas:
Yes, so the first phase of CASE was about procurement. So, it was all focused on the purchasing, but there was a training element to that. We would do these capacity building workshops, two or three a year, where we would take companies in and run them through a three-week intensive program to get them more upskilled so that they could then understand how to compete for contracts with us.
Derek Douglas:
The next phase has been on the workforce side and looking for opportunities where we have a joint need and want anchors to get people trained. On the workforce side, we also could use partners. So one partner is the city colleges, and under Mayor Emanuel, the city colleges have been organized around topics, and there's one of the city colleges that's focused on training people for the health care sector, so we can utilize that through other workforce organizations like Skills for Chicagoland's Future or Cara Program that we also are talking about partnering with to help us develop a more comprehensive training program for people in the community to get prepared to work at any number of anchors in the network.
So, the third element of CASE is just starting to emerge, is more of economic development. The place-based nature so those first two were more businesses and people working. Then there is also the development that happens in the neighborhood. Commercial corridors that sort of thing. And anchors play a big role in that. And so, CASE is now starting to work with us to help us think about our economic development strategies and how that dovetails with the plans and the goals of people in the surrounding community.
Lisa Hamilton:
That's great. What are you seeing happening in the communities around the anchors who are participating in CASE? Is the community changing? Are people seeming to be more engaged with the organizations in their footprint?
Derek Douglas:
No doubt.
Lisa Hamilton:
Yeah.
Derek Douglas:
No doubt. I think the best example of that is Rush Medical Center. So, when Rush got into CASE they had been doing some things, but this was generally a big step for them to get into CASE on the community front. And they've been one of the leaders, the co-chair Terry Peterson who's a senior vice president at Rush Medical; he and I were the co-chairs of CASE when it got started, but from that exposure and just hearing what other anchors were doing in the network, Rush just embarked, and I think they just wrapped up last year a major community partnership effort where they developed a plan of what they're going to be doing in the community. They engaged. They did town halls and meetings. I think they engaged hundreds — 300 or 400 people — in the community in the process of helping to inform what their strategy would be, and they just rolled it out. And it's been a game changer for the relationship Rush has with the community on the West Side of Chicago, which also was a community of significant need.
I think that being part of CASE, being part of that community of anchors, is what prompted Rush to think about taking those next steps of engagement and they've taken it to a whole other level to where they were before, and the community is responding extremely favorably to that work and Rush is starting to get some broader regional and national attention for its work. So, there's no doubt about it that for the people that have been touched by CASE, touched by Use Chicago Local, it's starting to create trust; greater trust and stronger relationships between the anchors and the community. But there's still a long way to go and I don't want to suggest that you just do CASE and then that solves all of your problems, or all of your issues, or challenges in terms of the university or anchor community relations. But it does have a positive impact, no question.
Lisa Hamilton:
That's great. What advice would you give to other anchor institutions who are looking to do this work, to make sure there is more economic energy.
Derek Douglas:
First, I would say you have to come up with a philosophy, a mindset, a set of principles, whatever you want to call it. But you have to come up with an outlook on this work, as to how your institution benefits from doing it. If you just characterize it as you gain nothing it's all for the community, it won't be sustainable, and you will not get the parts of the university or your anchor institution to buy in fully. They have to see how their work is benefiting, how their goals are benefiting from engaging in this work.
Two, you have to get support buy-in from the top of the organization. It's very difficult to do anchor institution work at scale unless, without a president, a board, officers being committed to the work. It's very difficult to do it as an isolated group, an isolated office.
Three, I would say there's a lot of good work out there. You don't have to reinvent the wheel.
Lisa Hamilton:
Yeah, what are good examples you've seen of other maybe anchor networks or other cities doing this well?
Derek Douglas:
I think if you look at what they're doing at [Johns] Hopkins [University], you're there in Baltimore. And President Ron Daniels and [Special Adviser to the President on Economic Development] Andy Frank and the group that they have there are really doing some amazing things both on the anchor side of procurement and hiring, on the economic development side. They're thinking about the public safety piece. I think they're actually thinking about the academic side and how they can bring more of the academic evaluation and research to bear to strengthen programs in the local communities.
Lisa Hamilton:
And public schools, right.
Derek Douglas:
And work in the public schools directly. So, they're good. The gold standard for many years has been the University of Pennsylvania and what they've done with West Philadelphia initiatives over a 20-year period where they took an area of the city that was very distressed economically and have totally transformed it through a series of investments and partnerships.
Lisa Hamilton:
I've heard lots of folks talk about Cleveland, and I think I've read that you'd visited Cleveland.
Derek Douglas:
Yeah, we did. So, Cleveland is good. Cleveland is they have I want to I think they call it University Circle. But Cleveland is another one where you had a coalition of anchors, about 4 or 5, I think Cleveland Clinic, Case Western, one or two other medical centers came together, and they formed this program called the Evergreen Cooperatives where they essentially agreed as anchors to... They formed an economic entity or business, the anchors agreed to purchase from these companies and in fact they would work with the community to create companies to serve the needs of the anchors and the anchors would become the first customers. We thought that was a very powerful idea. I think in Memphis, they also recently launched a new consortium of several anchors including a number of medical ones that's going to take a similar approach.
Detroit; another example that has been very involved led by the Kresge Foundation and JP Morgan Chase and some others. So, there's a lot of good examples out there that if your anchor institution could look at to get some thoughts. See which ideas fit best with the priorities and the culture of that particular anchor institution. Then I would say you just got to get started. The key to all of it though it kind of goes without saying and I probably need to emphasize it more expressly, is the community side. This work only is effective if it's authentically done through engaging the community. It's engaging the community as a partner, it's not let's get the buy-in of the community. It's not here is what we want to do ... you guys are going have to deal with it. It's let's work on this together; this is a joint initiative and the community engagement and all segments not just the leadership of the neighborhoods, that's key, but also the grassroots of the community have to be a part of the ecosystem that you're creating to then drive these kinds of results.
Lisa Hamilton:
That's fantastic. Well you know, at the Casey Foundation we're always focused on how strategies can help benefit kids and families and so much of what you have talked about certainly is going to help the families and the children in these communities thrive. You've held a national perch with the White House and you've led an initiative there in Chicago; what you would say I guess in closing thoughts of what you think the potential there is for anchor institutions in helping us have the kinds of strong families and thriving communities we want to have in this country.
Derek Douglas:
I think that the potential for anchor institutions to play a role in upping the strength in our communities and the strength in our families — it's off the charts. To be perfectly honest with you, I gave you some examples of around the country of anchors that are doing some good work, but we haven't even really scratched the surface of what anchors can do. And I think that it's incumbent on everybody; not just the anchors, but the cities, the philanthropy and foundations, the corporate sector, the nonprofit sector to be looking to make sure their anchors are at the table in developing these kinds of solutions.
You go to any city in America. They're dealing with say a safety issue and other issues. A lot of times you'll see the nonprofits there, they'll work with the city. They'll get foundation support from their local philanthropy and you have these anchors that are not brought into the mix. Yet they bring this whole wealth of resource, both economic but also the academic and the educational expertise that they could bring to bear. That needs to be brought in to the mix.
We've been looking at a whole new model around neighborhood impact that would leverage both our research strength, our teaching strength, and our economic strength as an anchor. To target it or to focus it on a particular set of neighborhoods to help move the needle on key challenges in those communities and what I've said is that, you know, when you're fighting against inequality or for economic mobility or whatever it may be; anchors need to be on the front lines. These anchor institutions have the ability. Some of the greatest challenges we've had, faced as a nation; universities, medical centers had been at the forefront in getting them done. These current challenges around strengthening our families, strengthening our neighborhoods, we need anchors to be in the mix and one of the leading groups helping to drive change.
And, so, I think there's some nice examples out there, but it has not gone to scale. I want to give Annie E. Casey credit because you all have been one of the main foundations that had been pushing this notion of the role of anchors in helping to bring about positive change in communities and seeing the promise in that and building networks that then lead to these kinds of coalition work and it's going to take more of that work from Annie E. Casey, more work from the University of Chicago, but also more of telling our stories so we can then really get to scale to have a true national movement around anchors in this area.
Lisa Hamilton:
Well thank you so much. Thank you for your partnership. Thank you so much for the compliment, but it is truly the leadership of folks like you both at the national level and in local communities that are making this work happen. Thank you so much for your example.
Derek Douglas:
Thank you, Lisa, thank you.
Lisa Hamilton:
And for the inspiration to the country I certainly hope that many, many more organizations like yours will take up this charge and help us have the kinds of communities that we know all Americans so deeply deserve. Thank you so much for joining us today.
Derek Douglas:
Thank you.
Lisa Hamilton:
Derek you have just been wonderful. Wonderful to hear your story.
I want to thank our listeners for joining us as well. If you've enjoyed today's conversation, rate our show on Apple podcast to help others find us. You can ask questions and leave us feedback on Twitter by using the #CaseyCast hashtag. To learn more about Casey and the work of our guests you can find our show notes at aecf.org/podcast.
Until next time, I wish all of Americas kids, and all of you, a bright future.
This post is related to: