Fewer Kids Living in Homes Owned by Their Parents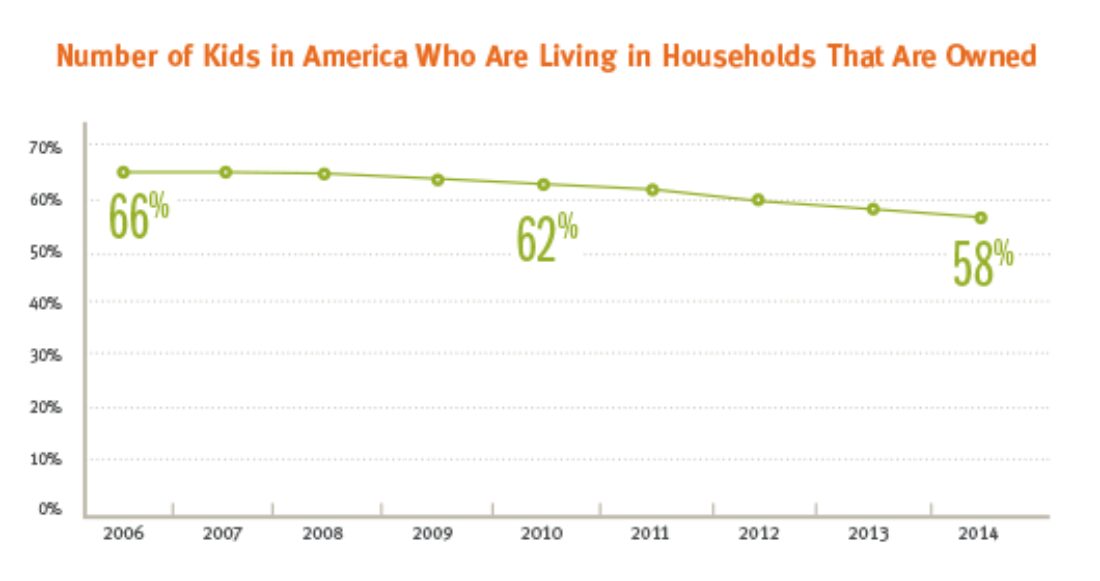 From 2006 to 2014, the pro­por­tion of Amer­i­can kids liv­ing in a home owned by their par­ents fell 7% — from 48.9 mil­lion to 43.1 million.
This sink­ing sta­tis­tic means that 5.7 mil­lion more kids are no longer liv­ing in a par­ent-owned home rel­a­tive to near­ly a decade ago.
Home­own­er­ship has social and emo­tion­al ben­e­fits, accord­ing to research. For instance: School-age kids who live in par­ent-owned homes are less like­ly to exhib­it behav­ior prob­lems rel­a­tive to kids whose fam­i­lies live in rental prop­er­ties. Home­own­ers are also less like­ly to relo­cate — and more like­ly to invest in their com­mu­ni­ty as well as neigh­bor­hood relationships.
Addi­tion­al­ly, home­own­er­ship is an impor­tant com­po­nent of asset build­ing, which can help vul­ner­a­ble fam­i­lies get ahead and grow more finan­cial­ly secure.
The preva­lence of kids liv­ing in a home that their par­ents own varies wide­ly by state — and ranges from a high of 73% in Min­neso­ta to a low of 44% in Nevada.
Vis­it the KIDS COUNT Data Cen­ter for more eco­nom­ic well-being sta­tis­tics at the state and nation­al level.
Chil­dren liv­ing in crowd­ed housing
Chil­dren in low-income house­holds with a high hous­ing cost burden
Chil­dren liv­ing in house­holds that are owned
Chil­dren with­out a vehi­cle at home
This post is related to: