Five Questions with Casey: Donna Stark Reflects on Two Decades of Leadership Development Work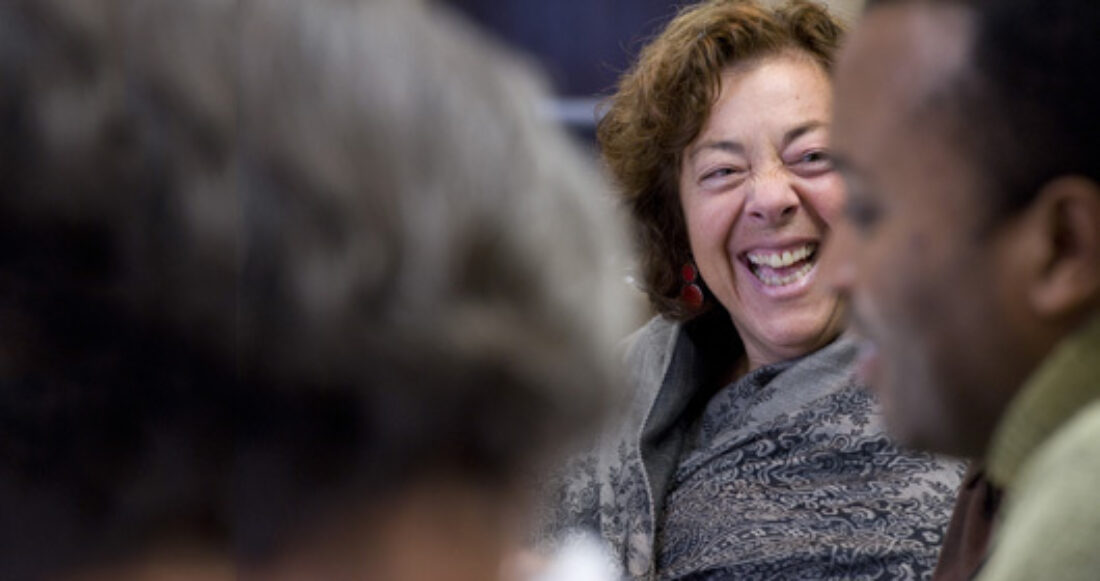 Senior Leadership Fellow Donna Stark's career has long focused on building a culture of results. In more than two decades at Casey, she's steered both system reform and community change efforts and helped social sector leaders improve the odds for vulnerable kids.
Some of Stark's major milestones during this time include planning the Foundation's Making Connections initiative and launching a range of leadership programs designed to help communities tackle tough challenges. Equally important: Stark developed Casey's Results-Based Leadership strategy and led a charge to use Results-Based Accountability to mobilize communities and systems around shared goals.
Prior to joining Casey in 1994, Stark directed a governor-driven initiative that aimed to enhance interagency coordination among Maryland's state programs for at-risk kids. She holds a Ph.D. in counseling and human development from the Ohio State University.
In this Five Questions edition, Stark discusses Casey's results-based framework and shares how the Foundation's leadership development work has changed through time.
Q1. You have played a pivotal role in shaping Casey's leadership development agenda. How has this work evolved?
Our 23-year-old Children and Family Fellowship does a great job empowering executives to effectively lead major system reforms and community change initiatives. To broaden this work, however, we developed a diverse array of fellowships and results-based leadership programs. One program — our Leadership in Action Program — brings multiple players together to tackle a tough community issue. These efforts have helped reap significant gains in improving child outcomes, such as reduced infant mortality, fewer children entering foster care and more children entering school ready to learn.
We've also become more collaborative; we're involving participants more directly when designing leadership programs.
Q2. What are some examples of helping to promote results-based leadership practices in the field?
We help partners — including other foundations and their grantees — identify both the results they want to achieve and the strategies that they can employ to affect change across a neighborhood, city or state. We've also been assisting other national initiatives — such as Promise Neighborhoods and StriveTogether — to embed results-based leadership into their work. Right now, we're designing a results-based leadership program with the National League of Cities for their Institute for Youth, Education and Families.
Q3. How has leadership development evolved in the nonprofit sector?
In the early days, we focused on developing leadership in key individuals. Today, we're focused on accelerating results. We now know that it takes lots of people and organizations working collaboratively to realize sustainable change. We're also committed to helping organizations and partnerships become more effective at improving conditions for kids and families. And we're purposefully cultivating young leaders and investing in our next generation of leaders.
Another way this field has evolved has to do with data. Today, we understand the importance of using data to measure progress, and we're more willing to reconsider strategies if the data suggests they aren't working.
Finally: We've recognized that diversity — including ethnic, racial and gender diversity — is critical to leadership development.
Q4. Where do you think the field is headed?
We're seeing growth in cross-sector participation among nonprofit, government and philanthropic sectors. Business and civic leaders are also getting more involved.
Another shift is that anchor institutions— major employers and service providers, such as universities and hospitals — are taking on greater leadership roles in their communities. These institutions can play a powerful role in strengthening their extended communities and serving as engines of opportunity.
Last but not least, we're seeing all sectors engage residents and youth in decision-making and recognize that these varying perspectives, values and opinions are important.
Q5. What has Casey's key contribution been?
Our Foundation has become a national model for directly supporting leadership development using a results-based framework. Our approach, which we've honed over the last 23 years, is grounded in five competencies. These are: 1) being results-driven; 2) using the self as an instrument of change; 3) ensuring equitable opportunities to reduce racial disparities; 4) promoting the link between values, attitudes and behaviors and taking action to improve results; and 5) building consensus through collaboration.
Our version of collaboration is not just bringing people together to share interests. Instead, we collaborate by directing and aligning resources and actions to reach an end result. We have evidence that when we apply Results-Based Leadership to tough social problems, kids and families reap the benefits.
This post is related to:
This post is part of the series: