Four Principles to Make Data Tools Work Better for Kids and Families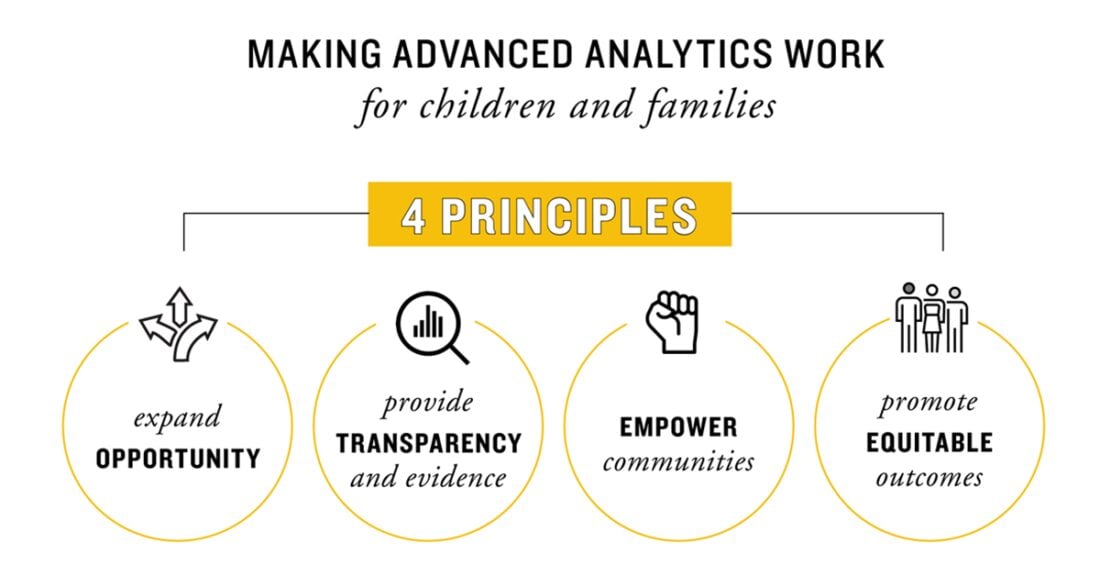 Advanced data ana­lyt­ics are deeply embed­ded in the oper­a­tions of pub­lic and pri­vate insti­tu­tions and shape the oppor­tu­ni­ties avail­able to youth and fam­i­lies. Whether these tools ben­e­fit or harm com­mu­ni­ties depends on their design, use and over­sight, accord­ing to a report from the Annie E. Casey Foundation.
Four Prin­ci­ples to Make Advanced Data Ana­lyt­ics Work for Chil­dren and Fam­i­lies exam­ines the grow­ing field of advanced data ana­lyt­ics and offers guid­ance to steer the use of big data in social pro­grams and policy.
The report rec­og­nizes that algo­rithms guide deci­sions on every­thing from which neigh­bor­hoods police patrol to which job appli­cants a hir­ing man­ag­er selects to inter­view. It also posits that agen­cies and child advo­cates can use advanced ana­lyt­ics tools to mod­el large, mul­ti­vari­ate prob­lems, pin­point what works, and ele­vate solu­tions that have nev­er been pos­si­ble before.
But many promi­nent civ­il rights orga­ni­za­tions wor­ry that these same tools, which rely on automa­tion and algo­rithms, can wors­en inequities across lines of race, age, income and gen­der. As a result, these groups oppose using advanced ana­lyt­ics to guide deci­sions involv­ing youth and families.
The Foun­da­tion report iden­ti­fies four prin­ci­ples — com­plete with exam­ples and rec­om­men­da­tions — to help steer the grow­ing field of data sci­ence in the right direction.
Four Prin­ci­ples for Data Tools
Expand oppor­tu­ni­ty for chil­dren and fam­i­lies. Most estab­lished uses of advanced ana­lyt­ics in edu­ca­tion, social ser­vices and crim­i­nal jus­tice focus on prob­lems fac­ing youth and fam­i­lies. Promis­ing uses of advanced ana­lyt­ics go beyond mit­i­gat­ing harm and help to iden­ti­fy so-called odds beat­ers and new oppor­tu­ni­ties for youth.

Exam­ple: The Chil­dren's Data Net­work at the Uni­ver­si­ty of South­ern Cal­i­for­nia is help­ing the state's depart­ments of edu­ca­tion and social ser­vices explore why some stu­dents suc­ceed despite neg­a­tive expe­ri­ences and what pro­tec­tive fac­tors mer­it more investment.
Rec­om­men­da­tion: Gov­ern­ment and its phil­an­thropic part­ners need to test if nov­el data sci­ence appli­ca­tions can cre­ate new insights and when it's best to apply them.


Pro­vide trans­paren­cy and evi­dence. Advanced ana­lyt­i­cal tools must earn and main­tain a social license to oper­ate. The pub­lic has a right to know what deci­sions these tools are inform­ing or automat­ing, how they have been inde­pen­dent­ly val­i­dat­ed, and who is account­able for answer­ing and address­ing con­cerns about how they work.

Rec­om­men­da­tions: Local and state task forces can be excel­lent lab­o­ra­to­ries for test­ing how to engage youth and com­mu­ni­ties in dis­cus­sions about advanced ana­lyt­ics appli­ca­tions and the pol­i­cy frame­works need­ed to reg­u­late their use. In addi­tion, pub­lic and pri­vate fun­ders should avoid sup­port­ing pri­vate algo­rithms whose design and per­for­mance are shield­ed by trade secre­cy claims. Instead, they should fund and pro­mote efforts to devel­op, eval­u­ate and adapt trans­par­ent and effec­tive models.


Empow­er com­mu­ni­ties. The field of advanced data ana­lyt­ics often treats chil­dren and fam­i­lies as clients, patients and con­sumers. Put to bet­ter use, these same tools can help elu­ci­date and reform the sys­tems act­ing upon chil­dren and fam­i­lies. For this shift to occur, insti­tu­tions must focus analy­ses and risk assess­ments on struc­tur­al bar­ri­ers to oppor­tu­ni­ty rather than indi­vid­ual profiles.

Rec­om­men­da­tion: In debates about the use of data sci­ence, greater invest­ment is need­ed to ampli­fy the voic­es of youth and their communities.


Pro­mote equi­table out­comes. Use­ful advanced ana­lyt­ics tools should pro­mote more equi­table out­comes for his­tor­i­cal­ly dis­ad­van­taged groups. New invest­ments in advanced ana­lyt­ics are only worth­while if they aim to cor­rect the well-doc­u­ment­ed bias embed­ded in exist­ing models.

Rec­om­men­da­tions: Advanced ana­lyt­i­cal tools should only be intro­duced when they reduce the oppor­tu­ni­ty deficit for dis­ad­van­taged groups — a move that will take orga­niz­ing and advo­ca­cy to estab­lish and new pol­i­cy devel­op­ment to insti­tu­tion­al­ize. Phil­an­thropy and gov­ern­ment also have roles to play in help­ing com­mu­ni­ties test and improve tools and exam­ples that already exist.
Casey Foun­da­tion lead­er­ship and staff devel­oped these four prin­ci­ples after broad con­sul­ta­tion with data sci­en­tists, civ­il rights groups, pub­lic lead­ers and fam­i­ly advocates.
"There is a sur­pris­ing amount of agree­ment about the val­ues that should guide how we use these tools," says Chris Kings­ley, senior asso­ciate for data ini­tia­tives at the Casey Foun­da­tion. ​"And ongo­ing debates will con­tin­ue to shape the field and point to areas that need more atten­tion, invest­ment and innovation."
This post is related to: