Four Principles to Make Data Tools Work Better for Kids and Families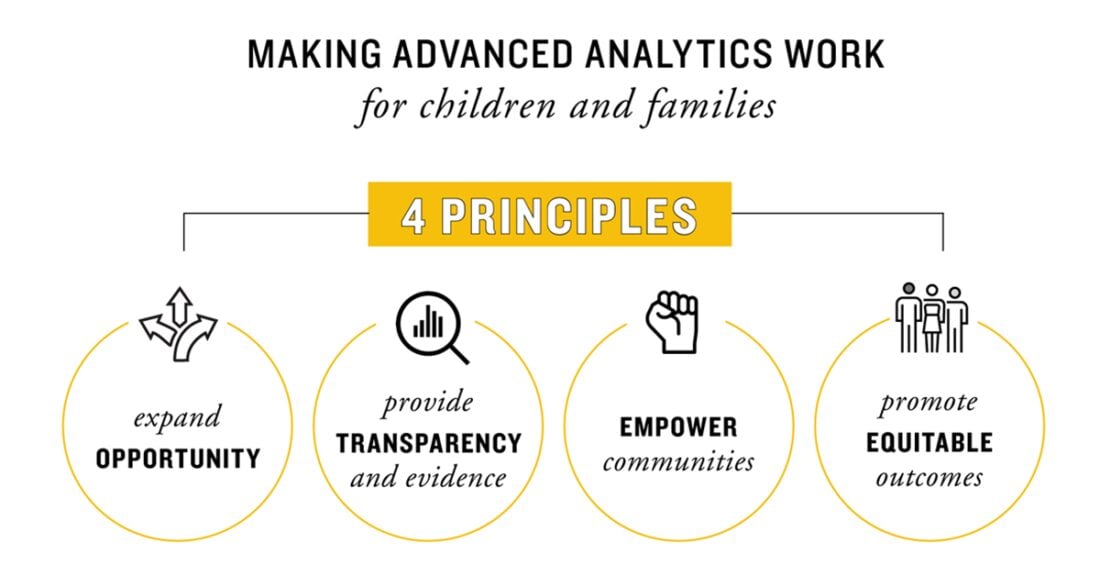 Advanced data analytics are deeply embedded in the operations of public and private institutions and shape the opportunities available to youth and families. Whether these tools benefit or harm communities depends on their design, use and oversight, according to a report from the Annie E. Casey Foundation.
Four Principles to Make Advanced Data Analytics Work for Children and Families examines the growing field of advanced data analytics and offers guidance to steer the use of big data in social programs and policy.
The report recognizes that algorithms guide decisions on everything from which neighborhoods police patrol to which job applicants a hiring manager selects to interview. It also posits that agencies and child advocates can use advanced analytics tools to model large, multivariate problems, pinpoint what works, and elevate solutions that have never been possible before.
But many prominent civil rights organizations worry that these same tools, which rely on automation and algorithms, can worsen inequities across lines of race, age, income and gender. As a result, these groups oppose using advanced analytics to guide decisions involving youth and families.
The Foundation report identifies four principles — complete with examples and recommendations — to help steer the growing field of data science in the right direction.
Four Principles for Data Tools
Expand opportunity for children and families. Most established uses of advanced analytics in education, social services and criminal justice focus on problems facing youth and families. Promising uses of advanced analytics go beyond mitigating harm and help to identify so-called odds beaters and new opportunities for youth.

Example: The Children's Data Network at the University of Southern California is helping the state's departments of education and social services explore why some students succeed despite negative experiences and what protective factors merit more investment.
Recommendation: Government and its philanthropic partners need to test if novel data science applications can create new insights and when it's best to apply them.


Provide transparency and evidence. Advanced analytical tools must earn and maintain a social license to operate. The public has a right to know what decisions these tools are informing or automating, how they have been independently validated, and who is accountable for answering and addressing concerns about how they work.

Recommendations: Local and state task forces can be excellent laboratories for testing how to engage youth and communities in discussions about advanced analytics applications and the policy frameworks needed to regulate their use. In addition, public and private funders should avoid supporting private algorithms whose design and performance are shielded by trade secrecy claims. Instead, they should fund and promote efforts to develop, evaluate and adapt transparent and effective models.


Empower communities. The field of advanced data analytics often treats children and families as clients, patients and consumers. Put to better use, these same tools can help elucidate and reform the systems acting upon children and families. For this shift to occur, institutions must focus analyses and risk assessments on structural barriers to opportunity rather than individual profiles.

Recommendation: In debates about the use of data science, greater investment is needed to amplify the voices of youth and their communities.


Promote equitable outcomes. Useful advanced analytics tools should promote more equitable outcomes for historically disadvantaged groups. New investments in advanced analytics are only worthwhile if they aim to correct the well-documented bias embedded in existing models.

Recommendations: Advanced analytical tools should only be introduced when they reduce the opportunity deficit for disadvantaged groups — a move that will take organizing and advocacy to establish and new policy development to institutionalize. Philanthropy and government also have roles to play in helping communities test and improve tools and examples that already exist.
Casey Foundation leadership and staff developed these four principles after broad consultation with data scientists, civil rights groups, public leaders and family advocates.
"There is a surprising amount of agreement about the values that should guide how we use these tools," says Chris Kingsley, senior associate for data initiatives at the Casey Foundation. "And ongoing debates will continue to shape the field and point to areas that need more attention, investment and innovation."
This post is related to: