How a Community Grants Program Pivoted to Address Local Needs During the Pandemic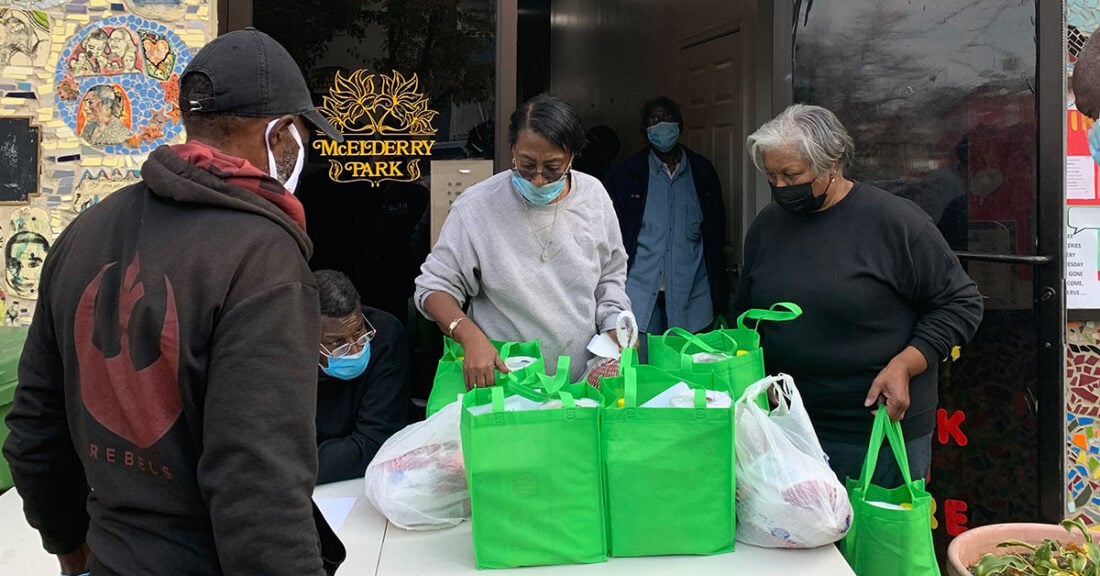 As the COVID-19 pandemic created a lot of new, pressing needs for Baltimore residents, Fusion Partnerships, a city nonprofit, felt that it needed to change the approach of its inFusion Community Grants program — which typically funds resident-led projects in three neighborhoods on the city's east side.
So, the organization, which is funded in part by the Annie E. Casey Foundation, transformed the mission of its small grants committee that typically selects local grantees. Instead of reviewing grant applications, the committee — which is made up of several residents from the three east-side neighborhoods: C.A.R.E., McElderry Park and Middle East — would identify needs in their communities spurred by the coronavirus outbreak and fund projects to help address them.
"The small grants committee knew 2020 required something different," says Allison Duggan, who manages the community grants program for Fusion Partnerships. "So, it decided to use its collective ties to neighborhoods to identify, and then help address, some of the top concerns we were hearing from our neighbors. We expect the small grants committee will continue to make similar investments in 2021."
Below are some of the efforts the small grants committee funded, starting in spring of 2020:
Shortly after the coronavirus outbreak began, the committee moved quickly to provide as many residents as possible with cleaning and hygiene products, such as soap, wipes and disinfectant sprays. Many community members had lost wages because of the outbreak and were struggling to afford and access such items. The committee continued these distributions in the summer and fall — providing 800 packages of cleaning and hygiene products to residents at four local events.
The committee also provided small grants to four local elementary and middle schools meant to support efforts to help students as they learned remotely. This included support for school programs meant to help students purchase books, notebooks and other learning materials; boost enrollment in tutoring sessions; and offer students prizes, such as small toys or books, as incentives for regular attendance in online classes.
Last October, the committee funded and hosted a workshop for community residents on how to register to vote and fill out the 2020 Census form. Nearly 15 people registered to vote at the outdoor gathering (which adhered to mask-wearing and social-distancing guidelines) and several filled out their Census forms, too. At another October workshop, more than a dozen people learned how to navigate Maryland's unemployment benefits website and were given advice on how to find and apply for jobs online.
"As a committee of residents, we understand what people need on the ground," says Donald Gresham, a Middle East resident who is a member of the small grants committee. "We also know where some of the gaps are in terms of support and have based our recommendations and funding decisions around that knowledge."
Supporting resident-led efforts
Duggan says that it's important that nonprofits supporting community response efforts trust residents to understand their neighborhoods' needs and view local people as key advisors in identifying projects and initiatives to fund. Resident-led efforts also require guidance and administrative support for managing budgets, ordering supplies, executing projects and scheduling meetings and events — support that Fusion provided to the small grants committee and that other local nonprofits can offer to similar efforts.
"We're so pleased to see the many creative ways community members in East Baltimore have worked to address concerns arising from the COVID-19 pandemic," says Burgundi Allison, a program associate with the Casey Foundation. "We hope that key stakeholders in Baltimore and elsewhere see this and recognize that local residents are key to understanding and addressing community needs."
This post is related to: