Kathleen Enright on Philanthropy's Role, Importance and Impact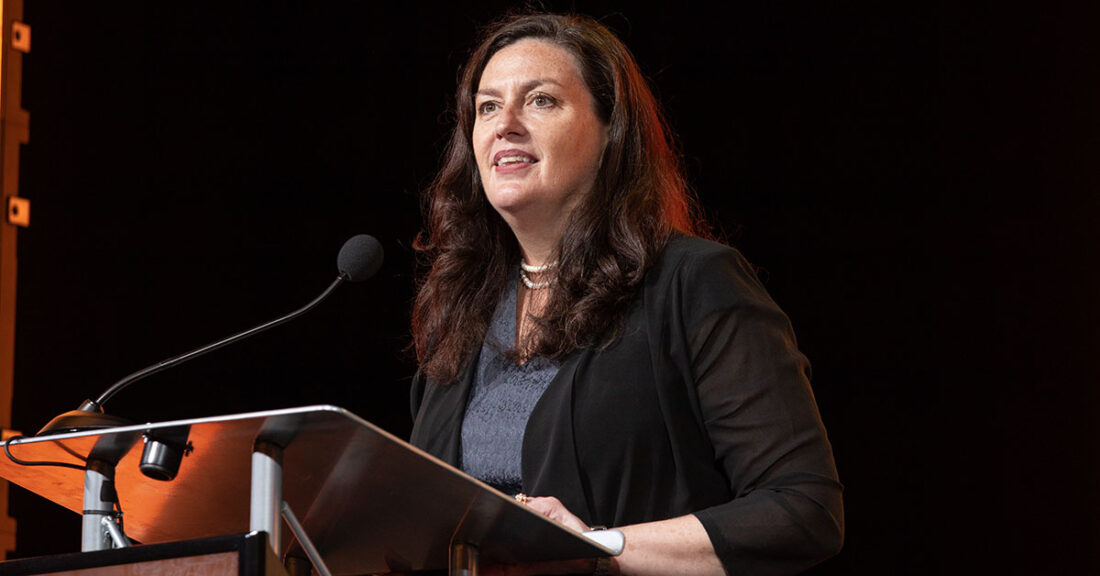 This episode of Cas­ey­Cast fea­tures Kath­leen Enright, pres­i­dent and CEO of the Coun­cil on Foun­da­tions. The Coun­cil — a long time part­ner of the Annie E. Casey Foun­da­tion — works to pro­vide phil­an­thropies with the oppor­tu­ni­ties, tal­ent and tools need­ed to expand their capac­i­ty to serve the greater good.
Before join­ing the Coun­cil ear­li­er this year, Enright spent 17 years as the pres­i­dent and CEO of Grant­mak­ers for Effec­tive Orga­ni­za­tions, a non­prof­it devot­ed to help­ing grant­mak­ers real­ize mean­ing­ful change.
The Foundation's Lisa Hamil­ton recent­ly spoke with Enright about the phil­an­thropy sec­tor, the pow­er of the lived expe­ri­ence, how foun­da­tions are veer­ing out­side their long­stand­ing lanes, and where the field still has room to grow.
A big thank you to Enright for chat­ting with us!
Stream the Lat­est Cas­ey­Cast Episode
Sub­scribe to Cas­ey­Cast on your favorite pod­cast service:
In This Episode on the Phil­an­thropic Sec­tor, You'll Learn
The role that the Coun­cil on Foun­da­tions plays in the world of philanthropy.
Com­mon mis­con­cep­tions about philanthropy.
The dif­fer­ences — and sim­i­lar­i­ties — between char­i­ties, non­prof­its and foundations.
What the term impact invest­ing means.
Chal­lenges fac­ing the field of philanthropy.
How the phil­an­thropic land­scape can bet­ter engage the peo­ple and com­mu­ni­ties that they're seek­ing to serve.
Where phil­an­thropy isn't mak­ing an impact — but should be.
Con­ver­sa­tion Clips
In Kath­leen Enright's own words…
"Phil­an­thropy is a form of speech. Where you give your mon­ey and how it is giv­en, it's a form of demo­c­ra­t­ic voice."
"I think one of the mis­con­cep­tions over­all is that phil­an­thropy is just for elite, über-wealthy folks. That's just not — at all — the case. Phil­an­thropy is embed­ded in the DNA of our country."
"I think phil­an­thropy would be well served to explore how we can cre­ate con­di­tions for broad­er eco­nom­ic pros­per­i­ty for all."
"I'm see­ing more and more foun­da­tions look holis­ti­cal­ly at all that we can bring to bear to advance our mis­sions. We're using our voic­es more effec­tive­ly. We're col­lab­o­rat­ing. We're align­ing our strate­gies and resources with oth­er foun­da­tions. We're lift­ing up advo­ca­cy and lob­by­ing and pol­i­cy change when we think that that is the best way to effect change."
"The research proves out that diver­si­fy­ing the rooms where deci­sions are made improves the deci­sion making."
Resources and Links
About the Podcast
Cas­ey­Cast is a pod­cast pro­duced by the Casey Foun­da­tion and host­ed by its Pres­i­dent and CEO Lisa Hamil­ton. Each episode fea­tures Hamil­ton talk­ing with a new expert about how we can build a brighter future for kids, fam­i­lies and communities.
Enjoy the Episode?
We hope so! Vis­it Apple Pod­casts to sub­scribe to the series or leave a rat­ing or review.
Lisa Hamilton:
I'm Lisa Hamilton from the Annie E. Casey Foundation… and this is CaseyCast.
My guest today, Kathleen Enright, is president and CEO of a philanthropic-serving organization called the Council on Foundations. The Council, a longtime Casey partner, is best described by its mission, which is to provide opportunities, talent and tools to philanthropies, so that they can expand their capacity to advance the greater good.
Prior to joining the Council earlier this year, Enright served for 17 years as the president and CEO of Grantmakers for Effective Organizations. She also speaks and writes regularly on issues of nonprofit and grant maker effectiveness to executives across the nation.
Kathleen, welcome to CaseyCast.
Kathleen Enright:
Thanks so much, Lisa. It's great to be here.
Lisa Hamilton:
Wonderful. Why don't we talk about what led you to a career in philanthropy. Few people have a straight line into this profession. Why don't you tell us how you got started in philanthropy?
Kathleen Enright:
I actually knew that I wanted to be in the nonprofit sector as early as junior year in college. So, mine was a much more direct path than most. I had an internship here in Washington, D.C. with this amazing advocacy organization. It was working for runaway and homeless kids. And I just saw the power and potential of an organization like this to do incredible good. It was really the embodiment of that Margaret Mead quote, "Never doubt that a small group of thoughtful, committed citizens can change the world, because indeed, it's the only thing that ever has."
I was sparked up and I realized that that's where I wanted to be. From there on I've been working in the nonprofit sector, and soon after graduate school found my way to philanthropy.
Lisa Hamilton:
Fantastic. I'm glad you had a straight route. Mine was more circuitous. It is a wonderful area to be in, to be able to be in the business of doing good. And you've been doing it for a long time.
Kathleen Enright:
Almost everyone's path is more crooked than mine.
Lisa Hamilton:
When we talk about philanthropy, not many people are quite sure what exactly it means. First, I want to ask you, what does philanthropy mean to you? How do you define it? Is it just about money?
Kathleen Enright:
No. Absolutely not. There are so many ways to give. You can give your money, of course. But you can give any part of yourself. Your time, your talent. I have a very open definition of philanthropy. And I'm hoping that more people feel that way as well. Our communities are enriched every single day by the multitude of ways that people give.
Lisa Hamilton:
But you often work today with a certain kind of giver: Institutional foundations. Talk about the Council on Foundations and who you represent and what kinds of organizations they are.
Kathleen Enright:
Yes. Absolutely. The Council does principally work with those who have formalized their giving through an institution like the Annie E. Casey Foundation. And, so, these groups are donors, often times they're individual donors or folks who have made their money through private industry. Sometimes they have come about in other ways like some are health conversion foundations, meaning a nonprofit hospital that has been privatized. So, they have hired staff and they have decided that they're going to become sophisticated about the way that they're giving away their money. We try to help them find peers and partners and get even more sophisticated more quickly.
Lisa Hamilton:
Any sense of the number of foundations in the country?
Kathleen Enright:
Yes. There are about 8,000 staffed foundations in the country at any given time. There are a lot more folks out there doing philanthropy through donor-advised funds, by putting money into their church plate every Sunday, by giving through other online vehicles. So, nearly everyone is a philanthropist.
Lisa Hamilton:
Tell us what misconceptions people have about the field of philanthropy.
Kathleen Enright:
I think they have misconceptions big and small. I think one of the misconceptions overall is that philanthropy is just for elite, uber wealthy folks. That's just not at all the case. Philanthropy is embedded in the DNA of our country. It has been with us since the very dawning of the United States. In fact, one of the Council's board members told me the most moving story about her family's history with philanthropy. Her name is Stephanie Bell-Rose, and-
Lisa Hamilton:
I know Stephanie.
Kathleen Enright:
You know Stephanie. She's in philanthropy, she run the TIAA Institute, and she talked about her great-great-grandfather, who back in the 1800s, right after the Civil War gave him his freedom from slavery, donated the land to found the St. Thomas AME Zion Church in North Carolina. So, he became a philanthropist right after he got his freedom. From there, his family has been philanthropists ever since. I think a misconception about philanthropy is that it's for really wealthy folks, that it's out of reach for everyday givers, and I think that's a myth I'd like to bust.
Lisa Hamilton:
That's great. I was interviewed recently about who inspires me in philanthropy, and I noted Osceola McCarty, the wash woman in Mississippi who saved her resources and gave a scholarship at the University of Mississippi. And, as you said, it's an opportunity for everybody to give in lots of different ways. I'm glad you are a proponent of a broad definition of philanthropy.
Kathleen Enright:
Absolutely.
Lisa Hamilton:
Great. I'm not sure people always understand the differences between philanthropy and charity and nonprofits. Could you talk about how these are similar and maybe some of the ways that they might be different?
Kathleen Enright:
Philanthropy is kind of the work of foundations and the act of giving, either money or time. That is often the word that folks use, it's sort of a fancy word. You could just call it giving. And then charity and nonprofits are the institutions that often receive that kind of money. So, they're set up in society in service of the public good or the greater good.
Lisa Hamilton:
Thank you for that differentiation. So, you manage a philanthropy network. You try to bring foundations together so they can learn from one another and implement best practices. What do you find is the value of having this kind of philanthropic community? What can networks do compared with just a single foundation, for example?
Kathleen Enright:
Oh, yeah. Lisa, the earliest philanthropists understood that they were working on issues that none of them could solve alone. That's why they created groups like the Council. They wanted to come together because they were trying to do really hard work. Warren Buffet very famously said, when he gave his initial gift to the Gates Foundation, that these are issues that have already defied both intellect and money. Solving poverty, working on childhood obesity, all of these things are harder than the typical work that a corporate enterprise does. Creating the spaces and the places where institutions can share what they're learning, where they can come together, where they can combine their resources, where they can add to one another's strategy, is going to help us make faster progress on these really important societal issues.
Lisa Hamilton:
I think that's so important. You led, for a long time, an organization that was focused on grant maker effectiveness. I imagine part of what can happen when you bring organizations together is that they learn how to do their work better, not just how the strategy of problem-solving works but how the business of giving could be better. Say more about being an effective philanthropy, what that entails.
Kathleen Enright:
How much time do we have left?
Lisa Hamilton:
It's more complicated than people imagine.
Kathleen Enright:
Yes ma'am.
Lisa Hamilton:
It seems odd whenever I say that giving away money is hard. But, the challenges are tough, and the business of philanthropy is tough.
Kathleen Enright:
Giving away money well is incredibly hard. Those who take it seriously feel the burden of that. They feel the burden of wanting to do it well. Because when you think about it, the risk is really borne by the people that you're serving. If you give the money away to ill effect, if you aren't actually achieving what you set out to achieve, it's not the foundation that suffers.
Lisa Hamilton:
Right.
Kathleen Enright:
It's the people.
Lisa Hamilton:
It's the mission.
Kathleen Enright:
It's the mission that suffers. It's the kids who aren't served well. It's the community who does not get the effect.
I think that the people inside foundation who are very serious and trying to operate with the highest integrity bear that on their shoulders. When you ask me about what it takes to do philanthropy well, there's a whole host of things. I think at the core, it's being guided by values.
Some of those values are about listening really hard and connecting with those closest to the problems that you're trying to solve, and ensuring that you're operating with humility, and that you are making the adjustments necessary over time when you are discovering that your initial inclinations are not-
Lisa Hamilton:
May not be right.
Kathleen Enright:
Yes. Maybe are not getting you where you thought that they were going to get you.
Lisa Hamilton:
When we started talking this afternoon, one of the topics that came up was racial equity. It's an issue that Casey has been grappling with and will continue to grapple with for a long time. I see the field grappling with it as well. Is there any insight that you have into how grant makers are trying to be effective on complicated issues like racial equity?
Kathleen Enright:
Yes ma'am. Actually, that's one of the things that is the absolutely most core to effectiveness. When you think about any of the most basic issues that foundations are trying to work on, education, health, fair housing, economic equality. If you look at those disaggregated by race, you see how big those gaps are, how big those differences are. So, if you are not paying attention to your strategies based on race, then you're not being the most effective.
Lisa Hamilton:
Thank you for the perspective, Kathleen, on how we can all think about being more effective, particularly around racial equity. We know that there are lots of strengths in today's philanthropic landscape. What are we doing well in philanthropy?
Kathleen Enright:
One of the evolutions that I've seen and I'm really excited about is that more foundations are using all of the assets at their disposal. I think in decades past it was more typical for foundations to focus merely on their grant making assets and that 5% that we had at our disposal to give out. I'm seeing more and more foundations look holistically at all that we can bring to bear to advance our missions. We're using our voices more effectively. We're communicating. You're doing this podcast, that's so exciting. We're collaborating. We're aligning our strategies and resources with other foundations. We're lifting up advocacy and lobbying and policy change when we think that that is the best way to effect change.
Lisa Hamilton:
It's exciting to see more foundations think about the role they can play in policy, and not just in programs. I think to your point there are many more foundations who are realizing that's an appropriate and acceptable tool that they can use to advance their mission.
Kathleen Enright:
Absolutely. There are multiple pathways to grow your impact. I think in the past we always just looked at the programmatic pathway, but you can try to scale impact by thinking about changing a policy or by growing an idea. There are multiple ways. But additionally, many are deploying the 95% of their endowment resources in different ways.
Lisa Hamilton:
I'm on a group with other philanthropic leaders about the impact of-
Kathleen Enright:
U.S. Impact Investing Alliance.
Lisa Hamilton:
Yes.
Kathleen Enright:
Absolutely. That's very exciting. These are frontier initiatives where we are thinking through how we, in totality, can have a broader impact on the world, and not just stay in what we thought of as our own lanes. The lanes that we saw as where we should be.
Lisa Hamilton:
Could you say more about impact investing, just for listeners who may not know what that is or how it works? Just so that people understand the difference between the 5% that we were talking about and the 95%.
Kathleen Enright:
That's a little bit of insider speak, sorry about that.
Lisa Hamilton:
That's okay.
Kathleen Enright:
In a lot of endowed grant making foundations, they spend out 5% of their assets every year in grants. That's where all the programmatic work typically happens. But then the rest of the money is invested.
What first started happening is that those invested assets were screened for things that maybe folks didn't want to have in their investments. They were screened positively or negatively, meaning things were taken out. There are terrific efforts like the divest/invest, where they're divesting from things like fossil fuels and investing in things like clean energy, depending on what the institutions' missions are.
There are other efforts like trying to diversify asset managers. ABFE, which was formerly known as the Association of Black Foundation Executives, they're now just known as ABFE but for those who don't know the field very well I thought I would spell that out. They're encouraging the diversification of the investment manager, so more women and people of color who are managing the money. That's another way that people are trying to change the game there.
But also using that 95% of resources to get multiple returns. Social returns as well as economic returns. So, it could be investing in low-income housing that also produces some profits. There's a multitude of vehicles for impact investing, but that's a small enough snapshot that gives people enough of an impression.
Lisa Hamilton:
Thank you, thank you. I didn't know if there were other ways that you saw the field being effective that you wanted to highlight.
Kathleen Enright:
Yeah, one that I think is so… it's like a fundamental shift that will catalyze a lot of other shifts, which is finding ways to engage and incorporate those with lived experience on the issues and causes that we're trying to affect. By seeking their feedback, by hiring them into our staffs, by recruiting them onto our boards. There is nothing like the felt or lived experience of whatever you're working on. Poverty, having been a refugee or an immigrant, any of these sorts of things, to enable you to make better decisions about the work.
Lisa Hamilton:
We're all limited by our own experiences. I think that is one of the ways we can be most effective, is to bring the insights and perspectives of others into our decision making.
Kathleen Enright:
Absolutely. The research proves that out.
Lisa Hamilton:
It does.
Kathleen Enright:
The research proves out that diversifying the rooms where decisions are made improves the decision making.
Lisa Hamilton:
Right.
Kathleen Enright:
I think that all of these are increasing the sophistication of our sector and of the individual organizations that make up our sector. That is only going to be to the good of-
Lisa Hamilton:
Of the business of good.
Kathleen Enright:
Of the world. Yes, of the business of good. I like that, yes.
Lisa Hamilton:
Wonderful. Let's shift, then, to talk about what isn't working. What do you think are some of the major challenges that are slowing us down in philanthropy?
Kathleen Enright:
I guess I'll say that this is an industry… you mentioned that lots of people come into this work through the side door, or through a less than typical path. But one thing that frustrates me is that people are making unforced errors. There are things that are known about how to do philanthropy well, and many have been doing this work for decades. Books have been written about this work.
Lisa Hamilton:
We've made the mistakes. Let's not make them again.
Kathleen Enright:
Yes ma'am, that's exactly it. So, if we just are willing to show a little humility and a little curiosity about what has happened and about how we can do the work better, and how the work is already being done better, then we can spend these precious public resources, these are resources that are tax-advantaged and therefore we have a trust.
Lisa Hamilton:
We're stewards.
Kathleen Enright:
We're stewards of a public trust, we can spend them better if we're willing to do that. So, groups like the Council and our colleagues and other philanthropy work, serving-organizations, will do our best to make those lessons more accessible, more digestible, more actionable. But those making philanthropic choices have got to show that curiosity and that humility to want to learn.
Lisa Hamilton:
I think, unfortunately, it's easy to be successful in one realm of life and believe that the same things that make you successful in business are the same skills or attributes that can make you successful in philanthropy, or could lead to problem solving on social issues. I see you nodding. That's not always true. There isn't an app for poverty.
Kathleen Enright:
What's that book, What Got You Here Isn't Going to Get You There? It's almost entirely true that the same skill sets that are going to make you successful in, name the field, are not ... it could be academia, it could be government, it could be whatever the field is. Or it could be software development ... are not going to be the same skills that are going to make you a successful philanthropist. Those really smart people can learn and pivot, though. I know they can.
Lisa Hamilton:
Other philanthropies like Casey and others work hard to try to share our lessons with others. We write more than I think people could ever read, in terms of trying to share the mistakes that we've made, or the successes that we've had and what's contributed to them. To your point, I think the Council is a fabulous intermediary to help all of us in the field learn from one another in faster, more powerful ways.
Kathleen Enright:
The one other thing that I have to say, because it's one of the most frustrating things, along those same lines that this field does not seem to progress as quickly as the evidence and the data would seem to-
Lisa Hamilton:
Permit.
Kathleen Enright:
Suggest, or permit, which is that nonprofits have been pleading for decades for the kinds of support that they need to be successful, which is that they need flexible dollars.
.They have been in this starvation cycle where they can't fund the things that they need to be high performing, and they're kind of on this treadmill, barely keeping up, all of the time. Some of this is because government money comes with such low overheads and so many restrictions, and that is very clearly part of the problem, a big part of the problem.
I personally worked on this challenge for 17 years, and I can say that I… I can't say that I understand the rationale, to be frank. The businesspeople who create these foundations clearly understand the expenses necessary to run a top rate enterprise, of course they do. I'm just not sure why they would restrict, or cherry pick the expenses that they are willing to pay for when attempting to fund a top-rate organization that's doing work that's much harder than the typical for profit.
Lisa Hamilton:
Foundations like Casey often support, not just a programmatic work of an organization, but also lots of capacity building. We realized that in order for our organizations to deliver results, they've got to be strong organizations. We provide investments that help them get better on data, or help them get better on communications, or help them get better on racial equity. It seems like by increasing the overhead it contributes to their ability to fund their own, or manage their own, capacity building in some ways.
Kathleen Enright:
Absolutely. I ran an organization that was completely committed to all of those things. Capacity building, evaluation, all that. And in my perfect world, the organizations would be getting the flexible dollars they need to self-support whatever kind of capacities that they need in order to be high performing. There's the counter argument that nonprofits are so conditioned, culturally, to underfund that stuff that foundations need to provide those incentives. That is true. We do need a shift that will take some time, because nonprofits have been in a system that's broken for too long. We do need to shift the system, and then have them believe that the system has been shifted in order for it to be real.
Lisa Hamilton:
Thank you for that perspective, both the celebration of the things that we seem to be doing well in philanthropy, and the call to action and the challenge for us to continue to push ourselves to do more.
You started talking about this question of engagement, and I want to explore that a little more. In modern America, wealthy individuals can make an undemocratic impact through philanthropy. What can we do to ensure that the sector is engaging in more meaningful ways with the communities and the people that we are seeking to help?
Kathleen Enright:
Absolutely. That's one of the major arguments of some of philanthropy's critics right now, is that philanthropy's being done by plutocrats. It is a form of speech. Philanthropy is a form of speech. Where you give your money and how it is given, it's a form of democratic voice.
To my mind, the more that we can open up and enlarge who has access to be a philanthropist in first order, the more democratic it becomes. I'm concerned about the fact that tax reform cut off that ability, to some extent. Because when we reduce the number of people who itemize their taxes by so much, so many fewer people receive any sort of benefit from giving to nonprofits. Therefore, it really is the higher income folks who are getting the most tax benefits. And so, the Council will be working hard to try to create a broader benefit for more folks and for more people with more regular incomes to make philanthropy more democratic.
Lisa Hamilton:
That's great.
Kathleen Enright:
Additionally, we said that you need to stay connected to those who are affected by the issues that you're working on. Some of the best regarded organizations in our sector have been calling out for that kind of connectivity for years and years. Some people talk about it as getting proximate, others have written publications called Do Nothing About Me Without Me. People are talking about feedback loops.
Lisa Hamilton:
Participatory research.
Kathleen Enright:
Participatory research. Folks are talking about it in so many different ways. Not only do you need to ask for, but you actually have to take and incorporate and make real the feedback that you're seeking.
Lisa Hamilton:
One of the things when we are doing our work is the balance you have. You have paid staff that you have charged with helping to figure out how to make investments on their behalf, but then you know how important it is to engage communities. There is a lot of work that has to be done to help your staff understand what their role is in both making grant making decisions but also engaging communities, in informing and providing support for those kinds of decisions. There is a dance to be done in trying to manage both paid staff and community members that you want to have a voice in what you're doing.
Kathleen Enright:
Lisa, you sound like you've already got that balance. Your understanding of that balance and you're talking about it in a really nice way. I think where it goes a little bit askew is when foundations charge their staff with being the expert. Because then they think they have to have the answers. That's terrible for them. Those poor foundation staff that think that they have to have the answers, and then present it in a whole little package to their foundation leadership. Of course, they're going to get resistance from the nonprofits they fund and from the communities that they serve. Because, again, they weren't consulted.
Lisa Hamilton:
I don't want to pretend that we have it all figured out. We're practicing. Philanthropy is a practice.
Kathleen Enright:
Of course, absolutely.
Lisa Hamilton:
Not a performance. We are every day trying to do that balance, but I think people often come to philanthropy imagining that their role is to have an expert answer. There are often people who are accomplished in the fields that we work in. Helping them build new muscles to be rather engaging, to be folks who engage community and are listeners and not just deciders is really a new muscle that you have to build for folks in philanthropy.
As you said, it can be a black box. People aren't always sure what it means when you come into philanthropy. But I think it can be eye opening to realize, my job is often really to reveal the insights and solutions that those we seek to serve have. I think you're right, that's a really important part of our practice we have to get much, much better at.
Kathleen Enright:
We can also hire for it, though. We can hire people in who are already good at that. That is, it's a key skill.
Lisa Hamilton:
Or who have lived experience. It doesn't have to be outside/inside situation.
Kathleen Enright:
Definitely.
Lisa Hamilton:
That's great. Let me shift and ask you, what's one area that you'd like to see philanthropy taking on a larger role so we can have a greater impact? It feels like philanthropy is a part of so many fields. Are there some spaces where you think we are a bit absent?
Kathleen Enright:
Absent is probably not the right word. But when I think about the fact that philanthropy exists because some individuals have resources that far exceed their needs while others are struggling and suffering, I think philanthropy would be well served to explore how we can create conditions for broader economic prosperity for all.
Lisa Hamilton:
Last question, do we have a new generation ready to take on the helm of philanthropy? I don't think folks imagine young people are as often leaders in philanthropy, but I know your organization does lots of work to try to build the talent pipeline into philanthropy. What does it look like?
Kathleen Enright:
Oh, yes, absolutely. There are incredibly values-driven generations coming up. I've been so excited to see how many leaders in philanthropy have been coming from within the field. You're one of them, Lisa, which is so exciting.
Because this is an industry, as I've said, and there are skills that you need. There's context. There's deep learning that helps you be a more successful leader in this work. It's exciting to me that people are finding career paths in philanthropy, that they're sticking to it, that we're creating cultures where more folks are wanting to stick in our sector. I'm hoping that that will continue to be the case, particularly for people of color. There was a very disturbing report several years ago that ABFE produced called Exit Interviews, which was about how Black people were leaving foundations at an incredibly rapid rate because the cultures were not working for them. That has not been repeated recently, but the Council cares very much about diversity in the sector.
We have a Career Pathways program that is explicitly about getting folks who are mid-career into the C-suite in philanthropy, people from all sorts of the dimensions of diversity, including racial diversity, but also people who might come from a rural background or people who come from low socioeconomic status or what have you. We're very excited because those cohorts fill up very quickly and there's a lot of success of people who have been in Career Pathways who are now in CEO roles in philanthropy.
Lisa Hamilton:
That's fantastic. It seems like we are getting ready and there is an energetic crop of leaders ready to step into leadership here.
Kathleen Enright:
Absolutely. I think that there is plenty of leadership to be had for the nonprofit sector and for philanthropy. I think they're ready, they're willing, and we just need to let them loose.
Lisa Hamilton:
That is so exciting. Kathleen, it has just been phenomenal to have this conversation with you, to hear what you see is happening in philanthropy, both the opportunities that lie ahead of us and some of the challenges that we need to be mindful of, so we can be as effective as we can in doing this business of doing good. Thank you so much for joining me on CaseyCast today.
Kathleen Enright:
Thank you so much for having me, Lisa.
Lisa Hamilton:
Thank you to everyone listening today.
If you enjoyed this episode, go to Apple Podcasts to rate the show or share your feedback on Twitter using the CaseyCast hashtag. As always, more information on CaseyCast, this interview, and the Annie E. Casey Foundation's work is available at AECF.org/podcast.
Until next time, I wish all of America's kids — and all of you — a bright future.
This post is related to: