Latest Results Report Show Significant Site Progress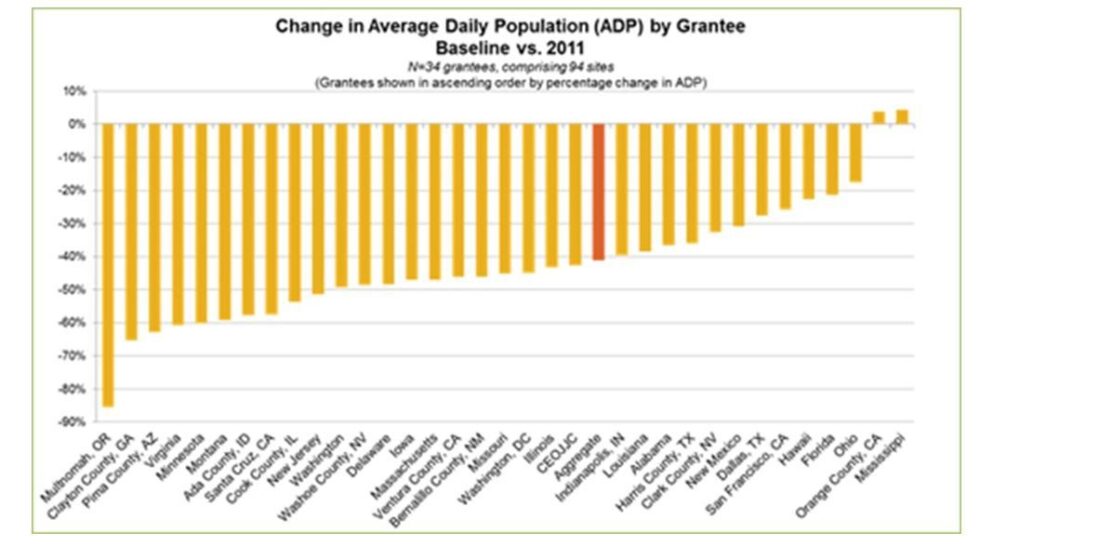 JDAI sites con­tin­ued to achieve sig­nif­i­cant reduc­tions in the use of deten­tion, while improv­ing pub­lic safe­ty and send­ing few­er youth to state facil­i­ties, accord­ing to the 2011 Annu­al Results Reports Summary.
Each year, JDAI sites pro­vide Results Reports to the Annie E Casey Foun­da­tion, gaug­ing the progress and impact of deten­tion reform in their juris­dic­tions. The Results Reports ask sites to com­pile infor­ma­tion from a recent year about 22 indi­ca­tors of deten­tion uti­liza­tion, pub­lic safe­ty, com­mit­ments to state facil­i­ties and racial/​ethnic dis­par­i­ties; and to com­pare their per­for­mance on those indi­ca­tors to what they expe­ri­enced pri­or to imple­ment­ing JDAI. The Results Reports also ask sites about their efforts to build sup­port for deten­tion reforms among state and local stake­hold­ers and the gen­er­al pub­lic, through media, infor­ma­tion-shar­ing and edu­ca­tion activ­i­ties; and their suc­cess in lever­ag­ing resources to sup­port deten­tion reform.
For the third con­sec­u­tive year, the Foun­da­tion has pre­pared a sum­ma­ry of the Results Reports that reveals the scope and impact of what JDAI sites are accom­plish­ing. In the 2011 Results Report­ing year, self-report­ed data from 94 sites – a 9% increase over 2010 – showed the following:
About

2

,

845

few­er youth were detained on an aver­age day, a decrease of

41

% from pre-JDAI levels.
Admis­sions to secure deten­tion had fall­en by almost

55

,

000

, a decrease of

38

%.
Although youth of col­or con­tin­ue to be a dis­pro­por­tion­ate share of those detained, sites report­ed that they detained almost

1

,

841

few­er youth of col­or on an aver­age day, a decrease of

39

% since begin­ning

JDAI

.
Across the ini­tia­tive there have been

4

,

237

few­er com­mit­ments to state cus­tody, a decrease of

38

%.
These gains have been achieved amid broad reduc­tions in juve­nile crime, by an aver­age of

32

%.

JDAI

sites also held hun­dreds of train­ings and pub­lic events to spread the mes­sage of deten­tion reform, and lever­aged over $

39

mil­lion to invest in deten­tion alter­na­tives and oth­er reforms.
This post is related to: