Logging Into a WebEx Webinar? Here's How.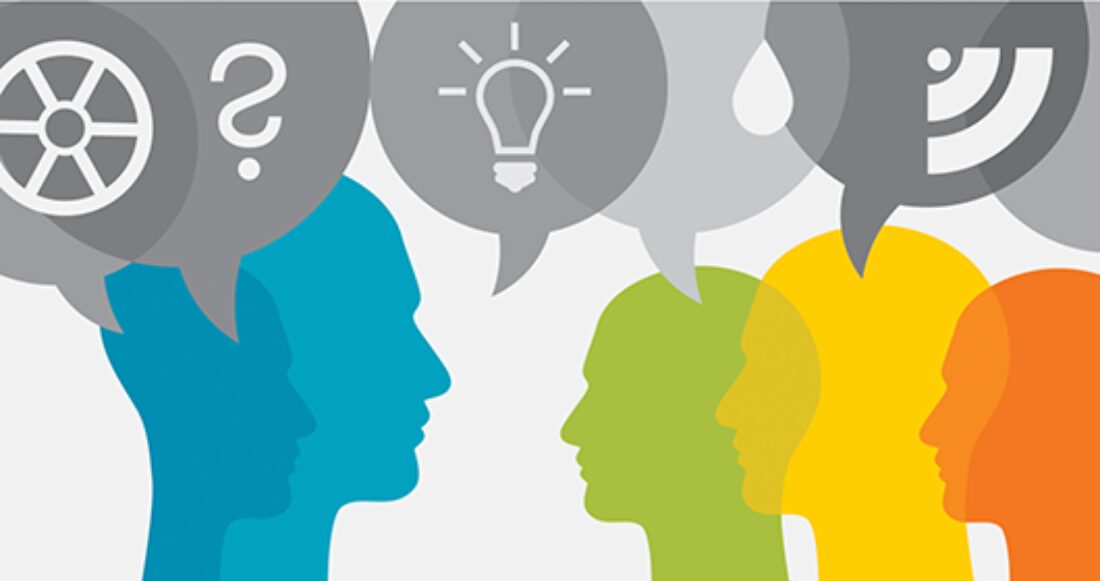 Webi­na­rs are one of the many tools that the Foun­da­tion uses to engage part­ners across the coun­try in impor­tant con­ver­sa­tions about what kids, fam­i­lies and com­mu­ni­ties need to thrive.
Here's what you need to know to get started:
Before the webi­nar starts: Reg­is­tra­tion is required.
You must reg­is­ter for a webi­nar in advance.
Check your offi­cial email invite for the reg­is­tra­tion pass­word (it's in there — promise. We even bold it for you to make it stand out).
With the reg­is­tra­tion pass­word handy, head to our webi­nar reg­is­tra­tion site.
Select ​

"

Reg­is­ter."
Fill out the form, then select ​

"

Sub­mit."
Once you com­plete the reg­is­tra­tion form, keep your eyes peeled for a con­fir­ma­tion email with login details, includ­ing an event pass­word for the webinar.
Join­ing a webi­nar is a two-part process: Start with your password.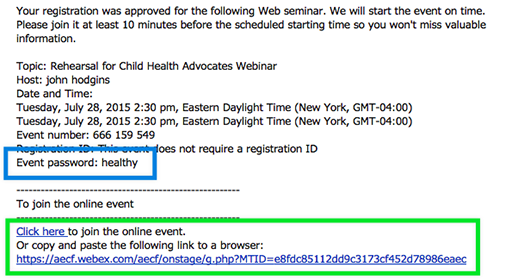 Log­ging into a webi­nar requires an event pass­word. Check your email for a link to the webi­nar and the event pass­word (see exam­ple, above).

Click the link for the webi­nar and enter your email address (it will be the one used to send the con­fir­ma­tion email) and the event password.

Now that you've logged into the webi­nar, you can view the webi­nar. To hear the webi­nar, you'll need to select an audio option, choos­ing from the options pro­vid­ed in a pop-up window.
Next: Choose how you want to join the audio-por­tion of the webinar.
The two options for join­ing the audio por­tion of the webi­nar are: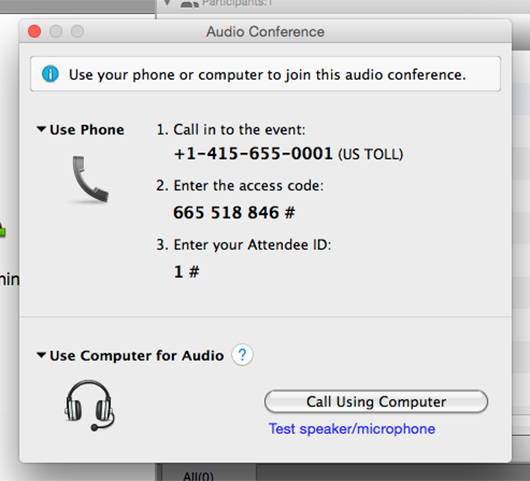 by phone: Choose I will call in and then call in using the phone num­ber, access code and

ID

pro­vid­ed in your con­fir­ma­tion email.

Every­one has a unique ID gen­er­at­ed by WebEx, so the webi­nar hosts can­not pro­vide it for you dur­ing the webi­nar. If you missed this infor­ma­tion on the pop-up win­dow, you can find it under the Infor­ma­tion tab.

When you call in by phone, you'll still need to lis­ten to your com­put­er to hear any videos played dur­ing the webi­nar (more on this below).

by com­put­er: Choose Call using com­put­er. (You can even select the ​

"

Test speaker/​microphone" link to con­firm you're good to go.)
Some quick tips to ensure that you are webi­nar ready:
Par­tic­i­pa­tion via phone = high­er audio quality.
Par­tic­i­pa­tion via com­put­er requires (

1

) a strong inter­net con­nec­tion and (

2

) a speak­er or head­phones. Almost all Casey webi­na­rs allow atten­dees to engage with pan­elists through a chat func­tion, so you do not need a microphone.
Webi­na­rs may involve show­ing videos. Audio for these videos will flow through your com­put­er and use its net­work con­nec­tion. So even if you've opt­ed to use your phone for audio, you'll still need to lis­ten to video from your com­put­er. To pre­pare for webi­na­rs with video con­tent, con­nect to the meet­ing via com­put­er and check that your com­put­er speak­ers are on and ready.
That's it! You're now ready for a Casey webi­nar. We look for­ward to your join­ing us.