New Resources to Expand Quality Apprenticeship Programs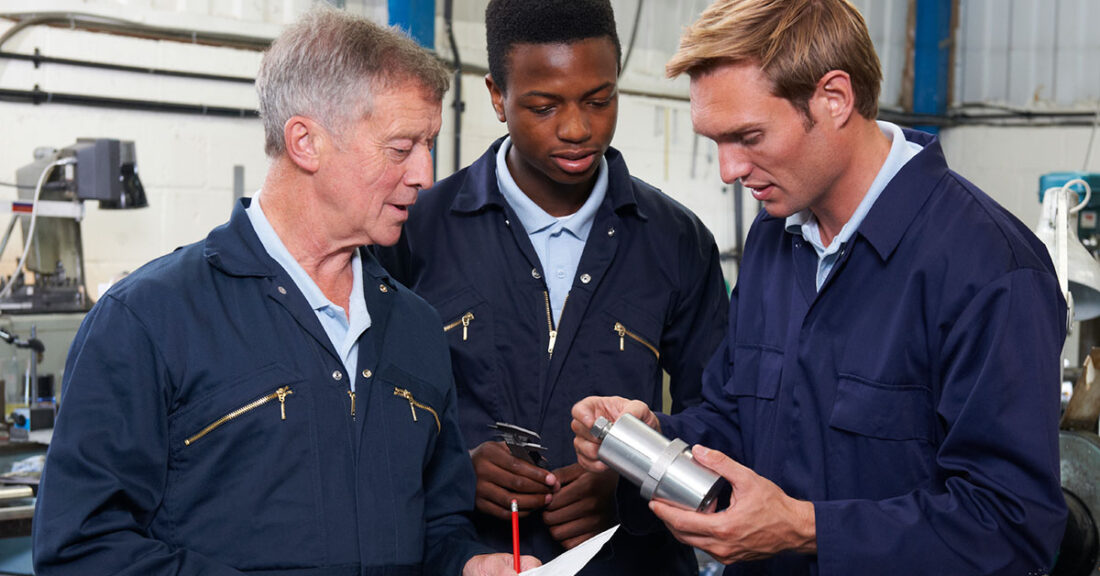 For many people — especially residents in low-income communities and people of color — four-year educational institutions are too costly or too difficult to manage with work and home life.
Apprenticeship programs have emerged as a promising alternative.
When executed well, apprenticeships allow people to earn credentials and a paycheck while training alongside skilled mentors — an arrangement that creates equitable pathways in growing fields of work, such as health care, hospitality and technology.
Below are resources, funded by the Annie E. Casey Foundation, that offer insights and advice on expanding apprenticeship programs so that more Americans can gain the experiences and connections needed to thrive in today's changing economy.
Center on Wisconsin Strategy (COWS): Building equitable apprenticeships
A policy brief by the research group COWS draws on case studies from California, Montana and Wisconsin to offer recommendations for building equitable apprenticeship programs that expand career opportunities for women and people of color. Tips include:
Prioritize equity. Account for entry barriers that people of color and women face and make special efforts to recruit them.
View race, ethnicity, gender and lived experience as strengths. Recognize that a diverse staff can better connect with the culture and experiences of the people they serve.
Concentrate on apprenticeships that lead to a career. Ensure participants are connected to well-paying employers that offer long-term, sustainable careers.
JFF: Fostering more inclusive hiring practices
In its report Growing Equity and Diversity Through Apprenticeship, the nonprofit JFF analyzes the efforts of more than 15 worker associations and employers to generate insights on apprenticeship programs looking to boost diverse hiring. Advice includes:
Look beyond degrees. Employers can create opportunities for people who have traditionally been excluded from well-paying jobs by considering candidates' specific skills and passion — not just their educational background.
Connect with students early. Young people should learn about career pathways outside of the traditional four-year college model as soon as possible.
North Carolina Justice Center: Expanding access to youth apprenticeships
A study by the North Carolina Justice Center, Making Youth Apprenticeships Equitable and Effective, explores youth apprenticeship programs in four North Carolina counties and analyzes the barriers that young people — particularly youth of color — face. Recommendations include:
Actively recruit young people of color. Employers and other recruiters should prioritize visits to schools that primarily serve students of color.
Rely on trusted messengers. Members from within a given community — pastors, community advocates, employees of color — may be more effective at connecting with students of color and promoting apprenticeships as viable opportunities.
Collect and standardize data. To measure results well, program staff must collect data in the same way, using the same methods, across various sites.
Partnership to Advance Youth Apprenticeship (PAYA): Building quality programs
PAYA is a multiyear, multistate initiative to help high school students access high-quality apprenticeship opportunities. The collaborative has developed a set of guiding principles to help ensure that these programs connect young people with the skills needed to meet workplace demands and develop successful careers. PAYA defines effective youth apprenticeship programs as:
Career oriented, with learning structured around knowledge, skills and competencies that leads to careers providing family-supporting wages.
Equitable, with targeted support services for students who face the greatest education and employment barriers.
Portable and offer transferrable college credits.
Adaptable and designed for a variety of industries and sectors.
Accountable, with clearly defined targets.
Learn more about PAYA's state-based efforts and view its infographic on the benefits of youth apprenticeships.
This post is related to: