One in Five Children is Food Insecure in 2010
In 2010, more than one in five U.S. chil­dren lived in house­holds that were food inse­cure at some point dur­ing the year. This rep­re­sents 17 mil­lion chil­dren and an increase of 3.7 mil­lion chil­dren since 2005. This increase occurred as the unem­ploy­ment rates of par­ents dou­bled to 8 per­cent, lim­it­ing the resources fam­i­lies have for shel­ter, food and cloth­ing. New Mex­i­co and Ari­zona had the high­est rate of child­hood food inse­cu­ri­ty (29 per­cent), while Vir­ginia and North Dako­ta had the low­est rate (12 percent).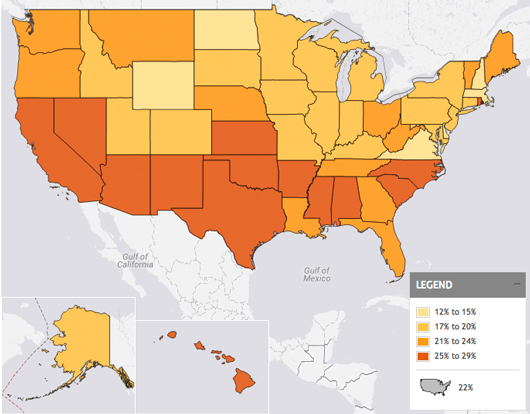 See the Eco­nom­ic Well-Being sec­tion of the KIDS COUNT Data Cen­ter for nation­al, state and city data.
This post is related to: