Reimagining Juvenile Justice Brings Professional Development to Frontline Staff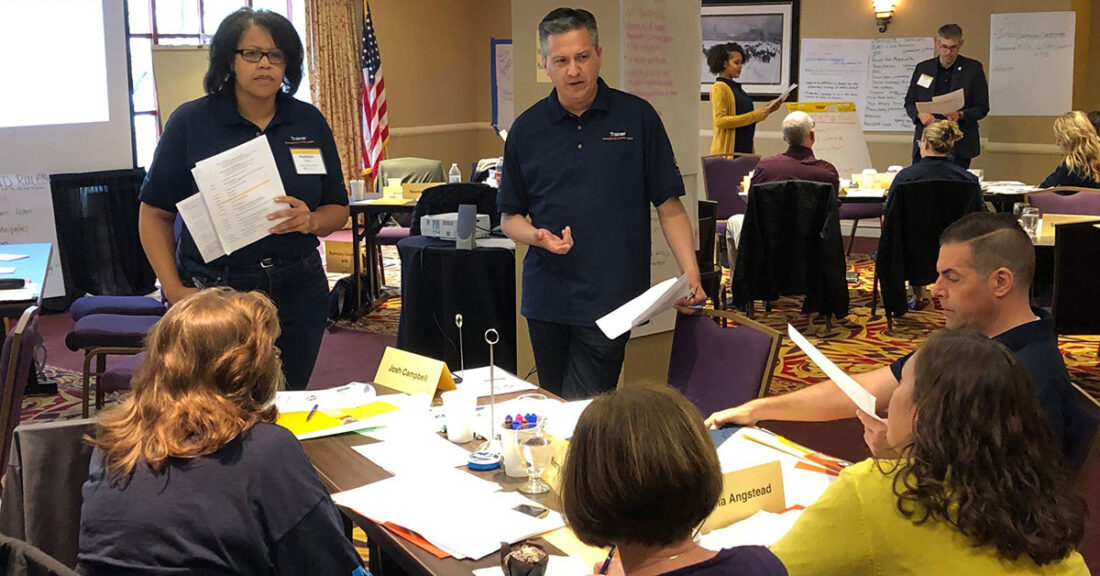 Teams from 15 sites have completed the Reimagining Juvenile Justice (RJJ) Training Institute — and are ready to share what they've learned.
The Institute, launched by the Annie E. Casey Foundation in 2019, helps juvenile probation staff and other juvenile justice professionals deliver the RJJ curriculum in their home communities.
The 2019 teams, which span 34 individuals and a number of Juvenile Detention Alternative Initiative® (JDAI) sites, are based in the following places:
Arizona Supreme Court and Pinal County, Arizona
Arkansas Administrative Office of the Courts
Calcasieu Parish Office of Juvenile Justice Services, Lake Charles, Louisiana
County of Santa Barbara Probation Department, Santa Barbara, California
Douglas County Youth Center, Omaha, Nebraska
Maryland Department of Juvenile Services
Massachusetts Department of Youth Services
Ohio Department of Youth Services and the Ashtabula, Franklin, Montgomery and Summit County Juvenile Courts, Ohio
Pierce County Juvenile Court, Tacoma, Washington
Racine County, Racine, Wisconsin
Ramsey County Juvenile Corrections, St. Paul, Minnesota
Santa Clara County Probation Department/Juvenile Division and East Side Union High School District, San Jose, California
State of South Dakota Unified Judicial System
Tennessee Department of Children's Services and the Juvenile Court of Memphis and Shelby County, Tennessee
Virginia Department of Juvenile Justice
Beyond sharing RJJ training tools and techniques, the Institute helps juvenile justice professionals expand their capacity for diverting youth to appropriate and fair justice options — including options requiring a high degree of cross-system collaboration and coordination.
"RJJ will go a long way toward deepening approaches and practices that reflect what we know about positive youth development," says David Brown, a senior associate in the Casey Foundation's Juvenile Justice Strategy Group.
The training teams will offer RJJ classes to local frontline staff by the end of 2019. The hope and intention is that all 15 locations will add classes in 2020, and trainers from state-level agencies — in Arizona, Arkansas, Maryland, Massachusetts, Ohio, South Dakota, Tennessee and Virginia — will serve new counties in 2020. Interested jurisdictions in these eight states can connect with a state-level RJJ training coordinator by sending an email to Brown.
As this work unfolds on the frontlines, the Foundation and its training partner — School & Main Institute — will continue gathering input to improve the RJJ curriculum and further promote its use. By 2020, Casey aims to make portions of the RJJ curriculum available at JDAIconnect, which is a free online community supporting juvenile justice reform. The Foundation also is considering hosting an RJJ Training Institute in 2020. Sites interested in potentially participating in this opportunity should also connect with Brown.
Learn more about the 2019 RJJ Training Institute
Read about the pilot of RJJ in Massachusetts
This post is related to: