Sarah Hemminger on How to Create a Stronger Community for Young People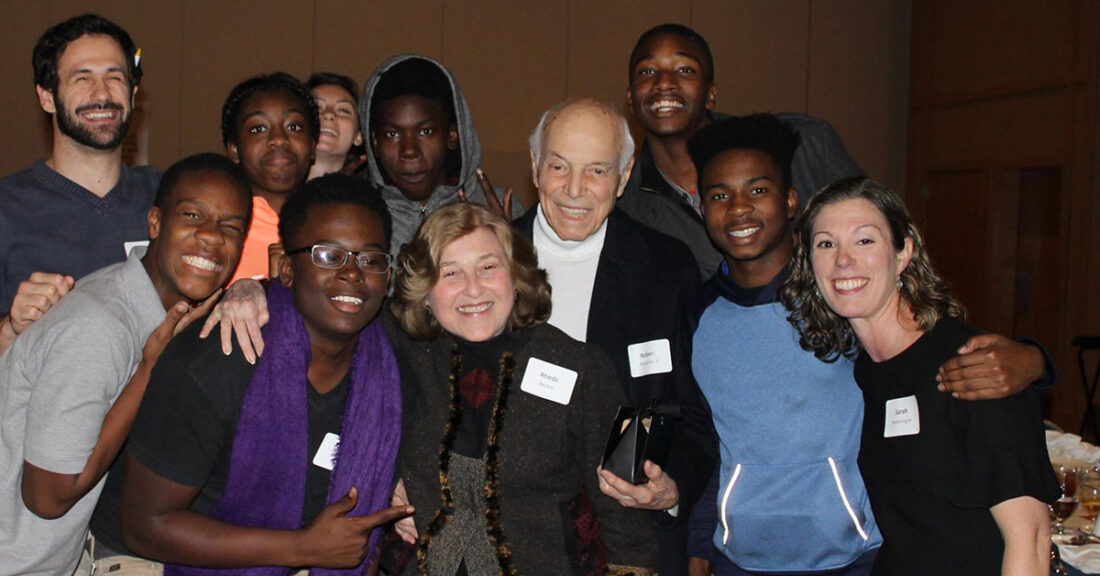 Sarah Hem­minger is the chief exec­u­tive offi­cer and co-founder of Thread, a Bal­ti­more-based non­prof­it that match­es select high school fresh­men with up to four men­tors for 10 years. The approach aims to break the cycle of poor edu­ca­tion­al and eco­nom­ic out­comes in some com­mu­ni­ties and replace it with a new cycle of edu­ca­tion­al attain­ment, ser­vice and well-being.
It's a move — and a mod­el — that rad­i­cal­ly and per­ma­nent­ly recon­fig­ures the social sup­port net­work for all involved.
The Annie E. Casey Foundation's Lisa Hamil­ton recent­ly spoke with Hem­minger about Thread's for­ma­tion and evo­lu­tion, the virtues of con­sis­ten­cy, imper­fec­tion, and vul­ner­a­bil­i­ty, and what young peo­ple today real­ly need.
A big thank you to Hem­minger for chat­ting with us!
Stream this Cas­ey­Cast episode on sup­port­ing young peo­ple and their success
Sub­scribe to Cas­ey­Cast on your favorite pod­cast service:
In this episode on help­ing young peo­ple thrive, you'll learn
The three ways that Thread builds community.
Data that speaks to Thread's success.
How Thread engages young peo­ple and their families.
What the Thread net­work looks like.
How Thread sup­ports its volunteers.
Con­ver­sa­tion clips
In Sarah Hemminger's own words…
"We got here because there were sys­tems put in place, poli­cies put in place that inten­tion­al­ly were cre­at­ed to iso­late us from one anoth­er and keep us disconnected."
"What we're real­ly look­ing for is to cre­ate space in which a young per­son can find their pur­pose. That inter­sec­tion of what they're great at, and what they're pas­sion­ate about, and what the world needs."
"We have a fun­da­men­tal belief that build­ing rela­tion­ships, espe­cial­ly rela­tion­ships across lines of dif­fer­ence, is going to take time."
"What our young peo­ple real­ly need is to be known — for some­one to get them. And a lot of that comes about, actu­al­ly, based on the behav­ior of the adult."
Resources and links
About the Podcast
Cas­ey­Cast is a pod­cast pro­duced by the Casey Foun­da­tion and host­ed by its Pres­i­dent and CEO Lisa Hamil­ton. Each episode fea­tures Hamil­ton talk­ing with a new expert about how we can build a brighter future for kids, fam­i­lies and communities.
Enjoy the Episode?
We hope so! Vis­it Apple Pod­casts to sub­scribe to the series or leave a rat­ing or review.
Lisa Hamilton:
From the Annie E. Casey Foundation, I'm Lisa Hamilton and this is CaseyCast.
In January, the Casey Foundation announced that we are dedicating at least half of our investments over the next decade to improving the well-being and prospects of youth and young adults ages 14 to 24. Our goal is to equip all young people with the connections, communities and opportunities that they need to not just survive — but thrive by age 25.
Joining us today is Sarah Hemminger, a guest who shares Casey's commitment to supporting young people. In 2004, Sarah founded a Baltimore-based nonprofit called Thread.
Today, as Thread's Chief Executive Officer, Sarah oversees the organization's efforts to support local youth who are facing significant challenges. Thread matches select high school freshmen with up to four mentors for nearly 10 years — a move that radically and permanently reconfigures the social support network for all involved. This approach aims to break the cycle of poor educational and economic outcomes in some communities and replace it with a new cycle of educational attainment, service and well-being.
Welcome, Sarah. Thanks for joining us today on CaseyCast.
Sarah Hemminger:
Thank you for having me.
Lisa Hamilton:
Well, let's start at the beginning. Can you tell us why you created Thread, and what it does, and what you hope to accomplish?
Sarah Hemminger:
Absolutely. So, I grew up originally in Indianapolis, Indiana, in an incredibly religious family. And when I was about 8 years old, my parents found out that the pastor of the church where we were attending had been misusing money. And when they revealed that to the congregation, instead of firing the pastor, they decided that they would shun my family.
So, from the time I was 8 until the time I was 16, I would go to church, sometimes three days a week, as much as six hours in one setting. And other children, adults, my own cousins, aunts and uncles were instructed not to speak to me, to ignore me, to act as though my family really didn't exist. And during that time, I learned a lot about what it feels like to be disposable, and what it feels like to be unseen.
I also had a close friend in high school who his mom had been in a bad car accident.
She has been unable to walk for quite a while and couldn't work. She lost her job. They lost their home. They moved from suburban Indianapolis into public housing. And as a result, she became depressed and addicted to Dilaudid, and then began selling drugs to support her own habit. So, he essentially went from — as he would in his own words put it — cornfields to what was essentially a crack house in an 18-month period that coincided with his transition into high school.
And so, when I met him, he was a straight A student, he was a varsity athlete, he was a senior, I was a freshman, I clearly had a crush. And when you're 14 years old, the last thing you want to do is say to someone you have a crush on like, so what's up with all that? I would hear rumors about him, and how do you really open that conversation?
And he explained that after what had happened with his family, his freshman year, he had actually failed his classes, and missed more than 30 days of school, and was going to drop out. And there was a group of teachers who really just saw him as a human being, and said we're going to drive you to school because it's a lot easier to go to school when you have a ride than if you have to take two or three buses that take hour and a half, two hours.
And we're going to make sure you have breakfast because it's a lot easier to focus on school if you're not hungry. And we're going to make sure you have a place to do your laundry because high school is brutal as it is. And so, you don't want to be teased because your clothes aren't clean. And for him, what that did is no one can make decisions for you, but they can certainly influence your decisions.
And that influenced his decision, and his ability to focus on his academics. I like to joke that my first strategic planning process is convincing him to date me, and then later marry me. And so, we've now been married 21 years.
So, what happened was fast forward years later, I found myself as a graduate student at Hopkins. And I was driving past Dunbar High School one day, and that's when hit me.
I made the assumption that there were young people in Dunbar High School that were like my husband: capable, beautiful, brilliant young people that might have things happening outside of the school that were making it more challenging to focus on their academics.
We begin just by asking the principal at Dunbar, we really wanted to build this community with young people who academically rank in the bottom 25% of their class, but again, brilliant, beautiful, capable young people.
And so, now, what we do is when young people come into the Thread, and in their freshman year of high school, they stay with us for 10 years. And then, during that time, there's three ways in which we build community, and we call it doing life together. On Thread is we just do life together.
The first is that each young person in their family has a group of up to four volunteers. And those volunteers engage in the same way you would with your family. So, your own child, or niece, or nephew, or cousin or an aunt, or uncle. So, that could be things like rides to school, but in COVID, it could be calling to make sure that they're logged in first thing in the morning into Google classrooms.
What we're really looking for is to create space in which a young person can find their purpose. That intersection of what they're great at, and what they're passionate about, and what the world needs.
And so, we do that by also having programs spaces like camping and after-school Thread hours, and community service. Those are really spaces where volunteers and students gather.
And then, the third piece is we have collaborators, and collaborators are extraordinarily impactful in, as a young person is working toward a goal, oftentimes you encounter barriers. Maybe it's an eviction or a health challenge. And so, our collaborators provide pro bono resources, and expertise in legal, health, housing that support our young people and volunteers in working through those barriers so that they can really focus on achieving their own goals.
Lisa Hamilton:
That is amazing. So, it really is a way to wrap caring adults around the lives of these young people to help them navigate barriers that might come up in their lives, but also to find a path forward that can, as you say, give them a sense of purpose, and that is really beautiful. And I'm inspired by the way that you and so many other social innovators take their own personal experience, or the experience of people they love, and think about how to solve the challenge they had.
It wouldn't be the Casey if we didn't talk data. So, let's talk about the scope and scale of the work that you're doing. How many young people have you worked with? And what outcomes are you looking for, and that you can point to as evidence of Thread's success?
Sarah Hemminger:
So, we currently enroll high school freshmen from six local high schools here in Baltimore. The average incoming GPA of our students is 0.79 on a 4.00 scale. Our overall goal is to reach a capacity where we actually enroll 7% of every freshman class across the school district each year. We currently work with 655 young people and alumni, as well as over 2,000 volunteers and collaborators.
And while we understand that milestones like high school graduation, and completion of a post-secondary program are not enough, they are critical milestones. So, with each young person in Thread, we commit to them for 10 years. And during that 10 years, in the first four years, the focus really is on helping them define their purpose, but along the way, making sure that they're able to attend school, and complete their credits, and graduate from high school.
And from there, they opt into one of five post high school pathways, so entrepreneurship, straight to workforce, a certification program, or two- or four-year college degree. But what we're really looking for in the big picture is, in that last six years, it's not just about opting into and completing that post high school pathway and becoming enrolled. But it's also having the deep, and permanent relationships that will allow them to have access to remove barriers along the way as life happen.
These things aren't contained to this 10-year period. And so, really, wanting to make sure that there's the permanence in the relationships. And so, what we've seen over the last 17 years now is that if you look in Baltimore City Public Schools for young people that have GPAs of less than 1.0 during their freshman year, only 6% graduate in four years.
In Thread, it's 10 times that number, so 69%. And then, if you extend out to six years, 84% of all of our students have completed high school. And then, again, if we reach out a bit further, and look at our alumni, 69% of our young people have completed a four- or two-year degree or certification.
Lisa Hamilton:
I'm curious about how you interact with family. Certainly, these young people have existing families who love and care about them. How do you thread the Thread family into their existing support structures?
Sarah Hemminger:
Yeah. The way we engage families is really just how we engage humans in general. So, we have a fundamental belief that building relationships, especially relationships across lines of difference, is going to take time. And part of that is you have to build trust, and building trust takes time. And so, when building trust, we think about three components: So, sincerity, competence, and reliability.
It's not that we have any answers. We don't even know. We're not even aware of what their life is like at the time when you first meet. What we can do is say, we'd love to stand alongside you, and walk beside you for the next decade. And part of that is this understanding that we all have something to give, and we all have something to learn.
So, it's this fundamental belief that the Thread volunteers are going to learn from our young people just as much, if not more, and the same is true of our families. So, it's in no way meant to replace families, it's quite the opposite. You can think of Thread as like a group of neighbors. We integrate into one another's lives in all directions.
So, you can look at the quantitative data, like a high school graduation rate, but the way we speak about it inside of Thread is the way you know that you're actually succeeding in building a thick and sticky relationship is, can a young person name your siblings? Have they met your siblings? Do they know your partner? Have they been to your home?
Lisa Hamilton:
A lot can happen over 10 years. For young people entering the program, what do they need? And then, 10 years later, how has that changed?
Sarah Hemminger:
I think what a young person needs, I think, first and foremost is the same thing that we all need, which is the feel that someone else actually sees and understands me. We think about social media, and all these ways in which we're "connected" and yet, so many of us, I think, can move through life, and be in a room with hundreds of people, and yet feel completely unknown.
And so, I think what our young people really need is to be known — for someone to get them. And a lot of that is, it comes about, actually, based on the behavior of the adult. So, if the volunteer is going to pick a young person up for school, and you want a young person to be responsible and go to school, then the adult needs to be responsible and show up to take them to school.
And it's not just about showing up, you do need to consistently show up in a young person's life, but it's when you show up, how do you show up? So, are you vulnerable? Do you share your challenges? Because what starts to happen for a young person is when you share with them the challenges that you're going through, and the things that you're struggling with, you start to move from this place of you matter to me to I need you.
And that is a fundamentally different orientation. And I think that I need you. It's this well that starts to fill up inside of a young person where they start to see themselves differently as someone who matters and can be helpful.
Now, obviously, there's systemic and long, sustained barriers, though, that our young people face. But it's unique to each person. So, one young person might need—the barrier, for example, for them attending school might be that they're staying home to care for two younger siblings while a parent goes to work. And so, what that young person might need in terms of initial support is actually for the Thread volunteers to help get the younger siblings enrolled in Head Start, and actually take the younger siblings to school in the morning — not them. For another person, it could be that they are struggling with anxiety and depression, and having gone through a trauma, or a series of trauma, and what they need is to actually have mental health services that support them in developing healthy coping mechanisms for that trauma. So, it just depends on the young person.
Lisa Hamilton:
That's wonderful. Well, it certainly sounds like an important part of your approach are the people who agree to support your participants throughout their journey. In lay people's terms, some folks might refer to them as mentors. But your model, obviously, is much richer than that. But what do you think makes a good mentor, or a good Thread volunteer? And how do you find these people?
Sarah Hemminger:
It's interesting, we've been asked this. I think anyone can be a good volunteer. A person who makes for a good volunteer is not someone who has everything figured out, that's impossible.
It's actually someone who's willing to give up their right to comfort. It's someone who's willing to fight against their own desire to have things be perfect, another dominant culture construct. So, it's someone who's willing to go on a journey. And in that journey, begin to understand themselves, and their own biases, and unpack that, and move from implicit to explicit in what their biases are.
And it's someone who believes even if they haven't yet experienced it, that building relationships across lines of difference is critical to understanding both yourself and others. Because it's in building those relationships that you then remove... you have blind spots removed. You begin to see things that you wouldn't have otherwise seen. I'll give you a quick example.
It's both embarrassing but potentially instructive. This is years ago, but I was sitting in my lab at the time. And I was sitting with a young man named Albert. He was 17. And we were working, it was late on a Friday night, he was doing an online course, and I was doing what I was doing, work. And he said to me, he stopped, and paused, and he was like, "You're a terrible wife."
He's like, "If I were married to you, I would divorce you. You never go home. You never spend time with your husband." He's like, "You're always here. You're always working. You're always Threads. You're always doing lab." He's like, "I'll bet you don't even cook." And he was like a 17-year-old. And to think about it is we talk about, again, in Thread, telling the truth with love.
So, calling a thing a thing. And, so often in life, you go through a day, and no one tells you there's spinach between your teeth. And yet, Albert was willing to say the really hard thing to me that it turns out my parents, my friends, my colleagues, everyone else saw, but no one else told me. And so, when you ask what makes for a good volunteer, it's someone who is open to having their blind spots revealed, and open to understanding their bias, and how that impacts how they move through the world and how others experience them.
Lisa Hamilton:
Sarah, that's not something I can imagine you put on an application. How do you ferret that out about someone?
Sarah Hemminger:
So, we don't put it in an application. Actually, as it relates to volunteers, we don't screen for that. What we do is, we believe that if you're going to be on a journey, then everyone needs a coach. So, if we really want to deconstruct this idea that there's a group of haves, and a group of have nots. Then, if you're going to provide support for young people, you also have to provide support for volunteers.
So, the way Thread is structured is that each of those four volunteers is coached by a person called a Head of Family, who is another volunteer. And that person is trained, and equipped on how to guide volunteers, not just through Thread things. So, that head of family might coach a volunteer on, okay, you go to someone's home, and you knock on the door for 20 minutes, and no one answers.
And then, you go on day two, and someone answers, but you get cussed out. So, most people, the goal is to stay in the game long enough to build a trust. So, each time that volunteer goes back to that home, they're actually building trust, because they're demonstrating reliability to the young person and their family. Sometimes, we'll do that for three, four, five, six months before you get a real conversation.
But eventually, the young person says, "Who is this person that won't stop coming by?" But in order to build that resilience in a volunteer — because it would be hard on any human being to be rejected, essentially, that many times — they need support. And, so, that head of family is that person that when you get in your car and cry, and say "I couldn't get Johnny to talk to me today," it's the head of family that says, "Well, what did you learn about yourself? Why does that bother you so much? Why are you really crying? Is it about Johnny is about something else? What's really going on here? What do you need in order to come back tomorrow?"
So, again, it's about being in community and doing life together. And so, being perfect is actually not helpful. What is helpful is demonstrating that you'll come back day after day after day to someone's home, because what that then says to them is they have it in them to go day after day after day until they finally work through that class that they were struggling to pass, or work through that relationship with that friend that they had been struggling to repair.
As you start to build out the muscles of acting in this way, it starts to then spill over into where our young people go to college, and school, and work. It starts to spill over into where volunteers work and go to school. Starts to spill over into how we all interact with our families. And that if you could reach critical mass within a city, you could start to change how the fabric of the city is woven.
And that's really what we're trying to do because, again, our young people, even though they can rock high school graduation and complete a post-secondary degree program, the world right now is just not meant for them. And so, really, the question we're trying to answer, and is the thing that keeps us up at night is how do we change that?
Lisa Hamilton:
It's beautiful, Sarah, to hear you describe that just the process, but really what the ambition of the work is. We didn't talk about the name Thread, and why you chose that. But it really is a way that you are trying to tie a community together, and the way that we are measuring that is often about the success of our young people, which I think is a fair measurement for any society.
But I think your ambition really is beyond the young people and recognizing that the challenges they face aren't of their own doing that is often of society's doing. And so, by engaging this group of volunteers to support these young people, you're really teaching them, and teaching the young people how to be in community with one another, which at the end of the day, creates a profound sense of belonging, I think, for all of them in a community, which is what we need these days.
Let me ask you about something that's really come out in our conversation. And that's about how you work with young people. At Casey, we are coming to appreciate the profound difference between partnering with young people and serving them. And you've started to talk about how young people have a voice, and active role in these individual relationships. But how do you give young people a voice at Thread? And how has their input helped shape your work?
Sarah Hemminger:
I love that question. So, for us, this is so in our DNA. And I think part of it comes from my family, the way that my parents engaged, me and my siblings was to always include us in decision making.
So, for as long as I remember, since I was 5 years old, they would say, "Well, what do you think about this? Or how do you think we should do this? Or do you think we should buy this house? Or should we move at all? What do you think we should do about this situation with so and so?" And so, what they were trying to do is not create... they were trying to teach me to think, to question things, to try to understand things.
And so, there was a humility, and a curiosity in the way that they approached problem solving that I don't think I understood until much, much later in life was unusual. And so, on the first day of Thread, I was completely clueless. But I walked in, and the principal said, here's a group of young people. And I said, I have no clue what's going on. But I was thinking maybe we could start with these three buckets, the best I could come up with.
And so, I put them up on the chalkboard: It's academics, community service, and team building. And they immediately said yeah, yeah, those are the buckets. I was like, "All right, what are we going to do?" So, it was really just a brainstorming session together. But what came out of that, literally came out of the first day of Thread was they said, "We're struggling academically, we want tutoring." Okay. We can do that after school. That sounds reasonable.
And then, they were like, and we want to go to the Maryland Food Bank to... we want to focus on food as our community service. I said, "Okay."
And they said, "The other thing is, we really want to go camping." I hate camping. I was like, please don't... I'm thinking to myself, "Please, anything else, can we do something different?" But I said okay, "We'll go camping." By the way, our first camping trip, we go camping every year still. So, the things that they put up on the board that day, we still do 17 years later. The first camping trip, though, this is how again, ignorant I was, we went in January with eight inches of snow on the ground. It turned out to be one of the best weekends of, I think, all of our lives. It's one of those things we talk about, one of those moments, so shared experiences that only the people there fully understand that it was just, I don't know, just transformative.
So, asking young people, what should we do? How should we do this? Has always been a part of how we've engaged in the evolution of Thread's community model.
And that also has been inclusive of our volunteers. So, when we've reached different inflection points, for example, if you think about this idea of a head of family, and the four volunteers, it actually doesn't scale. Because then, you end up with, if you have 100 young people at a high school, then you'd have 100 heads of family, working directly with a staff person.
So, again, we took that challenge back to our young people, and volunteers, and said, "Well, what do we do about that?" And they said, "Well, why don't we create a grandparent?" So, now, there's a grandparent who's basically the CEO of what we call a thread. So, a thread has eight young people, eight sets of volunteers, eight heads of family, and a grandparent.
And that as we've grown has become a very key thing because that little unit, it is your people, it's your sorority or fraternity inside of Thread. There're also the super formal ways that the voices of our young people are leading, and have led, and continue to lead our strategic direction.
At this point, they are driving things like our compliance policy inside of our staff team. They are developing things like our COVID policy. So, they're intimately involved in all aspects of Thread. And likewise, on our board. So, two of our 13 board members are student and alumni, two are volunteer alumni. So, making sure that in all layers of Thread that young people, or those who were previously younger, but are now further along in their journey are really guiding the evolution, and the direction of our community.
And I would say their voices have driven two critical things above all else in recent years, especially. One is this idea that we have to impact the ecosystem and thinking of the city as a unit of change. That came from just very painful experiences with our first cohort after they finished their post-secondary programs, and then struggled to find jobs.
We had a young person who was in year 10 of the journey there looking for a job. So, they asked a volunteer in Thread, and the volunteer is like, "I don't know anything." So, this person had asked her husband, he's like, "I don't know. But let me check with my friends." A couple days later, I get a call from the CEO of a major corporation. And it turns out, the friend was actually a board member of that company. He had called the CEO and said, "Hey, I've heard about this young person, Johnny, and we need Johnny to be employed tomorrow."
And I was like, "Oh, that's how the world works." I was like, "Oh, okay." And this young person who's now actually on our staff says, "Oh, okay, that's how the world works." So, once we started to understand these things together, then we said, "Okay, if that's how it works, how do we make that work for our young people?"
And that's why if we can get to that scale of 7% of every freshman class, what that would mean is you'd have a community of Thread in Baltimore of about 20,000 adults, students, their families, volunteers, collaborators, board members, staff, donors. So, now, you're really looking at 5% of the city's population.
Lisa Hamilton:
It definitely sounds like you walk the talk, in a way few organizations are able to. So, just really thrilling to hear how you have embedded young people's voice in an agency and in all levels of your work. And my last question really draws on something, I think you started to get into, and it's about the ecosystem.
Thread is a part of the solution, but obviously, not the whole solution that we need for young people. If you step back and look at the bigger picture, what would you change about schools, families, systems and communities to better serve young people?
Sarah Hemminger:
I think the answer to that is also a huge part of why... I didn't go to high school in Baltimore. So, I know I'll never be from here. But I have been here since I was 18. And I can't imagine loving a city any more than I do Baltimore. And part of it is that when you think about where we are right now, we got here because of systemic racism. We got here because of redlining.
We got here because there were systems put in place, policies put in place that intentionally were created to isolate us from one another and keep us disconnected. And so, for me, it's about what are the things that are in Baltimore right now that are actually creating the repair to that? So, what are the things that are actually bringing people together in deep, and in intentional ways where they can understand themselves, and one another better.
Because if we can do that, I think then that impacts our schools, our family, our systems, our communities.
And so, I think we're an extremely small part of this, and what we try to do is just work really, really closely with other organizations that are trying to bring about those deeper relationships and help people to be less isolated and do it in a way that creates some permanence. And as our former board chair likes to say, everything that we need to know we learned in kindergarten, which is don't hit and share. And I think just a little bit of sharing goes a long way. And so, I think those are the things that are going to better serve our young people.
Lisa Hamilton:
Well, that's awesome. And while you might not be the whole solution, Thread is such a very special part of this community. And I know you've gotten national recognition for what you have built here in Baltimore. We are grateful to have you in this city. And I really appreciate you coming on this show, and sharing your work, and your journey with us. It was great to have you.
Sarah Hemminger:
Thank you. I really enjoyed our time together. I appreciate you including us.
Lisa Hamilton:
And thank you to our listeners for joining us today, as well.
If you liked this conversation, please rate our show on Apple Podcasts to help others find us. You can ask questions and leave feedback on Twitter by using #CaseyCast.
To learn more about Casey and the work of our guests, check out our show notes at aecf.org/podcast.
Until next time, I wish all of America's kids and all of you a bright future.