Spotlighting Youth Engagement and Preventing Teen Placements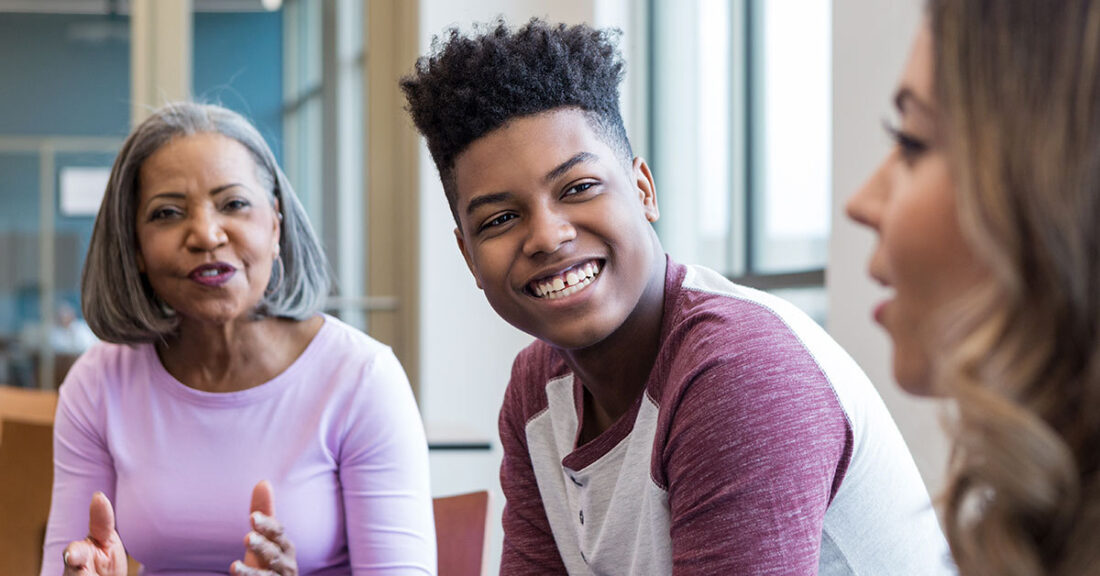 A special two-volume issue of Child Welfare journal features two articles penned by staffers of the Annie E. Casey Foundation. The articles address two significant aspects of young people in foster care. The first highlights the importance of child welfare professionals understanding adolescent brain science and authentically engaging young people in planning their futures. The second article explores how entry-prevention programs can help keep families together by reducing the need to remove young people from their homes for reasons unrelated to neglect or abuse.
View the free Casey-authored articles in Child Welfare
Youth Engagement
The first article, "Ensuring Young People Flourish: Applying the Science of Adolescent Development Through the Jim Casey Initiative," reviews the work of the Foundation's Jim Casey Youth Opportunities Initiative®, challenging professionals to reexamine their assumptions about developmental needs and opportunities for teenagers and young adults.
The article was written by the Casey Foundation's Leslie Gross, Alexandra Lohrbach, Jeffrey Poirier and Sandra Wilkie, along with Leonardo Johnson, a Jim Casey Initiative Young Fellow. It details:
the Foundation's efforts to transform child welfare policy and practice;
recent advances in adolescent brain science, including conclusions from a 2019 National Academies of Science, Medicine and Engineering consensus report;
components of authentic youth engagement that build on the adolescent brain science and data documenting its benefits; and
additional resources systems and communities can use to effectively engage young people and support their transition to a successful adulthood.
From 2013 to 2018, young people who engaged with adults in evaluation, community partnership and advocacy work helped influence 122 of the 175 policies advanced under the Jim Casey Initiative network. This included policies that provided a foster care bill of rights, sibling and grandparent visitation, increased support for guardianship and increased access to pregnancy prevention services.
"Young people are the experts of their own lives and should be treated as such. When they are engaged effectively and authentically, they are capable of impressive achievements," Gross said. "We hope this article will inspire system leaders to partner with young people and value their expertise to design better practices and approaches to get better results."
Strengthening Families With Teens
The second article, "Meeting Teens' Needs and Preventing Unnecessary Out-of-Home Placements in Delaware," describes a troubling national trend: the rising number of teens placed in foster care whose needs could be met at home. The piece explores how the partnership between the Casey Foundation and Delaware's Division of Family Services launched the Family Assessment and Intervention Response (FAIR). FAIR keeps teens in their families by offering preventive, home- and community-based services. The services strengthen relationships and address mental and behavioral health challenges.
The article was written by Casey's Karen Angelici, Pamela Clarkson Freeman and Jaime Dohn. It suggests that child welfare systems build and improve entry prevention programs by:
reviewing the needs and experiences of teens and families by race and ethnicity;
developing consistent criteria for the youth and families their program will serve;
involving the judiciary as ongoing partners; and
devising a staff recruitment and retention policy to alleviate caseworker stress and burnout.
While the nation's child welfare system was built to address neglect and abuse, too many teens today find themselves in the system for reasons unrelated to that mission. For a significant number of teens, "child behavior" (often the result of conflicts between parents and children) is the reason for entry. In 2017, child behavior was cited as the entry cause for 37 percent of youth over the age of 12 who entered foster care — a rate nine times higher than for younger children.
"Delaware's FAIR program illustrates that these entry-prevention programs can offer many benefits," Angelici said. "They can meet the needs of teens and families, they are cost effective and they can help reduce the use of costly — often inappropriate — out-of-home placements."
This post is related to: