The Future of Workforce Development? Samaschool is Thinking Gig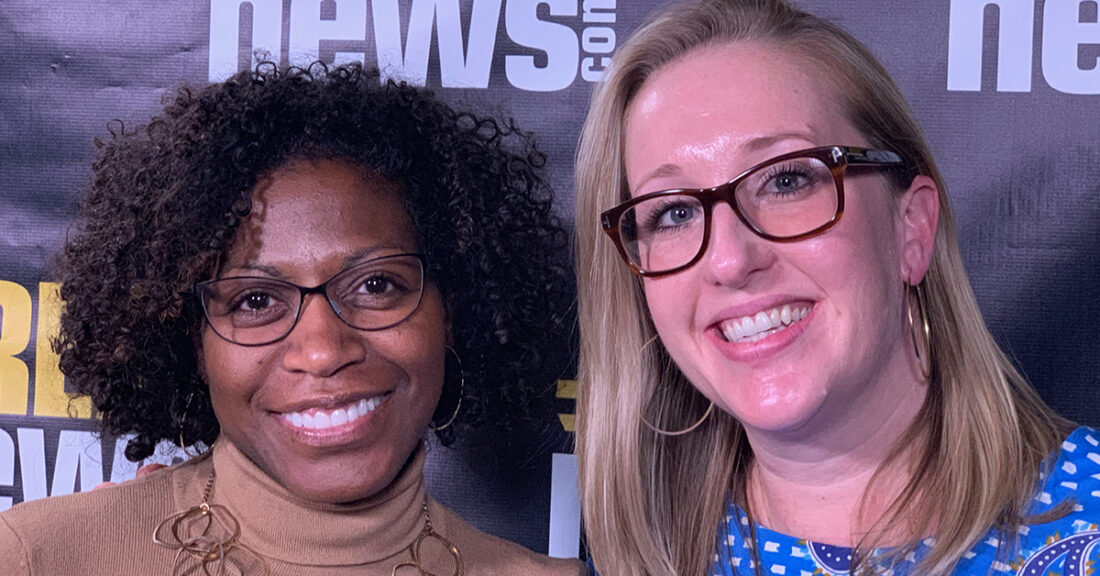 The world of work is con­stant­ly chang­ing, and gig jobs — inde­pen­dent, episod­ic employ­ment that often uti­lizes a dig­i­tal plat­form — are on the rise.
It's an evo­lu­tion that Sarah Cur­rid, man­ag­ing direc­tor of Sam­aschool, knows well.
Sam­aschool is a pro­gram of the non­prof­it Sama­source that aims to help low-income indi­vid­u­als become suc­cess­ful free­lancers in today's chang­ing job land­scape. As the man­ag­ing direc­tor of Sam­aschool, Cur­rid is respon­si­ble for advanc­ing part­ner­ships with work­force devel­op­ment orga­ni­za­tions and inte­grat­ing a very spe­cif­ic focus — nav­i­gat­ing the gig econ­o­my — into their exist­ing train­ing programs.
The Annie E. Casey Foundation's Lisa Hamil­ton recent­ly spoke with Cur­rid about this work and the inno­v­a­tive ways that Sam­aschool is help­ing low-income res­i­dents lever­age gig jobs to build a brighter, stronger future for their families.
A big thank you to Cur­rid for chat­ting with Hamilton!
Stream the Lat­est Cas­ey­Cast Episode
Lis­ten or sub­scribe on your favorite pod­cast service:
In This Episode on Sup­port­ing Gig Work, You'll Learn
What the term gig work means.
How many work­ers are involved in today's gig economy.
The oppor­tu­ni­ties and draw­backs asso­ci­at­ed with gig work.
Where young peo­ple fit into the gig economy.
How Sam­aschool trains low-income work­ers for the gig economy.
How Sam­aschool is help­ing work­force devel­op­ment agen­cies reimag­ine their ser­vices to sup­port the gig economy.
Advice for indi­vid­u­als inter­est­ed in gig work.
How we can plan for the future of gig work.
Con­ver­sa­tion Clips
In Sarah Currid's own words…
"Fifty per­cent of the work­force will be par­tak­ing in free­lance work in some capac­i­ty in the next 10 years."
"Help­ing peo­ple under­stand that they can still have a skill that they can posi­tion, that can give them work, that can allow them to have eco­nom­ic mobil­i­ty — that's real­ly, incred­i­bly empowering."
"Tech­nol­o­gy does­n't have to be a dis­rupter in cre­at­ing mas­sive unem­ploy­ment. It can actu­al­ly cre­ate employ­ment opportunity."
Resources and Links
About the Casey Foun­da­tion Podcast
Cas­ey­Cast is a pod­cast pro­duced by the Annie E. Casey Foun­da­tion and host­ed by its Pres­i­dent and CEO Lisa Hamil­ton. Each episode fea­tures Hamil­ton talk­ing with a new expert about how we can build a brighter future for kids, fam­i­lies and communities.
Enjoy the Episode? We hope so! Go to Apple Pod­casts to sub­scribe to the series or leave a rat­ing or review.
Lisa Hamilton:
From the Annie E. Casey Foundation, I'm Lisa Hamilton… and this is CaseyCast.
At the Casey Foundation, we work to build a brighter future for children and families. One way we do this is by investing in programs and practices that help connect low-income families with work or the education that helps them build a career. Casey is far from alone in this effort, as you'll hear from our next guest.
Sarah Currid serves as the managing director of Samaschool, a program of the nonprofit Samasource that aims to help low-income individuals become successful freelancers in today's changing job landscape. As managing director, Sarah leads a team of educators and social entrepreneurs. And she oversees, among other things, Samaschool's efforts to partner with workforce development organizations and integrate a very specific focus — navigating the gig economy — into their existing training programs.
Welcome Sarah, it's great to have you with us.
Sarah Currid:
Thank you so much Lisa, it's a pleasure to be here.
Lisa Hamilton:
For listeners who may not be familiar with the term "gig economy," what do we mean when we say gig work? Or when we talk about the gig economy?
Sarah Currid:
Yeah, certainly. Gig work has been around for eons. Everything from a music gig, to babysitting, and such. I think where we see the future as now has been really in how we're using independent work and freelance work, and using digital platforms to connect to those, and app-based programs such as Uber. I think a lot of what we're seeing now has been driven by technology, and people really having an awareness of the gig economy, but it's truly been around for eons, as I said.
Lisa Hamilton:
Are there particular industries where it's more prevalent? We know about driving services, we know about the handyman services, are there other types of concentrations of gig work?
Sarah Currid:
Yes, absolutely. So, domestic workers, everything from those who would clean your home to those who would care for your kids. We definitely see a strong prevalence of gig work happening. You see platforms that are dedicated really to connecting work with nannies and such. Also, IT as a specialization, you see platforms, like Fieldwork that allow those who have a more specialized skill to actually monetize that. And then, of course, it runs the gamut. You see things in the creative, let it be someone who's going to do your website if you are just launching a business, to creating flyers for an event, and, of course, walking your dog, Spot.
Lisa Hamilton:
That's interesting. Are gig workers and freelancers the same thing? Or are these different?
Sarah Currid:
That's a great question, and I guess it all depends on who you ask.
In essence, they are the same, they're both independent contractors, but, you could say a gig worker is a freelancer, but you wouldn't necessarily say a freelancer's a gig worker, because of how they're looking to find their work. Gig workers tend to really work with a digital platform, and they often specify one that they work with exclusively, so they learn the ins and the outs of it, and they really know how to monetize their skill. You can see, while they are in essence used interchangeably, there is that nuance of how they're seeking the work that can sometimes be called out as a difference.
Lisa Hamilton:
How many workers are involved in this gig economy or making a living, either part-time or full-time, through independent work? We hear so much that it's on the rise, what's the data around gig work?
Sarah Currid:
We are seeing almost 30% of the population participating in some form of gig work. We do see predictions from Up Work and Freelancers Union that by 2027, in just about 10 years, 50% of the population will be participating in some form of freelance work. That doesn't mean that you give up your full-time job, that could mean that you do this for supplemental income, because you might have a trip coming up, or you might have had some sort of tragedy in your family that you need to earn additional income for, or you might actually be looking to career change. You're partaking in gig work to build up that resume, so that when you feel that your resume can stand on its own, you can then pursue that new career and direction.
Lisa Hamilton:
While you've pointed out some of the benefits of gig work, there are also some concerns that folks have about the increasing numbers of participants in the gig economy, if there aren't benefits associated with these jobs, et cetera. Could you just talk a bit about, well sort of the opportunities that gig work presents, but also maybe some of the ways it makes some workers more vulnerable than they might be if they were in traditional employment situations.
Sarah Currid:
Yeah, absolutely. I'll start with the positive, gig work is great. It's a great form of supplemental income, as I mentioned: skills building, confidence building. It allows flexibility, so depending on their arrangement, it might allow them to go to school during the day and supplement income by partaking in gig work.
Some of the real challenges to those engaging in freelance work are really about the classification of workers. What we see and what we really, from a policy standpoint, want to push forward is anti-discrimination protections against independent workers, which sounds like the craziest thing, how can you discriminate against somebody. But, in truth, there's not legislation currently that protects independent workers from anti-discrimination.
Further, minimum wage. We would love to see a guaranteed minimum wage. And we are seeing some things move forward when you look at some of the app-based transportation companies like Uber and Lyft that are guaranteeing a minimum for their drivers. We would like to see that across all independent workers, that there's something that they can depend on.
And then, as you so aptly mentioned, is the benefits. We believe very much in coming up with a system for portable benefits, so it's not tied to your job. I think what we'll see is when people don't have that same element of dependency on their job, they actually are more willing to engage in independent work and truly find their passion, because that's another benefit to independent work, you get to be your own boss, you get to follow your passion, and you really get to be responsible for your own destiny.
Lisa Hamilton:
That's great, thank you for helping put this work in context. Let's talk a little bit about young people and the gig economy. What do we know about ways that the young people are engaging in independent work?
Sarah Currid:
We see that actually 47% of millennials are currently working in a gig capacity.
Lisa Hamilton:
So, they're actually ahead of the national trend that we're anticipating in a few years.
Sarah Currid:
Yes, exactly. And we see that, also, in terms of our participants. The majority of our participants are aged 18 to 44. We're definitely seeing millennials and Gen Xers the majority in our training programs, in addition to that's what the research states overall, that that's the population that is very much engaging. I think it should probably come as no surprise. There's a tech savvy component to gig work now, and I think that there's this real drive that we're seeing, and how that's changing how people both look for work, and how people get work, even how people look to find work to help with a situation: if you're catering a party and you need chairs moved. I think we're seeing very much how technology is really helping, and there are certainly benefits to that when we look at the populations that we're trying to serve.
Lisa Hamilton:
Do you see any trends in how young people are using gig work? Is it more to supplement income, to pursue a passion, as a way to pay for school, or even to gain work experience, if they hope later, to be in traditional employment?
Sarah Currid:
Well Lisa, you answered it all.
Lisa Hamilton:
I answered it?
Sarah Currid:
It is all of those. Our population that we serve, we certainly serve the majority is in that 18 to 24 range, 50% of our students who have gone through the program. We definitely see that it's often to help with either finishing school or training program that they're in, and really to build the portfolio of experience, because a lot of the work that they're going into, think particularly freelance work around creative industries, you really need to develop a portfolio. While you might want to just mock up websites that you are designing in your head, it's really key to have clients that can provide you with that experience and really allow you to build your portfolio. It certainly has a very real place, and I think what we're seeing, as the trends are saying, 50% of the workforce will be partaking in freelance work in some capacity in the next 10 years. I think a large portion of those will be the younger generations, for sure.
Lisa Hamilton:
What is it that Samaschool does? How do you help people participate and navigate this world? It sounds like there are lots of platforms to figure out, lots of skills you might need to have to be successful. How do you help people navigate this?
Sarah Currid:
Samaschool has been around for about five years, and we really came about, because we saw this huge opportunity that the gig economy was presenting. There was this whole population, that being low-income job seekers, who were not receiving the right skills training. Unfortunately, government training programs don't provide training on the gig economy or freelance work.
Lisa Hamilton:
They're just preparing people for ...
Sarah Currid:
Full-time employment. Vocational employment. We saw this huge gap of a population, particularly being low-income population and maybe out of employment, gig work is really great way to dip your toe into work again. It helps you build not only the skills, but the confidence. It's unfortunate that there is such a gap in where there's government funds around workforce development.
We saw this great opportunity to develop a program that really helps individuals understand the gig economy, and ultimately, finish the program knowing is it right for them, and they know all of the implications from what the time management is, and the financial implications, and the tax obligation. How are you developing your brand? What are the right platforms for you? What is your area of skill that you're trying to monetize? We really help them understand that, even just the general basis of what is the gig economy, because it's quite mystifying to some. We're talking about it here today for a reason.
For us, we really want to educate them on understanding how to participate in it. We have all sorts of tools and resources, in addition to our eight-hour curriculum, that we deliver through partnerships with other community-based organizations and national nonprofits. We're layering it on top of a skills-based program, and also providing access to our content in a virtual component as well.
On top of that, continuing to provide resources. Everything from something that we call the Work Finder, which is a platform for individuals to understand which platforms they should look at based on their skill, to something we call the About Me Generator. For all of these platforms, you have to have a portfolio, so we really want to help them to develop their personal brand and understand how you position yourself so somebody who's going to hire you to come in and fix their computer at home looks at you and wants to hire you. How do we position it in a way that you're really showing off your skills?
So, we came up with something called this About Me Generator. You say a few things and it really helps you develop this portfolio, or rather this profile, and really understand how you can position yourself to potential gig contracts.
Lisa Hamilton:
It's interesting. The core program is eight hours?
Sarah Currid:
Yes.
Lisa Hamilton:
And it helps you take the range of what even might my talent be, that could do to what's the right platform, how do I generate this? But you said there's also online content. What else do you help people try to understand?
Sarah Currid:
We do have, as I mentioned, the eight hour more intensive curriculum. We also have online something called the Gig Economy Essentials. I encourage anyone who wants to learn a little bit more, to check it out. It's for free and it's an hour long. We also, then, really are committed to providing a community for our alumni. For those that go through our program, one of our commitments as a team is really to continue to prove them with the support and mentorship, so they feel confident to try a gig, and to continue to try gigs, and really to develop their portfolio in a way that allows them to, if it is to seek full time employment, that they're then on the path to do that, or if it's to develop their own business and become an entrepreneur, that this is allowing them to achieve their career dreams.
Lisa Hamilton:
As I recall, your focus is on low-income workers. Is there something specific about your curriculum or your content that you think targets that population? Or specially serves that population? How do you think it's different than maybe other consulting type trainings that people may have access to?
Sarah Currid:
We try to meet people where they are. I think, for us, we've done a lot of research when we were developing our curriculum, is trying to understand what the barrier for low-income workers is on participating in the gig economy. So much of it is that they don't even know about it, and they don't even know how to position themselves, or they don't even know what skill they have that's monetizable. Everything from walking a dog, to doing someone's laundry, to more specialized things around IT, are all things that you can actually get paid for.
I think that some of it is a true education piece, and I think a lot of the time when we're dealing with the population that we are, they've unfortunately suffered from challenges with unemployment, they tend to have household incomes that are; 50% of those who have gone through our program are under $24,000 a year. We're really dealing with people who don't have consistent career track records. They've been unemployed for nine months or longer. For us, allowing them to understand that they can still have a skill that they can position, that can give them work, that can allow them to have economic mobility, that that's really, incredibly empowering. In addition to the real skills around understanding client and customer service, and understanding the different platforms, and, as I mentioned, the financial implications and taxes, it also is a component of developing someone's confidence, that they believe that they're able to monetize a skill that they've discovered that they have. I think that's really at the core of what Samaschool's trying to do, and really finding the right partners to implement and create the most impact as we can.
Lisa Hamilton:
When we've talked to young people, they've expressed lots of interest in entrepreneurship and these kinds of independent opportunities. Do you find that they are more often thinking of them as pathways to permanent employment? Or do you see a growth and interest in really being entrepreneurs long term in younger people?
Sarah Currid:
Well, geez, I guess I should probably share. Right before I joined Samaschool I was with an organization called NFTE, the Network for Teaching Entrepreneurship. I would say, anecdotally, I think that entrepreneurship is alive and well, and here to say. Seeing youth from my experience at that organization really get behind creating incredible business ideas and innovation around their startups and such.
I think what we're seeing in the population we serve is that there's definitely a real interest in being their own boss. I think that as people continue to understand what their skill is, absolutely we can see that there are folks who are really going to truly turn into a business.
One of our alum that I just recently met with, really was this incredible individual. He had gotten his IT certifications and was also a photographer, and was truly epitomizing the hustle of how do you do it all, and how do you find your passion, and how do you ensure that you can do that and you allow your space do that? In seeing that in one of our alum, it's something that you want to see everyone have that experience and have that magical moment.
Lisa Hamilton:
When you talked a bit about your partners, one of the partners you mentioned are workforce development agencies that haven't always had skills or programs to focus more on entrepreneurial opportunities than traditional employment. Talk a bit about how you're helping traditional public agencies reimagine what kinds of services they need to offer to their clients.
Sarah Currid:
That is such a great question and so important to the success of Samaschool. We've been very lucky to have really strong partnerships with the San Francisco Bay Area Workforce Development Board in addition to New York City. That is really, I think, truly allowed us to be impactful in those two geographies. To date, we've been able to serve over 2,200 individuals directly in those two geographies.
For us, to really expand, we really need to educate people on the importance and the benefits. We certainly do understand that gig work is not for all, and we will always advocate for the gold standard, which is a full-time job with benefits and that safety net. We also understand that that's not possible for everyone, and it may be because of lack of a skill set, it may be due to circumstance, and we should just live in the way in which we're supporting people so that they can achieve employment. If that means it's gig work versus full-time employment, this is something that we really need to get training and government agency behind, because the gig economy is here to stay.
I think it is a real opportunity for those who are facing barriers to employment, and I think we see that is often the case with low-income job seekers, that in addition to their poverty, there's a whole host of issues that are surrounding them. For us, again, that magic sauce of providing someone confidence to believe in themselves, and to start trying to work again, and to get out of the cycle, and to be able to really understand what their potential is, is a real powerful thing, and we need government to get behind it as well.
Lisa Hamilton:
You're saying openness to agencies, and doing more of this work ...
Sarah Currid:
Absolutely. I think it's wildly important for us to understand how technology is gonna workforce, and how it doesn't have to be a disrupter in creating massive unemployment, it can actually create employment opportunity, and we really should be looking at updating the training that is offered through government agencies to include that for independent workers, because we know that people want to do this, they just don't know how. Knowledge is power, so let's show them the way.
Lisa Hamilton:
That's great. Going back to the individual perspective on this, do you have suggestions or advice for folks when they are looking to get a job and interested in gig work? What advice do you give them?
Sarah Currid:
Yeah, absolutely. If they haven't heard of Samaschool before, I definitely encourage people to take a look at the resources we have. As I mentioned, we have a one-hour course so people can really understand very quickly if this is something that they would want to participate in. Certainly, if you'd like to participate in a longer, one of our eight-hour courses or workshop, we're absolutely happy to connect you to a program partner where we're delivering it personally, and then, of course, all of the other resources that will give you a sense of what to expect.
For those who really want to understand it from an impact and policy side, we do have a three-part white paper series that's really addressing the future of work, and very much the role that the independent and freelancer are going to play in shaping the future. Depending on your interest, we've got lots of great resources on our website, and by all means, if any questions from the listeners, please be sure to reach out to me, I'd be happy to answer them.
Lisa Hamilton:
Great. We talked about workforce development agencies, but let's talk a bit about cities. What are cities doing in order to facilitate independent work in their communities, and what are employers doing?
Sarah Currid:
I'd say I can draw from our experience with both San Francisco Bay Area and New York City. Both very innovative in their approach and really supportive of this training. I think that's the sort of commitment that cities need to have, is really providing training that's meeting your unemployed or underemployed population where they need to be met and understanding what their needs are. I think it's very clear that for low-income job seekers, it's not as easy to just get a full-time job when you have these other challenges, and they may not have the skill set, and they may not have the ability to go and take a course to develop that skill set, but an eight-hour program is actually quite digestible.
I think what we would love to see is really workforce development boards around the country understanding more and really committing both funds and programmatic focus to training around the gig economy.
Lisa Hamilton:
Now, it seems like because people are using digital platforms that it gives workers an opportunity to access markets beyond the place where they live. If they're doing creative work, they could literally be serving someone anywhere in the world. Do you see rural communities thinking about how gig work can help employ some of their residents who might not have access to the kinds of job markets that exist in big cities like New York and San Francisco?
Sarah Currid:
That is a great question. When we actually started, we tried to pilot in a remote area of Arkansas. What we found that was a real challenge is for remote gig work, you have to be highly specialized in a skill.
Lisa Hamilton:
Higher skill jobs, mm-hmm.
Sarah Currid:
That's where the challenge is, is that there isn't this concentration of task-oriented gigs that we see in cities. Again, that's everything from Uber to Task Rabbit and others. I think what's interesting though, in looking at the rural population, is they may not have the demand for the drivers. I'm from a small town in Pennsylvania and Uber is not there yet, and I live in New York City. It is one of those things, you do see it, it takes time, and sometimes it's because it's not the right fit.
For rural communities, I think for us, it is really trying to figure that out in a way in which those who do have a skill are able to connect. I think there will always be the challenge of the demand has to be there in order for some of these gigs to actually be warranted. And just by the sheer concentration of population, it's a little more challenging in these rural areas.
Lisa Hamilton:
As independent work grows, are there things we need to be thinking about? Not just the training for folks, but are there infrastructure things, the technology or other mechanisms we need to be thinking about as more and more people join this kind of work? How do we plan for this future where nearly half of workers are going to be engaged in some form of independent work?
Sarah Currid:
I think all of that. I think definitely there needs to be an investment in infrastructure, and I think certainly cyber security as well. One of the big things is when you're either looking for someone to help out with a task-oriented request, or you are the gig worker, in both, you're sharing information. I think that, unfortunately as we see on an all too often basis, there's data breaches. I think, absolutely, the investment in cyber security and the technology infrastructure for that. Of course, in more remote areas, making sure that they actually have the WIFI and the bandwidth ability, so that people can actually get to platforms to position themselves.
I think that there's certainly some real components to think about, and I would say, probably, top of the list to me is certainly cyber security, when we're thinking about the vulnerability of people's information being on these platforms.
Lisa Hamilton:
What do you think is the future of Samaschool? Where are you guys headed next?
Sarah Currid:
Oh, what a great question. We're headed around the world. We started here in the US, in San Francisco and expanded into New York, and we're very much looking to expand into other geographies here in the United States, and also bring our global freelance training program to other geographies. We have had some projects in East Africa and we're certainly looking at working more closely with some refugee populations, given some grant partnerships that we have. Really trying to understand what the gig economy means for folks all around the world. We see what it means here in the U.S., and there's a lot of learnings from that, and I think what we're excited about is really exploring other ways in which we can really mobilize individuals around the gig economy, and educate them, and base that on where they are. I think it's a really exciting opportunity for Samaschool.
Lisa Hamilton:
Well, thank you. We are delighted to be in partnership with you, really excited to see the innovative ways that you're helping particularly public workforce development agencies expand the kind of offerings that they can give residents. We know that children succeed when they grow up in economically stable families. The work that you're doing to help low-income people better understand and better access opportunities for gig work we think can only help make families stronger in the future, so thank you so much for what you are doing.
Sarah Currid:
Absolutely. I should probably shamelessly plug that our 2017 participants reported, those that participated in gig work, an increase in supplemental income of $1,800 or more, which is quite substantial, actually, and represented 70% of their overall incomes. For those who have an appetite for it, we will educate on how to participate, and we'll show you the way to really find that economic mobility.
Lisa Hamilton:
Thank you so much for your work and thank you so much for joining me today. I want to thank our listeners for joining us, as well.
If you've enjoyed today's conversation, please rate our show on Apple Podcast to help other find us.
You can ask questions and leave us feedback on Twitter by using the CaseyCast hashtag, and to learn more about Casey and the work of our guests you can find our show notes at aecf.org/podcast.
Until next time, I wish all of America's kids and all of you a bright future.
This post is related to: