The PLACES Fellowship: A Decade of Advancing Racial Equity in Philanthropy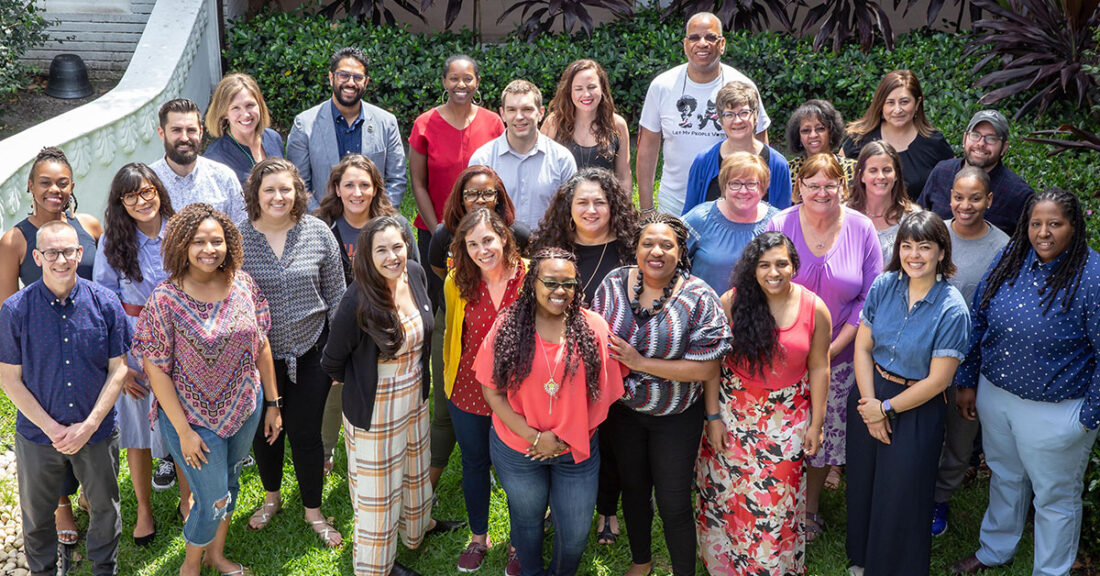 Over the past decade, the PLACES Fel­low­ship, fund­ed by the Annie E. Casey Foun­da­tion, has helped near­ly 130 phil­an­thropic pro­fes­sion­als learn how to chal­lenge long­stand­ing inequities in their com­mu­ni­ties and with­in their own organizations.
"The needs of com­mu­ni­ties of col­or and oth­er dis­ad­van­taged groups have too often been dis­re­gard­ed in phil­an­thropy," says Scot Spencer, asso­ciate direc­tor for advo­ca­cy and influ­ence at the Casey Foun­da­tion. ​"A pro­gram like PLACES is key because it posi­tions racial, social and eco­nom­ic equi­ty at the fore­front of dis­cus­sions rather than treat­ing them as afterthoughts."
PLACES Fel­lows hail from across the Unit­ed States and Cana­da and rep­re­sent nation­al, region­al and com­mu­ni­ty foun­da­tions that are focused on var­i­ous caus­es — from cli­mate change to gen­er­al com­mu­ni­ty improve­ment. The year-long pro­gram uses con­ven­ing and coach­ing to teach par­tic­i­pants about struc­tur­al racism and how it man­i­fests in foun­da­tions and com­mu­ni­ties. Equal­ly impor­tant: it intro­duces fel­lows to the tools and skills need­ed to dis­man­tle such systems.
The Fun­ders' Net­work for Smart Growth and Liv­able Com­mu­ni­ties — a mem­ber­ship orga­ni­za­tion rep­re­sent­ing more than 170 nation­al, region­al and place-based foun­da­tions — launched the PLACES Fel­low­ship a decade ago. To cel­e­brate the pro­gram's first 10 years, the Fun­ders' Net­work has pub­lished a col­lec­tion of sto­ries fea­tur­ing PLACES alum­ni talk­ing about the fel­low­ship and its impact on their pro­fes­sion­al work.
For instance, Sheena Solomon, exec­u­tive direc­tor of the Gif­ford Foun­da­tion in Syra­cuse, New York, dis­cuss­es how PLACES helped inspire her organization's Nour­ish­ing Tomorrow's Lead­ers pro­gram, which aims to add more peo­ple of col­or, young peo­ple, peo­ple with dis­abil­i­ties, and women to the boards of local nonprofits.
"PLACES was a true eye-open­er and game-chang­er for me," says Solomon, who was part of the 2012 fel­low­ship class. ​"After par­tic­i­pat­ing, I was equipped to go to my board and dis­cuss changes that need­ed to be made in our deci­sion-mak­ing around equity."
As part of the pro­gram, fel­lows have also vis­it­ed sites made famous by the civ­il rights move­ment, such as Lit­tle Rock Cen­tral High School in Arkansas, which was inte­grat­ed in 1957 with the over­sight of Nation­al Guards­men. Dur­ing these vis­its, par­tic­i­pants learn about sig­nif­i­cant events that are often glossed over by pol­i­cy mak­ers and phil­an­thropic leaders.
"The site vis­its open fel­lows' eyes," says Patri­cia Smith, pres­i­dent and CEO of the Fun­ders' Net­work. ​"Apart from being a bond­ing expe­ri­ence for fel­lows, the trips remind them of the impor­tance of the work and the sys­temic prob­lems that must be fixed."
Read more about PLACES and its accom­plish­ments over the past decade
This post is related to: