Three Jurisdictions to Test Justice Framework for Young Adults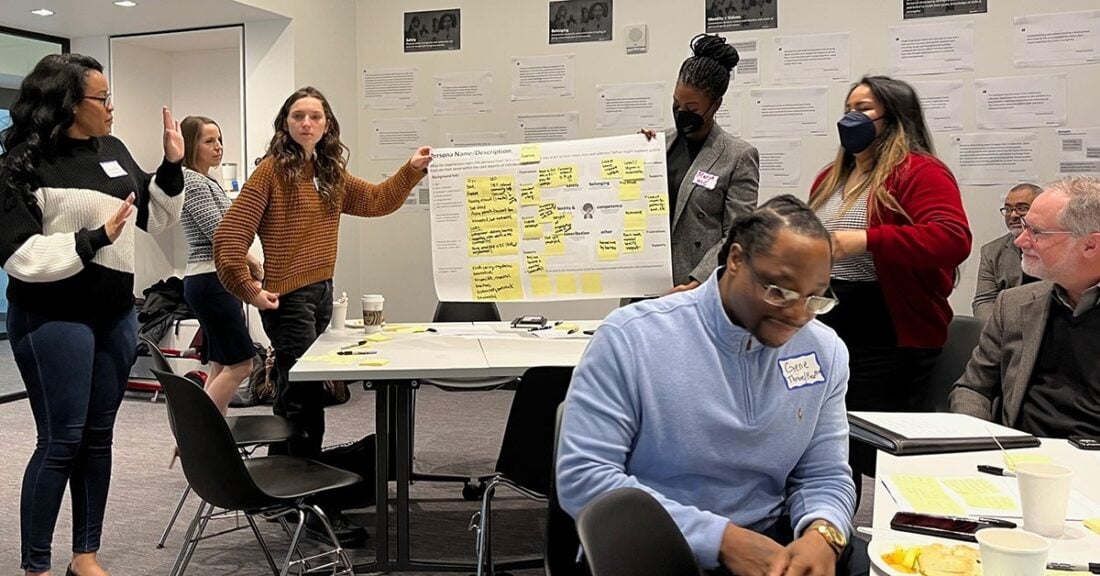 The Annie E. Casey Foun­da­tion has award­ed grants to three juris­dic­tions to test and help refine a devel­op­men­tal frame­work — or set of prin­ci­ples — focused specif­i­cal­ly on achiev­ing pos­i­tive out­comes for peo­ple ages 18 to 25 involved in the crim­i­nal jus­tice sys­tem. For the next two and a half years, gov­ern­ment agen­cies and com­­mu­ni­­ty-based orga­ni­za­tions in Mass­a­chu­setts, Nebras­ka and Wash­ing­ton, D.C., will work with young adults to deter­mine how best to apply the prin­ci­ples to poli­cies and prac­tices that help this group of peo­ple thrive.
As part of the solic­i­ta­tion and selec­tion process, Casey part­nered with the Emerg­ing Adult Jus­tice Project at Colum­bia University's Jus­tice Lab. The Project will pro­vide tech­ni­cal assis­tance to all three sites test­ing the devel­op­men­tal framework.
"This exper­i­men­ta­tion will put these juris­dic­tions at the fore­front of a bur­geon­ing field, tar­get­ing an age group that has long been over­rep­re­sent­ed and under­served by the crim­i­nal jus­tice sys­tem," says Felipe Fran­co, a senior fel­low at the Foundation.
Meet the Awardees
Mass­a­chu­setts: Legal Defense
The Com­mit­tee for Pub­lic Coun­sel Ser­vices (CPCS), the statewide pub­lic defend­er agency, will lead a test of the devel­op­men­tal frame­work in the con­text of indi­gent defense rep­re­sen­ta­tion of emerg­ing adults. The juve­nile and adult divi­sions of CPCS will work togeth­er and with oth­er orga­ni­za­tions to advo­cate for emerg­ing adults' well-being and social, psy­cho­log­i­cal and oth­er needs. Com­mu­ni­ty part­ners include UTEC, a youth orga­ni­za­tion with exper­tise in sup­port­ing the well­ness, devel­op­ment and lead­er­ship skills of emerg­ing adults involved in the jus­tice sys­tem. The ini­tia­tive begins with pilots in Low­ell and Lawrence with plans to expand statewide.
Nebras­ka: Pro­ba­tion and Reen­try Poli­cies and Practices
The Nebras­ka Admin­is­tra­tive Office of the Courts and Pro­ba­tion (AOCP) will apply the frame­work to reshape the agency's prac­tices for young adults ages 18 to 25 who are on com­mu­ni­ty super­vi­sion. Begin­ning in two com­mu­ni­ties — one rur­al and one urban — AOCP will train a group of pro­ba­tion offi­cers to spe­cial­ize in work with emerg­ing adults, includ­ing con­duct­ing indi­vid­u­al­ized and strengths-based case plan­ning and part­ner­ing with com­mu­ni­ty-based orga­ni­za­tions to sup­port pos­i­tive learn­ing, growth and devel­op­ment. AOCP will col­lab­o­rate with emerg­ing adults and orga­ni­za­tions such as the RISE pris­on­er reen­try pro­gram and the Nation­al Cen­ter for State Courts.
Wash­ing­ton, D.C.: Con­tin­u­um of Care
Jus­tice Pol­i­cy Insti­tute and oth­er mem­bers of the D.C. Emerg­ing Adult Jus­tice Action Col­lab­o­ra­tive will use the frame­work to pro­vide more devel­op­men­tal­ly appro­pri­ate respons­es to emerg­ing adults who are pros­e­cut­ed for crim­i­nal offens­es, as set forth in the District's Youth Reha­bil­i­ta­tion Amend­ment Act of 2018. This includes cre­at­ing a com­mu­ni­ty-based con­tin­u­um of care for emerg­ing adults with jus­tice-sys­tem involve­ment, cov­er­ing basic needs such as afford­able hous­ing and health ser­vices and pro­vid­ing ded­i­cat­ed sup­port for this age group through spe­cial­ized court pro­grams, pro­ba­tion poli­cies, phys­i­cal facil­i­ties and reen­try sup­port ser­vices. Through­out the imple­men­ta­tion process, emerg­ing adults with cur­rent or pre­vi­ous jus­tice involve­ment will advise JPI and its part­ners — the Thrive Under 25 Coali­tion and Free Minds Book Club & Writ­ing Work­shop, among others.
"We are excit­ed to be work­ing across pro­fes­sions and roles in three very dif­fer­ent places," says Lael E.H. Chester, direc­tor of the Emerg­ing Adult Jus­tice Project. ​"Our goal is not to pro­vide a one-size-fits-all solu­tion for emerg­ing adult jus­tice but to explore how dif­fer­ent sys­tems can adapt to put young peo­ple on a path to success."
Why Focus on Young Adults
Nation­al­ly, peo­ple ages 18 to 25 are overrep­re­sent­ed through­out the crim­i­nal legal sys­tem, have the high­est recidi­vism rates and expe­ri­ence the most extreme racial and eth­nic dis­par­i­ties, par­tic­u­lar­ly in cor­rec­tion­al facil­i­ties. Too often, the jus­tice sys­tem fails to rec­og­nize the devel­op­men­tal needs of this pop­u­la­tion and treats emerg­ing adults in almost the same man­ner as old­er, ful­ly mature adults.
The Foun­da­tion is ded­i­cat­ing at least half of its invest­ments over the next decade to improv­ing the well-being and prospects of youth and young adults so that they can thrive by age 25. The Foundation's Thrive by 25® com­mit­ment rec­og­nizes that the road to adult­hood can be a chal­leng­ing one for many, but youth and emerg­ing adults in the crim­i­nal jus­tice sys­tem, young peo­ple of col­or in low-income fam­i­lies, youth in high-pover­­ty com­mu­ni­ties, young par­ents and youth mak­ing the tran­si­tion from fos­ter care to adult­hood face sig­nif­i­cant obsta­cles that can stall their aspi­ra­tions and prospects or derail them entire­ly. These young peo­ple are there­fore the Foundation's focus — and more impor­tant­ly, part­ners — for its Thrive by 25 efforts to invest in pro­grams and advance poli­cies to help them change the tra­jec­to­ry of their lives and pre­vent life­long problems.
This post is related to: