Thrive by 25: Young People and Elected Leaders Talk About Working Together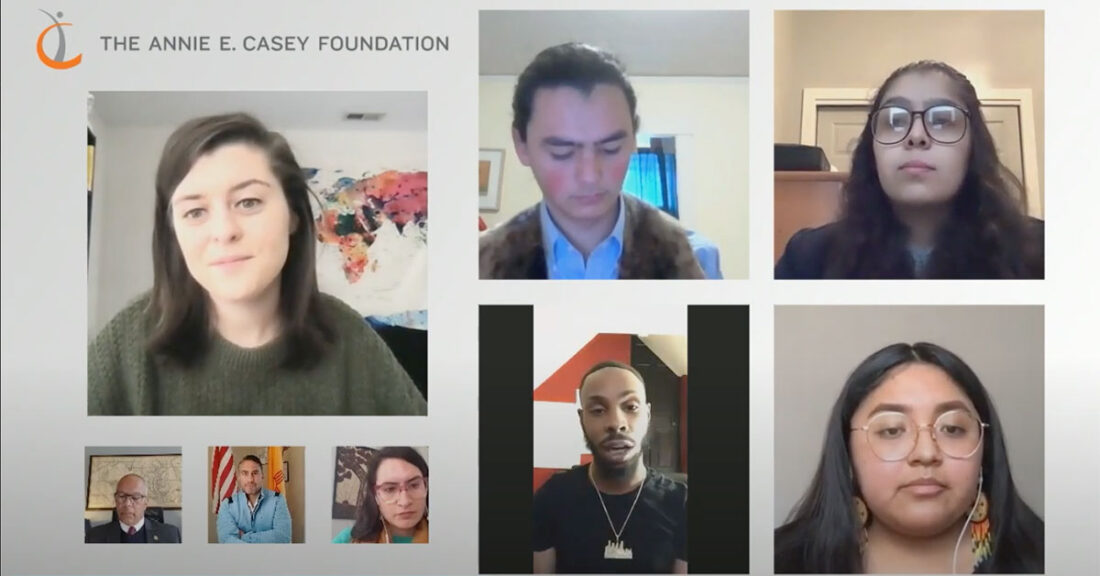 Three lieutenant governors listened to young people before speaking at an event where the Annie E. Casey Foundation announced it is dedicating at least half of its investments over the next decade to improving the well-being and prospects of youth and young adults ages 14–24. Expanding on the importance of this work, and what it will require of those involved, was the focus of a virtual Youth Voice and Power Summit hosted by the Foundation on Jan. 28.
The summit gave five young people the opportunity to share and exchange ideas about what youth and young adults need and what policymakers can do to ensure they Thrive by 25.
"You have to understand [a] community's culture" to make those connections with young people in diverse communities, said Perla Ortiz, a member of the Young Invincibles Youth Advisory Board in Texas, during a panel discussion featuring four young leaders and a young moderator. Everything from translating documents to facilitating access to health care is essential.
Other needs raised by the young leaders ranged from equitable resourcing and voting rights to transferring the knowledge of community and family elders to the next generation. Addressing the needs of youth and young adults is multifaceted, but as Sam Schimmel, who is working to combat suicide, drug abuse and cultural erosion in Alaska Native communities, summed it up, "What success looks like for young people is hope — that ability to say that 'I can hold a position wherever I want to be.'"
During a second panel discussion, three lieutenant governors — Peggy Flanagan (D-Minnesota), Howie Morales (D-New Mexico) and Boyd K. Rutherford (R-Maryland) — offered their perspectives on policy implications at the state level.
"We need to ensure that the people who are most impacted are the closest to the decision-making table and the solutions," Flanagan said, reacting to what she heard from the first discussion. "That's what's so exciting about this conversation: Each of our youth are using and pulling a different lever to move their communities forward — and be seen and heard and valued and protected." Her state just launched a young women's initiative to lift youth voices and encourage mentorship.
All three lieutenant governors discussed the need to make continued investments in education.
The need to do the work was a theme that cut across both panels and left the most enduring impression. "A lot of times, when we think about change, we think about the final product, we think about the folks who are satisfied with that. But we don't know a thing about the process," said Jamal Jones, co-founder of the Baltimore Algebra Project, which focuses on youth leadership and employment through math. "The process is really where the work is."
The data show why it is important for the Foundation to focus on older youth and young adults.
"The health and economic crises that we are going through have eliminated a decade of progress in reconnecting young people to school and to work," said Foundation President and CEO Lisa Hamilton. "We have got to seize this moment to regain and pave a path forward for them."
This post is related to: