Thrive by 25: Young People and Elected Leaders Talk About Working Together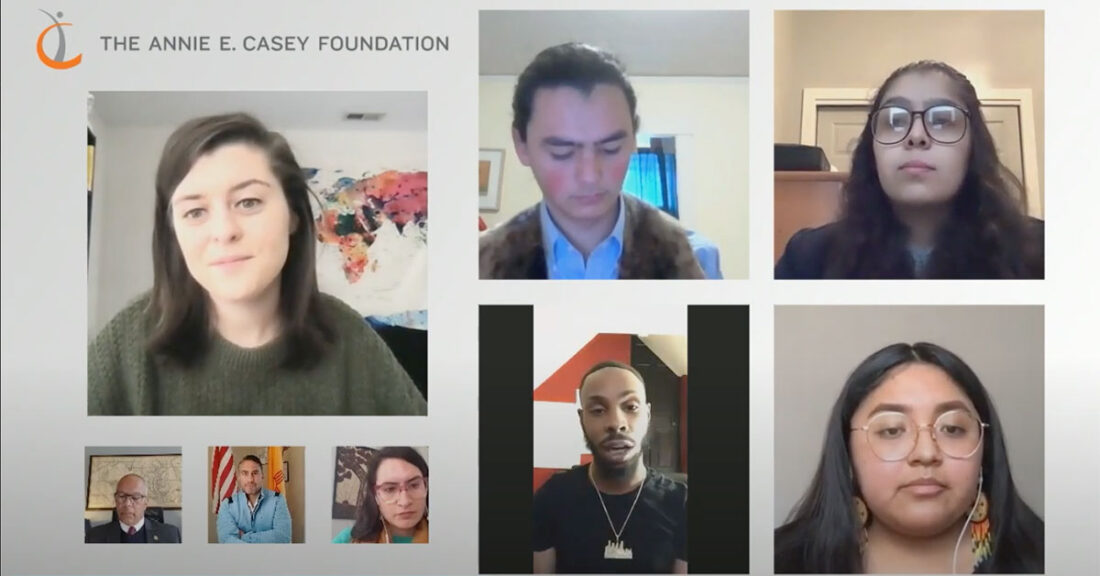 Three lieu­tenant gov­er­nors lis­tened to young peo­ple before speak­ing at an event where the Annie E. Casey Foun­da­tion announced it is ded­i­cat­ing at least half of its invest­ments over the next decade to improv­ing the well-being and prospects of youth and young adults ages 14–24. Expand­ing on the impor­tance of this work, and what it will require of those involved, was the focus of a vir­tu­al Youth Voice and Pow­er Sum­mit host­ed by the Foun­da­tion on Jan. 28.
The sum­mit gave five young peo­ple the oppor­tu­ni­ty to share and exchange ideas about what youth and young adults need and what pol­i­cy­mak­ers can do to ensure they Thrive by 25.
"You have to under­stand [a] community's cul­ture" to make those con­nec­tions with young peo­ple in diverse com­mu­ni­ties, said Per­la Ortiz, a mem­ber of the Young Invin­ci­bles Youth Advi­so­ry Board in Texas, dur­ing a pan­el dis­cus­sion fea­tur­ing four young lead­ers and a young mod­er­a­tor. Every­thing from trans­lat­ing doc­u­ments to facil­i­tat­ing access to health care is essential.
Oth­er needs raised by the young lead­ers ranged from equi­table resourc­ing and vot­ing rights to trans­fer­ring the knowl­edge of com­mu­ni­ty and fam­i­ly elders to the next gen­er­a­tion. Address­ing the needs of youth and young adults is mul­ti­fac­eted, but as Sam Schim­mel, who is work­ing to com­bat sui­cide, drug abuse and cul­tur­al ero­sion in Alas­ka Native com­mu­ni­ties, summed it up, ​"What suc­cess looks like for young peo­ple is hope — that abil­i­ty to say that ​'I can hold a posi­tion wher­ev­er I want to be.'"
Dur­ing a sec­ond pan­el dis­cus­sion, three lieu­tenant gov­er­nors — Peg­gy Flana­gan (D‑Minnesota), Howie Morales (D‑New Mex­i­co) and Boyd K. Ruther­ford (R‑Maryland) — offered their per­spec­tives on pol­i­cy impli­ca­tions at the state level.
"We need to ensure that the peo­ple who are most impact­ed are the clos­est to the deci­sion-mak­ing table and the solu­tions," Flana­gan said, react­ing to what she heard from the first dis­cus­sion. ​"That's what's so excit­ing about this con­ver­sa­tion: Each of our youth are using and pulling a dif­fer­ent lever to move their com­mu­ni­ties for­ward — and be seen and heard and val­ued and pro­tect­ed." Her state just launched a young women's ini­tia­tive to lift youth voic­es and encour­age mentorship.
All three lieu­tenant gov­er­nors dis­cussed the need to make con­tin­ued invest­ments in education.
The need to do the work was a theme that cut across both pan­els and left the most endur­ing impres­sion. ​"A lot of times, when we think about change, we think about the final prod­uct, we think about the folks who are sat­is­fied with that. But we don't know a thing about the process," said Jamal Jones, co-founder of the Bal­ti­more Alge­bra Project, which focus­es on youth lead­er­ship and employ­ment through math. ​"The process is real­ly where the work is."
The data show why it is impor­tant for the Foun­da­tion to focus on old­er youth and young adults.
"The health and eco­nom­ic crises that we are going through have elim­i­nat­ed a decade of progress in recon­nect­ing young peo­ple to school and to work," said Foun­da­tion Pres­i­dent and CEO Lisa Hamil­ton. ​"We have got to seize this moment to regain and pave a path for­ward for them."
This post is related to: