United Way's Suzanne McCormick on Serving Communities During the Pandemic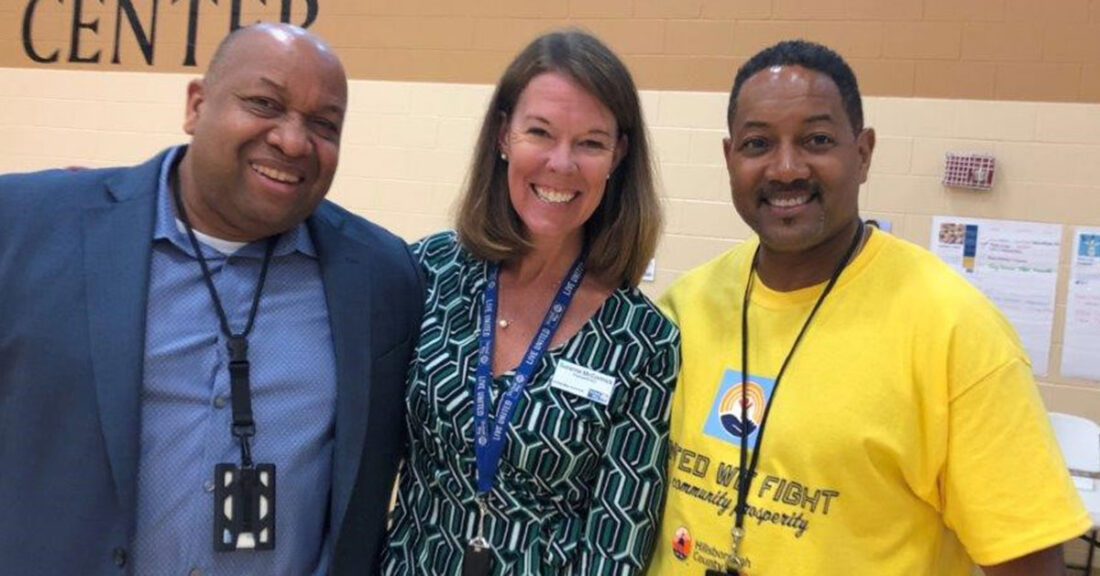 In her first year as U.S. pres­i­dent of Unit­ed Way World­wide, Suzanne McCormick faced a for­mi­da­ble chal­lenge: Help­ing the organization's local chap­ters piv­ot — while also con­tin­u­ing to sup­port res­i­dents and com­mu­ni­ties — dur­ing the coro­n­avirus pandemic.
For­tu­nate­ly, McCormick is no stranger to the Unit­ed Way net­work, which is seem­ing­ly ubiq­ui­tous in the Unit­ed States today and oper­ates in 40 coun­tries and ter­ri­to­ries across the world.
Pri­or to becom­ing the U.S. pres­i­dent, McCormick spent five years lead­ing one of the largest Unit­ed Way chap­ters in Flori­da and 13 years at the Unit­ed Way of Greater Port­land in Maine. Today, McCormick is respon­si­ble for help­ing these local chap­ters — 1,100 in all — cre­ate com­mu­ni­ty-led and equi­table solu­tions in three key areas: health, edu­ca­tion and stability.
The Annie E. Casey Foundation's Lisa Hamil­ton recent­ly spoke with McCormick about her lead­er­ship role and how the pub­lic health cri­sis has helped shape the Unit­ed Way's ser­vices, strate­gies and opportunities.
A big thank you to McCormick for chat­ting with us!
Stream this Cas­ey­Cast episode on the Unit­ed Way's work dur­ing the pandemic
Sub­scribe to Cas­ey­Cast on your favorite pod­cast service:
In this episode on the Unit­ed Way World­wide, you'll learn
An overview of the Unit­ed Way's pro­gram­ming, struc­ture and priorities.
What people's great­est needs have been dur­ing the pandemic.
Where the Unit­ed Way stands in its efforts to pro­mote race equity.
How the orga­ni­za­tion has embraced vir­tu­al vol­un­teer opportunities.
How cor­po­rate part­ners have filled new, cre­ative roles dur­ing the pandemic.
The Unit­ed Way's antic­i­pat­ed role in the nation's post-pan­dem­ic recovery.
Con­ver­sa­tion Clips
In Suzanne McCormick's own words…
"Our coun­try feels divid­ed right now. And I think the fact that our name is unit­ed — the Unit­ed Way — makes us a nat­ur­al place for com­mu­ni­ties to turn to look for an oppor­tu­ni­ty to have conversations."
"We've seen, since the pan­dem­ic, just a huge rise in calls around rental assis­tance, hous­ing assis­tance. Fam­i­lies are feel­ing very unstable."
"We've already—last year—had 20 mil­lion calls, and that's about a 300% increase to calls to 211 since the pandemic."
"I think our abil­i­ty to tap into our net­work for more pub­lic aware­ness advo­ca­cy cam­paigns could be real­ly use­ful in help­ing our coun­try heal and come together."
Resources and Links
About the Podcast
Cas­ey­Cast is a pod­cast pro­duced by the Casey Foun­da­tion and host­ed by its Pres­i­dent and CEO Lisa Hamil­ton. Each episode fea­tures Hamil­ton talk­ing with a new expert about how we can build a brighter future for kids, fam­i­lies and communities.
Enjoy the Episode?
We hope so! Vis­it Apple Pod­casts to sub­scribe to the series or leave a rat­ing or review.
Lisa Hamilton:
From the Annie E. Casey Foundation, I'm Lisa Hamilton and this is CaseyCast.
Joining me today is Suzanne McCormick, the U.S. President of United Way Worldwide. In this role, Suzanne is responsible for helping 1,100 communities across the country create community-led and equitable solutions in three key areas: health, education and financial stability.
Prior to joining United Way Worldwide, Suzanne spent five years leading one of the largest United Ways in Florida and 13 years at United Way of Greater Portland in Maine.
There's a good chance that you've heard of — or donated to — United Way before. For more than 125 years, this network of nonprofits has offered individuals and workplaces a channel for giving back and getting involved locally.
Today, United Way worldwide, formerly called United Way of America, works in 95% of U.S. communities at 40 countries and territories across the world.
Welcome, Suzanne, thanks for joining us on CaseyCast.
Suzanne McCormick:
Thank you, Lisa. It is a pleasure to be here.
Lisa Hamilton:
: Well, many of us have interacted with a local United Way chapter. I know I have. I have been a donor to United Way for almost 25 years. And I got my start on nonprofit boards by participating in the United Way program in Atlanta that was creating diverse leaders to be a pipeline for board service. So, I believe in United Way and have had an opportunity myself to interact with a United Way chapter.
But I'm curious, what role are the affiliates playing in local communities and what role do you see them playing nationally?
Suzanne McCormick:
Well, thank you first and foremost for being such a great part of United Way. It is the people in communities that make United Way so special. Local United Ways, the way I describe their role in community is that they serve as leaders for their communities to come together to solve some of the most pressing problems. And as you indicated, they're really focused on health, education and financial stability.
And the role they play is they're a neutral place, they're a bridging place, they're a connecting place, they're a place where all different members of the community and sectors of the community can come together to work together. Folks know United Way, especially for our ability to raise dollars in communities and then to invest them in strategic programs and partners. But often Local United Ways are leading or sitting at the head of the table alongside their Mayor or their City Council or their county leaders and helping lead change around really significant issues. And I think that what makes United Ways so special is it's just this commitment to collaborative partnership in everything that we do.
Lisa Hamilton:
That's fantastic. And we all know how important collaboration is to solve the kinds of problems that are ahead of us, even pre-pandemic. And so, I think it's wonderful that United Way has stood in that space for as I know as I noted more than 100 years, you really help communities come together. Well, you mentioned some of the key priorities of the organization, could you tell us a little more about what you're trying to accomplish on a national level?
Suzanne McCormick:
Yes, my team at United Way Worldwide is focused on helping those 1,200 local United Ways be as successful as they can be. So, a lot of what we do is provide them with a technical support, resource support, expertise support. So, for example, in the area of equity, and I'm sure we'll get to talk a lot about this, that's been a major priority for us is supporting our Local United Ways and advancing equity in all of their work. So, sometimes that support is provided through coaching, through conferencing, learning. We help them with their board development. We help them with their staff development, anything that has to do with them running their organization. They're my customers and my job is to make sure that they're getting the support and the value from United Way Worldwide that they want and need to be leaders in their communities.
Lisa Hamilton:
And so, all of that capacity building that you provide at the national level really helps to make those Local United Ways stronger so they can do the work around health and education and financial stability.
I know it's important to tailor work to a local community, but do you have any national programming that many of your United Ways implement in any of those areas?
Suzanne McCormick:
Yes. I would say the majority of our United Ways across the country are focused on issues that I know the Annie E. Casey Foundation cares deeply about as well is children and young people and their families. As you said, not every single United Way is approaching the work exactly the same, but they're all approaching the same work, if that makes sense.
And what I think is uniform across the network is the engagement in community, the engagement of volunteers in their work. Over the years though, we have had some national initiatives that I would say a significant number of our United Ways have been a part of. For example, years ago, we had a program called Success By 6 and that was how we framed our work around early childhood.
There's also in the area of financial stability a great number of our local United Ways also play a very active role in the free tax preparation in the Volunteer Income Tax Assistance sites. And then a third area that I think we see a lot of United Ways, a part of, is in the 2-1-1 Network, which is 24/7, 365-day a year resource for people to get information and help they need. So, those are some examples. When we see a United Way doing something that we think is really spectacular, we have the ability to raise that up and elevate it and share it with the rest of the network. And that often is the spark, and it gets other local United Ways to start to emulate programming that they've seen one of their peers start.
Lisa Hamilton:
Well, a great example of that is United Way 2-1-1, which you just mentioned, which started as an idea of my hometown United Way in Greater Atlanta in 1997 and that was a nationally available service.
Could you explain how 2-1-1 connects people and how it's been a tool for families in need during the pandemic?
Suzanne McCormick:
Well, 2-1-1, it's three digits like 411 or 911 and it's a go-to number for mostly non-emergency related needs. However, if, for example, someone is suicidal or in crisis, they can call 2-1-1 and they will be connected to a call specialist who is an expert in all of the local resources in their communities that may be of help for them. So, resources like food pantries or homeless shelters or financial assistance, so much more. And as you said, 2-1-1 is available to almost the entire country. About 96% of U.S. residents are able to get their support through 2-1-1.
There's also a website to 211.org. And just to really put a finer point on how important 211 is to helping people access help. On a typical year, our 2-1-1 network responds to about 12 million calls. During the pandemic, again, because people have seen such an increased need for help, we've already last year had 20 million calls and that's about a 300% increase to calls to 2-1-1 since the pandemic. And part of that is because 2-1-1 is really recognized as a resource. In 31 states, 2-1-1 was designated by the governor's offices of those states to be the go-to place for information about COVID-19.
I think the thing that really makes 2-1-1 special is our call specialists. They might start a conversation with someone around one need and discover that that person has other needs that also could be met with the right information. And in some cases, 2-1-1 can connect people directly to financial assistance or directly to care providers. It's a lifeline for so many people.
Lisa Hamilton:
That is a really special contribution that United Ways is making in our country, so I'm glad that we were able to talk about that and to hear how it's really stood in the gap for families during the pandemic. That is really incredible.
Well, I know so many families today are really struggling with economic stability, financial stability. And you mentioned that that is certainly one of the areas United Ways is focused on, and we share that interest in promoting the economic well-being of families, particularly low-income families. You mentioned free tax preparation, but are there other ways this work shows up in United Ways efforts?
Suzanne McCormick:
Yes, one of the areas that we haven't talked about where especially the United Way at the national level, where we really provide strong supports to our locals is through our public policy and our advocacy work. Our network has identified and worked with us at the national level to identify key issues and federal programs and policies that are central to helping families achieve financial stability. We just released our federal policy agenda for the new Congress and a big part of that is on financial stability.
I had the opportunity to participate in a call with Senator Brown from Ohio, Senator Bennet from Colorado, and then Senator Booker from New Jersey. And we were talking specifically about moving families out of poverty through policy and specifically around expanding the earned income tax credit and the child tax credit as a way to reduce childhood poverty and improve financial stability. At a local level, United Ways are very active. In addition to helping provide free tax preparation, that's also a vehicle for them to engage with families beyond just completing their taxes. Many of our Local United Ways have financial coaching programs where they engage volunteers, often retired volunteers to be financial coaches for families that are being served in the programs that they fund. Local United Ways also have financial literacy trainings that they bring to their community.
And then local United Ways – when I was leaving the United Way in the Tampa area of Florida – we were part of the Bank-On Network. So, the focus of that was really building a coalition in a community to promote getting those who are unbanked banked because that can make a big difference in creating habits around savings and can lead to financial stability.
Lisa Hamilton:
That's great and the United Way is a name we know all legislators know and you have great credibility and corporate leaders on your board who often wield influences, so your voice in public policy is essential. And I know that's one of the ways that Casey has partnered with United Way in the past.
I think we're all worried about how families and communities are going to weather the current public health crisis and we've seen lots of lines at food banks, et cetera. But United Way has a truly unique lens into the needs of people today.
What are you seeing in terms of their greatest needs and are there any new challenges or tougher challenges that might be emerging as this crisis wears on?
Suzanne McCormick:
A lot of this has come through the 2-1-1 call centers where we get so much data about what people are asking for help with. It's a really good indicator. It could be a very good indicator of the health of the community. People are still calling for help with their basic needs. So, food and insecurity is one of the number one issues that that people present with. And we know that nutrition is foundational to health, so that continues to be a real need.
We also have seen since pandemic just a huge rise in calls around rental assistance, housing assistance. Families are feeling very unstable. And, again, we know that that has a direct impact on health. And then, we've also seen more of an uptick in people calling with issues about mental health. I think the strain of the pandemic is, well, we all know. It's real, but the severity of its impact on mental health, I think is really becoming much more apparent. And then the other is we've seen that COVID has really amplified, the disparities that exist in communities and people's ability to access care is still contingent upon the zip code in which they live. And communities of color have been impacted more severely.
The last thing I think that's directly or indirectly related to what we're seeing in terms of the health crisis is the digital divide. That goes beyond kids, just being able to go online and learn virtually. We know now that everyone, really in order to work, to get help, to do your taxes, to get benefits, you have to have access to technology. And that's just not there for everyone. And so, that's going to be, again, a new focus for us in terms of supporting our Local United Ways leading on that digital divide issue in their communities, and also, advocating at the federal level for policies and resources for communities to help those who don't have the access that many of us do.
Lisa Hamilton:
Yeah, I think that's been one of the eye-opening lessons of this pandemic is that access to the internet is a basic need now, and I'm excited to hear that United Way is taking that up among so many other things to help families stabilize and thrive beyond this moment. But I know the United Ways is thinking beyond this immediate moment into issues of recovery and resilience.
What role do you think United Way can play when we are finally beyond responding to this crisis to help communities and families move forward?
Suzanne McCormick:
There's a lot of opportunity for us there. Because we have historically served as a place for community to come together. And when I say community, again, with the goal of having a very, very equitable and inclusive group of people working together to solve problems. United Ways that are most successful are really good at listening in their communities, and then convening around solutions. And I think that's going to continue to be our role. Our country feels divided right now. And I think the fact that our name is united, the United Way, that even just that brand, I think, makes us a natural place for communities to turn to look for an opportunity to have conversations.
One of the techniques that many United Ways employ in their working community is in what we call community conversations and it's very simple. It's they turn outward, they go into their communities and they ask their communities for their input, not only on what problems there are, but what are the solutions. And I think that, that willingness to go and show up and have conversation, we need more of that, in both civil and social society. And it is my hope that United Way will play that role.
The other role that I think we have an opportunity to do more of and we had some great success this year in helping promote through our public awareness campaigns and our call-to-action, we did a lot of work to try to get people out to vote, to register and to vote. And I think our ability to tap into our network for more public awareness advocacy campaigns could also be really useful in helping our country heal and come together. So, that's somewhat aspirational, but I certainly hope that we can play a big role in that. I think United Way's so well-suited to that.
Lisa Hamilton:
That's wonderful. There's certainly a national conversation taking place about racial equity and there's probably no space that's more in need of re-imagination than making sure that we address these divides that exist in our society. And that's, again, one of the areas Casey has partnered with United Way on is on its racial equity work and all this work has been centerstage over the last year.
What is it looking like for your organization as you try to help communities and organizations think about how to embed equity more deeply in their work and even within your own organization?
Suzanne McCormick:
First, Lisa, I want to say thank you so sincerely for the partnership that Annie E Casey has provided over a long period of time to United Way to help us in this work. I think we started working together in 2018. And it was because of support from the Foundation that United Way Worldwide was really able to do some of its internal work to look at diversity, equity and inclusion. It was because of your generous support that we were able to start our internal training and to start training for our network of 1,100 United Way's.
And then, most recently in 2019, I guess two years ago, again with your support, we were able to create, develop and then actually deploy into our network something we call the Equity Toolkit. And it really is an amazing tool that helps Local United Ways and really any nonprofit organization look at its own equity work, its own diversity and inclusion work. And I will tell you that whenever I talk to a Local United Way that is one of the tools that has been provided to them that they have the most compliments about. They say it has been so incredibly helpful to them, because it really helps them break it down and start looking internally.
And then shortly after that, we were able to also develop and release our equity framework, which is, again, a toolkit that helps our Local United Ways look at their work external in community and how do we engage their community in more equitable ways. So, we've made a lot of progress over the last several years in developing really strong tools to support our network. And then, finally, I think one of the changes that we made as a United Way worldwide organization and as a global network, this goes beyond just the United States, I'm very proud that we changed our membership requirements. And what I mean by that is, every local United Way has to meet a set of standards in order to be a local United Way and we added three new requirements.
In order to be a local United Way, you have to have developed and publicly posted an organizational statement against racism specifically or ethnic discrimination in some of our international countries. You also have to ensure that all of your staff and board are trained annually on equity and then finally, all of our local United Ways has to have an equity criterion in their decision-making process as they evaluate where they're going to invest money in communities. I always say, I'm very proud of where we are, but there is a long way to go. And so, now our focus this year is really continuing to support our network in really embracing and incorporating equity as a core value in everything that they do. And I should also say that I think I'm excited about the opportunity for us as an organization and a network to learn from other organizations who are really focused on this as well.
Lisa Hamilton:
Well, congratulations, Suzanne, in the progress, tremendous progress you've already made. And it's been our pleasure and honor to partner with you on this work as everyone knows it's a learning journey for everyone, no matter where you are in the process. And so, kudos to you and your team and the network for really, deeply taking up this work because we know we can't get to the results that we all are pursuing if we don't pay attention to the role that race plays in disparate outcomes for kids and families and communities.
Like many nonprofits, United Way relies on lots of volunteers to advance its mission and we talked a little about volunteers earlier, how if at all has this crisis changed the way that you now engage and leverage volunteers?
Suzanne McCormick:
Without a doubt, we rely on volunteers. In my opening comments, I said, I think what makes the United Way so special is the people that are part of it and the majority of people who "work" for United Way are unpaid. They are volunteers. We have over 2.5 million volunteers globally, who are active part of our organization in our community. We just couldn't do what we do without volunteers. COVID definitely presented a challenge because traditionally, volunteerism has taken place in-person. And that's true for United Way as well and so, we had to get creative like so many organizations.
As the saying goes, "Necessity is the mother of invention." And in the face of COVID, United Ways found ways to check in and connect with people who were isolated. We had to stand up a lot of and when I say we, I'm talking about our entire network, both at the national level, because we promote volunteerism and really work with a lot of our corporate partners on their volunteer projects, and then at the local level. But I saw so many United Ways get super creative and innovative. They found ways to check in and connect with people who are isolated. They organized the delivery of meals and prescriptions to help students and teachers. And they did things, we talked about free tax prep. They created virtual or drive through tax assistance. We saw a big uptake in creativity around virtual volunteering to help support kids with online reading or tutoring and mentoring.
But I've just been so impressed around the creativity and the innovation that local United Ways have demonstrated through their volunteerism.
Lisa Hamilton:
That is wonderful. One of the stakeholders that United Way, I think, is among the best in engaging our corporate employers, United Way enjoys a particularly strong relationship with a wide range of employers across the country.
How were you seeing them respond to community needs and how might they be even more powerful partners in addressing the challenges of the communities they operate in and serve?
Suzanne McCormick:
Yes, our corporate partners, our workplace partners, they really are like our volunteers. We couldn't do what we do without them. I think we have over 45,000 corporate/workplace partners and we're really proud of those partnerships and the generosity. I would say that's another thing that's really impressed me about our corporate partners is they've come forward again and sometimes very unusual, and really innovative and creative ways.
In ways, in the past, they kind of thought just about volunteering or giving us money, but one really good example to connect back to the conversation we were having about 2-1-1 is we developed a relationship with DoorDash. And through that partnership, which has now developed, we have DoorDash providing, bringing boxes of food from food banks and pantries directly to people's doors to minimize their exposure of going out during the pandemic in 23 of our major markets. So, that's an example of, a company using its actual product in service and they partnered with United Way and 2-1-1 to be able to do that.
Another new partnership that developed as a result of the pandemic was a partnership called Saving OurSelves: COVID Relief, which was developed by Black Entertainment Television. They raised over $18.5 million that we're specifically designated to the hardest hit African American communities by the COVID crisis.
One last kind of fun example of that creativity is the partnership that we developed with Cottonelle. I think we all remember those crazy first days when people were running around trying to buy out the toilet paper section of the grocery stores. And we did a social media campaign in partnership with Cottonelle with the hashtag ShareASquare. And it was intended to celebrate the acts of generosity that were happening around the country and Cottonelle donated $1 for each post people made. And overall, we raised a million dollars that, again, that we could put back into our local communities.
So, my hope for our corporate partners is just to continue that spirit of innovation and creativity. What do you have that could benefit a community and let us help get that benefit to the community? It's traditionally been money in volunteerism, which we still value hugely and we need, but there's other things that companies can do, too. And that's what excites me about the future.
Lisa Hamilton:
That's great. I had the privilege of working in the foundation for UPS and the thing I enjoyed most was thinking about what were the skillsets that our staff had that could help address a community problem. And as you know, it's not just financial resources and it's not even just volunteerism, but there are amazing unique skills that companies have whether it's being able to deliver something or do humanitarian relief or provide health services. And so, I've been encouraged to see the ways companies have and are continuing to think about stepping up in that way.
So, why don't we pivot to the future? Our youngest citizens who are members of Generation Z and Generation Alpha seem to be writing their own rulebook, and they care about different issues and advocate for them in different ways than you or I might have when we were growing up. What relevance, if any, do you think this has for nonprofits like United Way? How are you engaging our emerging leaders in this country?
Suzanne McCormick:
Well, I will start by saying I am the mother of two Generation Zs or Generation As and I would echo your comment that they're writing their own, they're writing their own rules. I see that happening on a daily basis.
Lisa Hamilton:
I have one, too, Suzanne, so I sympathize with you.
Suzanne McCormick:
I think that, like all nonprofits, this is a generation that we cannot ignore and that we have to pay attention to.
I think young people, at least I see it in my children, they are activists by nature. They care very deeply. If they see something that's unjust, they go to social media first and foremost. And so, our ability to find them in those environments and to give them opportunities to lend their voice to big cause. I think United Way has, I think we've got a lot of opportunity there, but I think that we have to be really intentional about it. And I know that there are some learnings from our network that we need to elevate.
We have for example, in our United Way of Greater Milwaukee, they have a really strong, what they call, Emerging Leaders Program. They've been really engaged all through the COVID pandemic in helping volunteer with seniors who are struggling with social isolation. They send text to seniors. They write letters. They set up Zoom calls.
And we're talking about virtual volunteerism, but I think that our ability to provide two-gen opportunities for young people so that they are interacting and doing something good for seniors, again, I think there's a lot of potential there. But we have to be more intentional about it. We tended to be an older organization, really tied to the workplace. And I think we have an opportunity to expand our thinking in how we fill up in community.
Lisa Hamilton:
Yeah, I agree with you. I'm excited about this next generation. And I think, not just the ways we engage them, but also the ways we learn from them.
Suzanne McCormick:
Absolutely.
Lisa Hamilton:
They've got lots of amazing ideas about how we can solve challenges they face in their lives and communities. And so, I think it's going to be incumbent upon all of us to listen to what the next generation has to say.
Well, the last question I'm going to ask you is about your own leadership. You and I both became presidents of our organization at the beginning of 2019. And in our first year on the job, the pandemic hit, so I wanted to ask you about your own leadership journey over the last year.
Suzanne McCormick:
It has been challenging for sure. And when you say it, I sort of feel guilty when I say it's been challenging, because so many other people have faced greater challenges than I over this past year. But like all people, starting a new job and then having you're finding yourself working from your kitchen table six months into a job is very different than having been out, traveling around and meeting personally our local United Ways. I think the thing that I miss the most since the pandemic is exactly that, is having the opportunity to go and see the work of local communities in action, to be able to meet the volunteers, the board members, the staff, the community members. I miss that, that personal connection, so that's been challenging. But I think, the silver lining for me in this first year of leading as the U.S. President is, connected to a comment I made earlier, it is about accessibility. I find, at least I think you and I met for the first time maybe on Zoom.
Lisa Hamilton:
We did.
Suzanne McCormick:
And when we met on Zoom. And the COVID, the pandemic has afforded me the opportunity to meet more quickly and more readily with people that it would have taken much longer to be able to have achieved that if it was about finding a time that we could meet in person for an hour and traveling someplace. So, that has been a real bonus. And even though I can't be personally in our communities, I get to spend a lot of time on a daily basis traveling around the country and meeting with my local leaders and their volunteers. So, the access has been a bonus. So, it's, I'd be lying if I say it wasn't a mix, but more than anything, I love the United Way network and I am so grateful to have the opportunity to support so many amazing people and volunteers who they're doing the work because they care about improving their communities and changing lives. So, I feel really blessed.
Lisa Hamilton:
Well, that's wonderful. And I think we are blessed to have your leadership at the helm of this incredible organization. Thank you for your leadership and thank you for everything that the United Way has done to serve millions and millions of Americans over the last year. It's obvious that we couldn't have gotten through this pandemic without the vital services and resources and connections and voice of United Way. And so, thank you so much for everything that United Way is doing.
And thank you so much for joining us on CaseyCast. Suzanne, it was great to hear about your work and the journey of this institution.
Suzanne McCormick:
Thank you, Lisa. It was an honor to be here, and I really look forward to our continued partnership in making people's lives better. So, thanks for having me.
Lisa Hamilton:
Thank you. And I want to thank our listeners for joining us as well. If you liked today's conversation, please rate our show on Apple Podcast. You can ask questions and leave us feedback on Twitter by using the CaseyCast hashtag. To learn more about Casey and the work of our guests, you can find our show notes at aecf.org/podcast.
Until next time, I wish all of America's kids and all of you a bright future.