U.S. Population Has Grown 20% in Just Two Decades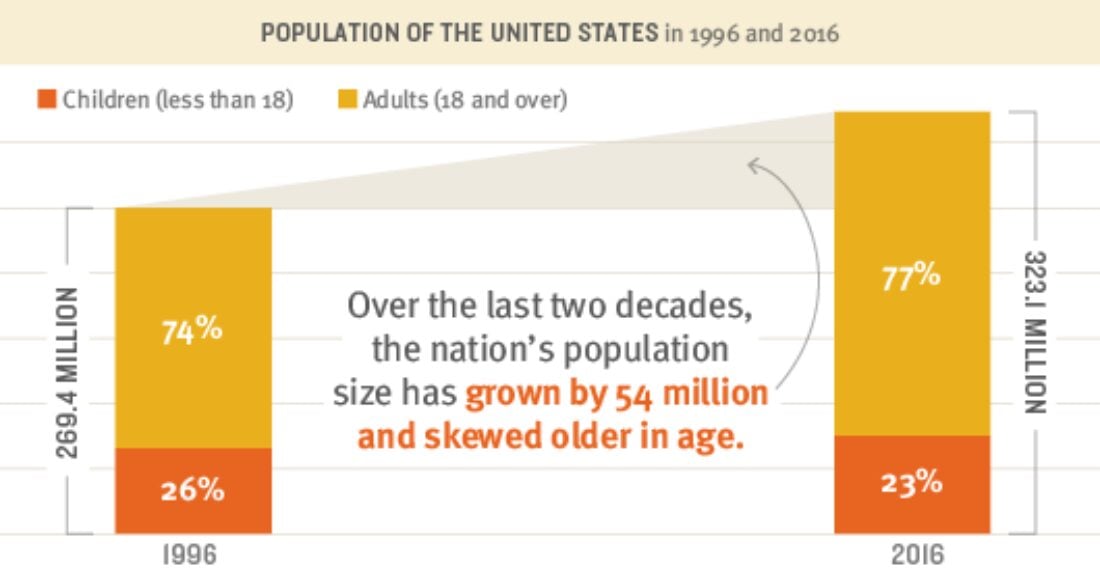 In 2016, the population of the United States was 323.1 million. This total included 249.5 million adults over the age 18 (77% of the population) as well as 73.6 million children (23% of the population).
Over the last two decades, the nation's population size has grown by 20% and skewed older in age. Among the 269.4 million Americans in 1996, 74% were adults and 26% were children.
During this same two-decade time frame, population totals increased for all 50 states. The rate of growth, however, varied widely from state to state. For example: West Virginia experienced only a small bump in its population count from 1996 to 2016 (<0.5%) while states like Nevada and Arizona saw their population totals rise substantially — by 76% and 51%, respectively.
Despite every state's population count increasing, 21 states and the District of Columbia saw their total number of children shrink from 1996 to 2016. Vermont's child count fell 22% during this time frame and Maine experienced a similar drop, with its child count falling 17%.