Working Effectively With Young People Requires Authentic Partnerships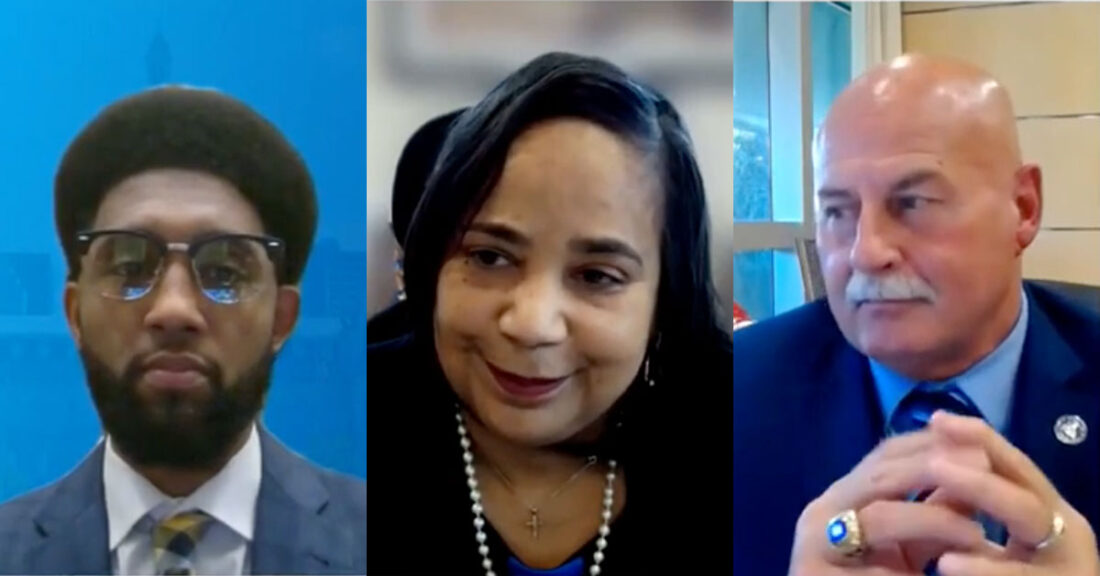 A Youth Voice and Pow­er Sum­mit host­ed Feb. 22 by the Annie E. Casey Foun­da­tion gave a vir­tu­al audi­ence the chance to hear from may­ors and young lead­ers on how foun­da­tions, non­prof­its, gov­ern­ment and busi­ness can work effec­tive­ly with young peo­ple. It was the sec­ond in a series of events tied to the Foundation's announce­ment that it will ded­i­cate at least half of its invest­ments over the next decade to improv­ing the well-being and prospects of youth and young adults ages 14–24 so that they may thrive by 25.
May­ors Bran­don Scott of Bal­ti­more, Jer­ry Dyer of Fres­no, Cal­i­for­nia, and Vic­to­ria Woodards of Taco­ma, Wash­ing­ton, joined a round­table to dis­cuss youth part­ner­ship and lead­er­ship in their respec­tive cities.
In launch­ing Tacoma's first youth com­mis­sion, Woodards expect­ed a few dozen appli­ca­tions at most, but the city heard from more than 125 young peo­ple who had some­thing to say. ​"They oper­ate in four dif­fer­ent com­mit­tees — jus­tice and safe­ty; edu­ca­tion, arts and cul­ture; envi­ron­men­tal pol­i­cy; and social health — and we allow to them to lead in the way they want to lead," she said. The com­mis­sion recent­ly pre­sent­ed the may­or with a list of rec­om­mend­ed reforms to the city police depart­ment, chal­leng­ing elect­ed offi­cials to take action.
In Bal­ti­more, Scott cred­it­ed an orga­ni­za­tion led by youth — Bmore Beyond Plas­tic — with chang­ing the tra­jec­to­ry of city pol­i­cy. ​"We would not have passed leg­is­la­tion in Bal­ti­more around Sty­ro­foam and plas­tic bags… were it not for high school stu­dents com­ing to Bal­ti­more City Coun­cil by the droves."
As Scott and Woodards nod­ded, Dyer said young peo­ple in his city have made it clear that it's not enough for them sim­ply to have a seat at the table. ​"They know when they're being used. That's why it's so impor­tant for us to build that trust­ing rela­tion­ship with them, to be an active listener."
Young peo­ple on the tran­si­tion team Scott formed after he was elect­ed ​"had the same kind of pow­er that every­one else had there," he said. ​"You have to empow­er them to be a part of (change), not just at the begin­ning but every sin­gle step of the way."
Young peo­ple ​"are not our future," Woodards added. ​"They are our present. They're here today and we should engage them now."
Dur­ing a pan­el dis­cus­sion explor­ing the Foundation's own work with youth and young adults, Sonia Emer­son, a young fel­low with the Foundation's Jim Casey Youth Oppor­tu­ni­ties Ini­tia­tive®, said it is essen­tial to be inten­tion­al about engag­ing young peo­ple in con­ver­sa­tion. ​"It's about cre­at­ing a cul­ture where we feel safe and where things aren't just being rub­ber stamped," as well as ask­ing young peo­ple thought­ful ques­tions, she said.
"Youth voice in the equa­tion is so utter­ly impor­tant" to authen­tic part­ner­ship, added Kirsten Allen, a young busi­ness and strat­e­gy con­sul­tant. Allen iden­ti­fied two hall­marks of such part­ner­ships that she has found valu­able: equi­table com­pen­sa­tion for par­tic­i­pants and deci­sion-mak­ing authority.
Foun­da­tion Pres­i­dent and CEO Lisa Hamil­ton said this series of events is demon­strat­ing the val­ue of hear­ing from young lead­ers. ​"We can't just advo­cate on behalf of young peo­ple," she said. ​"They must be part of devel­op­ing solu­tions to the chal­lenges they face."