Young Parents Face Daily Challenges, Says New Report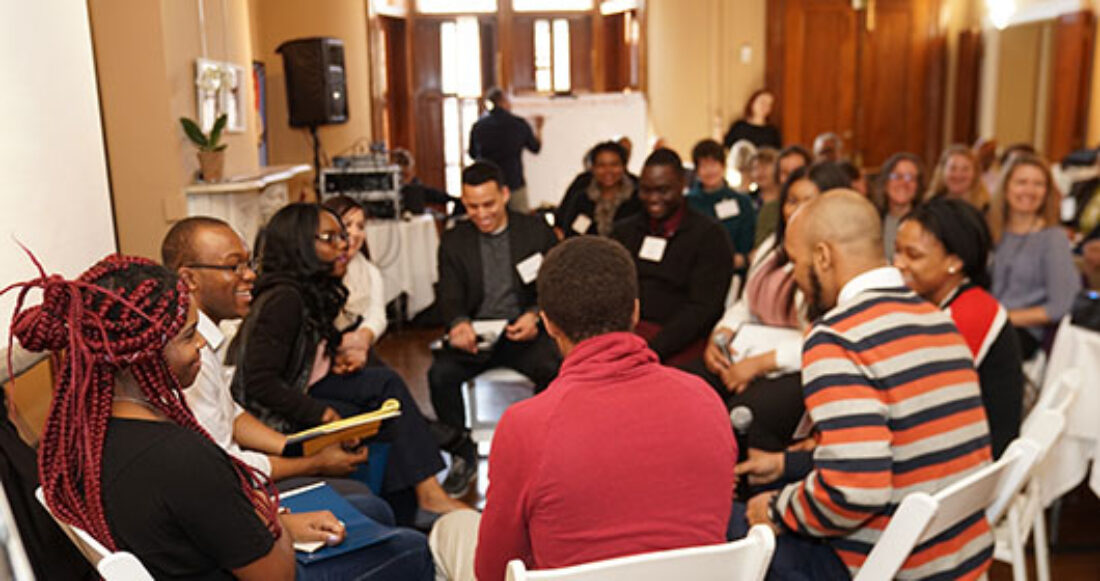 Young parents face a host of challenges in their daily lives, from securing adequate child care to advancing their education or landing jobs that can sustain their families, according to a recent Casey-funded study by the Urban Institute.
Without better social supports and policies, such challenges not only adversely affect the lives of young parents today, they also dampen their children's ability to achieve greater educational and economic gains in the future.
"As this report shows, young adult parents are at a point of great stress and great opportunity," says Rosa Maria Castañeda, a senior associate at the Casey Foundation who manages two-generation investments.
Castañeda recently hosted a meeting in Washington, D.C., of young parents, researchers, advocates and providers to discuss the issues they face and recommendations for change. "In addition to many other challenges, these young people often face racial discrimination and stigmas, which can exact a psychological toll and further isolate them," she says. "Yet, time and again, young parents tell us that having a child is a transformative event in their lives, motivating them to achieve not only that child's dreams, but their own."
The study, Understanding Young-Parent Families, focuses on parents between the ages of 18 and 24. It uses the latest data from the Survey of Income and Program Participation (SIPP) to present a more complete picture of these 4.5 million young adults, their complex lives and the supports that are available to them and their children.
Understanding the key characteristics of this population can help guide public policies and practices to more effectively help young parents complete their education, obtain better jobs and build longer-term stability for themselves and their families.
Among the study's key findings:
Most young parents are not engaged in education activities.
The majority of young parents — 65% — have no education beyond high school and 22% have less than a high school degree. These parents will likely face mounting challenges trying to support a family in a labor market that increasingly requires postsecondary credentials. To assist young parents, policies must support enhanced education and training opportunities. Strategies on this front include flexible schedules, accelerated courses, robust counseling, accessible financial supports and career development options that are tailored to a parent's goals.
Most young parents live in low-income households.
More than 71% of young-parent households had incomes of less than 200% of the federal poverty level. A large percentage of young parents experience jobless spells, contributing to their lower income levels. Young parents could benefit from stronger connections to job and career training that is tailored to their goals and skills.
Many young parents live in households with other family members.
A large percentage of young parents live with family members, such as their partner, their own parents, grandparents or a spouse's parents. Given that families can be an important source of financial and emotional support — as well as a source of child care — strategies for assisting young families should take a family-centered approach.
Young parents are still developing emotionally.
Programs assisting young families should consider mentoring support to help guide young parents in navigating the complexities of parenting, educational institutions and the labor market.
Many young parents rely on food and healthcare insurance assistance.
More than 2 million young parents used supplemental food programs to help feed their families. These parents also relied on public health assistance for themselves and their children. Such facts underscore the important role that programs like the Children's Health Insurance Program and Medicaid now play in helping young families achieve greater financial stability.
Most young parents have young children, yet few rely on public childcare.
Too many communities lack quality childcare options for infants and toddlers. Workforce programs can help address this significant need by working with partners to develop childcare plans, facilitating access to childcare subsidies, help parents identify appropriate care or even offer childcare directly.
At the meeting with young parents in Washington D.C., Child Trends researcher Jessica Dym Bartlett presented findings identifying approaches — including home visiting programs and Early Head Start — that can improve outcomes for the children of young parents.
The young parents in attendance also shared many ideas for policies and programs that could support their success. Among their recommendations: Better access to mental health services — a move that could help both children who have been exposed to toxic stress and trauma and parents who are experiencing psychological distress and depression.
This post is related to: