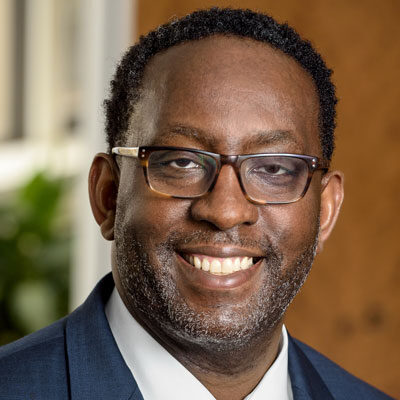 Division Director
Mecklenburg County (North Carolina) Department of Social Services
Charles Bradley is one of 15 members in the 2019–21 class of the Casey Foundation's Children and Family Fellowship.
The product of a supportive family, Bradley has dedicated his career to equipping families to provide the same love and stability to their own children. He became a social worker to focus on individual children and families. Now, as division director for the Mecklenburg County Department of Social Services in North Carolina, he is implementing racial equity and inclusion strategies at scale.
"Teens need not just physical safety, but also emotional and psychological safety as they prepare to enter adulthood," he explains. "They do better in permanent family settings. We're working on kinship strategies to connect teens in custody to biological family, neighbors, coaches and teachers and other adults who they have a relationship with."
Bradley has also implemented systems to complete child welfare investigations on a more timely basis and is working to offer training and support for caseworkers to maximize protective relationships for children engaged in the child welfare system.
He's most excited to learn from and support colleagues from around the country who are doing the same work. "The greatest benefit of the Fellowship is the community," Bradley says.