Act and Adapt
Helping Latino and African American Students Get Early Treatment for Depression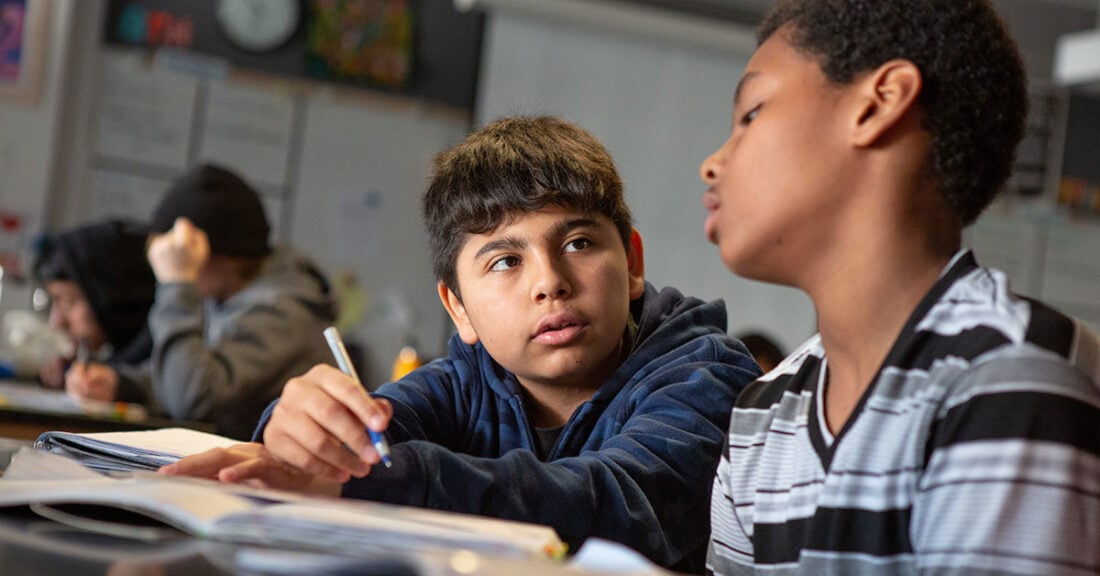 A lack of mental health services for adolescents in Latino and African American communities elevates their risk of developing depression. With support from the Annie E. Casey Foundation, DePaul University Clinical Psychology Professor Antonio Polo is evaluating and expanding the use of Act and Adapt, a program that identifies middle schoolers in Chicago's public school system who are showing signs of depression or anxiety and offers resources to help, including skills to manage day-to-day stressors. With the help of an online platform, the program will reach school districts outside Chicago during the 2021-2022 school year. One of those systems will be the Providence Public School District, where CYC, formerly known as the Providence Children and Youth Cabinet, is adding Act and Adapt to its suite of evidence-based prevention programs as part of the Foundation's Evidence2Success® framework.
Recognizing the need for mental health services in underserved adolescents
"Rates of depression rise steeply around early adolescence," says Polo. "Once you have a problem with depression and anxiety, it often takes years to be addressed. Programs like Act and Adapt get a jump on helping students deal with this."
Implementing Act and Adapt in the Chicago Public School (CPS) district — the country's third largest school system, serving about 350,000 students — meant that Polo could bring mental health services to students who might not otherwise have access to them, including low-income African American and Latino families, as well as immigrant families. One study found that Latino adolescents were 53% less likely and African American adolescents were 87% less likely than their white, non-Hispanic peers to receive treatment for depression.
"Our support of Act and Adapt furthers our mission to build evidence-based programs and practices that focus on communities of color and improve outcomes for children, youth and families," says Ilene Berman, a senior associate in the Casey Foundation's Evidence-Based Practice Group. "When young people's mental health needs are met and they develop coping skills to deal with the pressures in their lives, they are much more able to thrive in school and beyond."
Using cognitive behavioral therapy techniques and coping skills
Act and Adapt uses cognitive behavioral therapy techniques and coping skills to help students examine and manage their emotions. One or two facilitators — typically school psychologists, school counselors, or social workers — deliver the program to groups of five to six students, helping the students identify things that are causing them stress. Under Act and Adapt, stressors are then divided into two categories: those that youth can change themselves (Act) and those they can't and must manage (Adapt).
To gauge how well the program works, Polo and his team assess students before and after completing Act and Adapt. Using well-established measures of depression symptoms, the program prioritizes services for students most in need of them. More importantly, results consistently show that students exhibit fewer symptoms of depression after completing the program than when they started.
Since the program began partnering with the CPS Office for Social and Emotional Learning in 2017, more than 130 school providers have been trained on the program across 64 schools. "The first few years with Casey support were instrumental in developing the efficacy with the populations that we want to target," says Polo. When the COVID-19 pandemic hit, Act and Adapt groups went online, retaining the core components of the program but using shorter sessions and other adaptations to stay connected with students and facilitators.
Building a platform for data and expansion
Casey also helped connect Act and Adapt to a technology firm experienced in developing online platforms to track how well evidence-based programs are being implemented, collect data and lay the groundwork for further expansion. The firm is developing a centralized online hub for Act and Adapt to house modules on screening and eligibility, program engagement and adherence, evaluation and resources for providers. "As you get larger, you want to be able to support your program with something that is either more automated or that is user-friendly and that's not too much work to support," Polo says. "Over the past year, the funding we've received has enabled us to translate Act and Adapt into a more sophisticated and resourceful platform that allows for many things to be done."
Watch a webinar about developing evidence for programs that serve youth of color
This post is related to: