Act and Adapt
Helping Latino and African American Students Get Early Treatment for Depression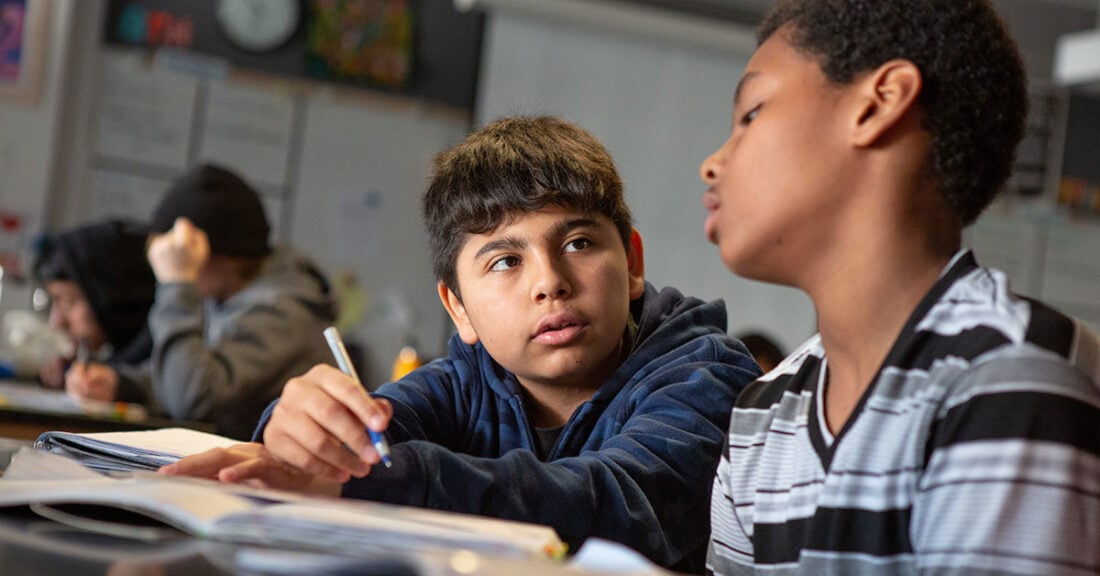 A lack of men­tal health ser­vices for ado­les­cents in Lati­no and African Amer­i­can com­mu­ni­ties ele­vates their risk of devel­op­ing depres­sion. With sup­port from the Annie E. Casey Foun­da­tion, DePaul Uni­ver­si­ty Clin­i­cal Psy­chol­o­gy Pro­fes­sor Anto­nio Polo is eval­u­at­ing and expand­ing the use of Act and Adapt, a pro­gram that iden­ti­fies mid­dle school­ers in Chicago's pub­lic school sys­tem who are show­ing signs of depres­sion or anx­i­ety and offers resources to help, includ­ing skills to man­age day-to-day stres­sors. With the help of an online plat­form, the pro­gram will reach school dis­tricts out­side Chica­go dur­ing the 2021–2022 school year. One of those sys­tems will be the Prov­i­dence Pub­lic School Dis­trict, where CYC, for­mer­ly known as the Prov­i­dence Chil­dren and Youth Cab­i­net, is adding Act and Adapt to its suite of evi­dence-based pre­ven­tion pro­grams as part of the Foundation's Evidence2Success® frame­work.
Rec­og­niz­ing the need for men­tal health ser­vices in under­served adolescents
"Rates of depres­sion rise steeply around ear­ly ado­les­cence," says Polo. ​"Once you have a prob­lem with depres­sion and anx­i­ety, it often takes years to be addressed. Pro­grams like Act and Adapt get a jump on help­ing stu­dents deal with this."
Imple­ment­ing Act and Adapt in the Chica­go Pub­lic School (CPS) dis­trict — the country's third largest school sys­tem, serv­ing about 350,000 stu­dents — meant that Polo could bring men­tal health ser­vices to stu­dents who might not oth­er­wise have access to them, includ­ing low-income African Amer­i­can and Lati­no fam­i­lies, as well as immi­grant fam­i­lies. One study found that Lati­no ado­les­cents were 53% less like­ly and African Amer­i­can ado­les­cents were 87% less like­ly than their white, non-His­pan­ic peers to receive treat­ment for depres­sion.
"Our sup­port of Act and Adapt fur­thers our mis­sion to build evi­dence-based pro­grams and prac­tices that focus on com­mu­ni­ties of col­or and improve out­comes for chil­dren, youth and fam­i­lies," says Ilene Berman, a senior asso­ciate in the Casey Foundation's Evi­dence-Based Prac­tice Group. ​"When young people's men­tal health needs are met and they devel­op cop­ing skills to deal with the pres­sures in their lives, they are much more able to thrive in school and beyond."
Using cog­ni­tive behav­ioral ther­a­py tech­niques and cop­ing skills
Act and Adapt uses cog­ni­tive behav­ioral ther­a­py tech­niques and cop­ing skills to help stu­dents exam­ine and man­age their emo­tions. One or two facil­i­ta­tors — typ­i­cal­ly school psy­chol­o­gists, school coun­selors, or social work­ers — deliv­er the pro­gram to groups of five to six stu­dents, help­ing the stu­dents iden­ti­fy things that are caus­ing them stress. Under Act and Adapt, stres­sors are then divid­ed into two cat­e­gories: those that youth can change them­selves (Act) and those they can't and must man­age (Adapt).
To gauge how well the pro­gram works, Polo and his team assess stu­dents before and after com­plet­ing Act and Adapt. Using well-estab­lished mea­sures of depres­sion symp­toms, the pro­gram pri­or­i­tizes ser­vices for stu­dents most in need of them. More impor­tant­ly, results con­sis­tent­ly show that stu­dents exhib­it few­er symp­toms of depres­sion after com­plet­ing the pro­gram than when they started.
Since the pro­gram began part­ner­ing with the CPS Office for Social and Emo­tion­al Learn­ing in 2017, more than 130 school providers have been trained on the pro­gram across 64 schools. ​"The first few years with Casey sup­port were instru­men­tal in devel­op­ing the effi­ca­cy with the pop­u­la­tions that we want to tar­get," says Polo. When the COVID-19 pan­dem­ic hit, Act and Adapt groups went online, retain­ing the core com­po­nents of the pro­gram but using short­er ses­sions and oth­er adap­ta­tions to stay con­nect­ed with stu­dents and facilitators.
Build­ing a plat­form for data and expansion
Casey also helped con­nect Act and Adapt to a tech­nol­o­gy firm expe­ri­enced in devel­op­ing online plat­forms to track how well evi­dence-based pro­grams are being imple­ment­ed, col­lect data and lay the ground­work for fur­ther expan­sion. The firm is devel­op­ing a cen­tral­ized online hub for Act and Adapt to house mod­ules on screen­ing and eli­gi­bil­i­ty, pro­gram engage­ment and adher­ence, eval­u­a­tion and resources for providers. ​"As you get larg­er, you want to be able to sup­port your pro­gram with some­thing that is either more auto­mat­ed or that is user-friend­ly and that's not too much work to sup­port," Polo says. ​"Over the past year, the fund­ing we've received has enabled us to trans­late Act and Adapt into a more sophis­ti­cat­ed and resource­ful plat­form that allows for many things to be done."
Watch a webi­nar about devel­op­ing evi­dence for pro­grams that serve youth of color
This post is related to: