Adding a Precision Approach to Culturally Informed Home Visiting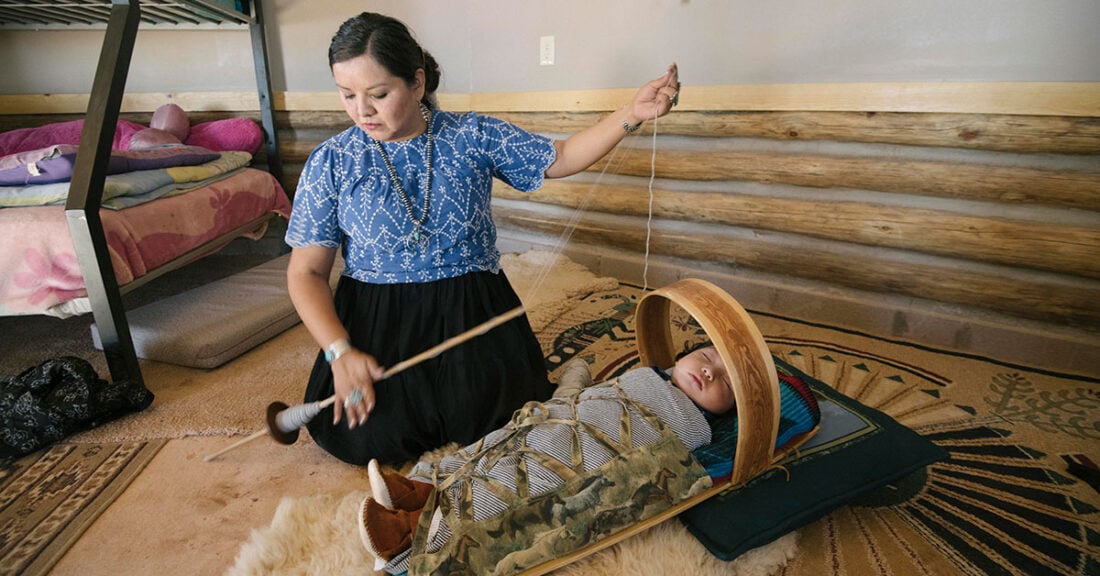 With support from the Annie E. Casey Foundation, the Johns Hopkins Center for American Indian Health has developed a web-based support platform designed to help an evidence-based maternal home-visiting program more quickly and precisely identify what young Native American mothers need.
Established at the Center for American Indian Health more than 20 years ago, Family Spirit has been replicated in more than 120 Native American communities across the United States. The program has proven effective in building parenting skills, reducing mothers' substance use and depression and helping children reach developmental milestones. The ingredients for success: combining paraprofessional home visitors from the community with a curriculum that focuses on strengths and culture.
Casey's goal in funding the adaptation: Equipping home visitors to customize the program even more, and get the right services to families more quickly, while following the successful model.
"The question is: How can a curriculum-based program, itself an innovation, be further innovated to respond to moms' emergent needs in real time?" says Cynthia Weaver, a senior associate with Casey's Evidence-Based Practice Group.
In the new version of the program, for example, a home visitor would be able to enter a mother's concerns about her child's nutrition into the support platform, called Care4, and immediately receive suggestions for lessons on nutrition that could be added to the mother's care plan. The platform will also collect continuous information on how individual clients are doing over the course of the program so that home visitors and their supervisors can better address their needs.
The comprehensive curriculum covers topics on infant and toddler care and development, as well as health and well-being for mothers and whole families. It incorporates tribal teachings and practices, including information about traditional ceremonies related to pregnancy and childrearing and workshops on techniques such as cradleboards, an indigenous baby-carrying method. Family Spirit's strengths-based approach has allowed the model to move easily into non-Native communities that also recognize the importance of revitalizing and protecting cultural teachings and practices.
In 2019, the Center for American Indian Health will conduct a pilot study to compare the adapted approach for Family Spirit to standard Family Spirit home visiting in multiple tribal sites in Michigan.
Learn more about Casey's work adapting evidence-based approaches
This post is related to: