Briefs Explore Decades of Child Welfare Financing Data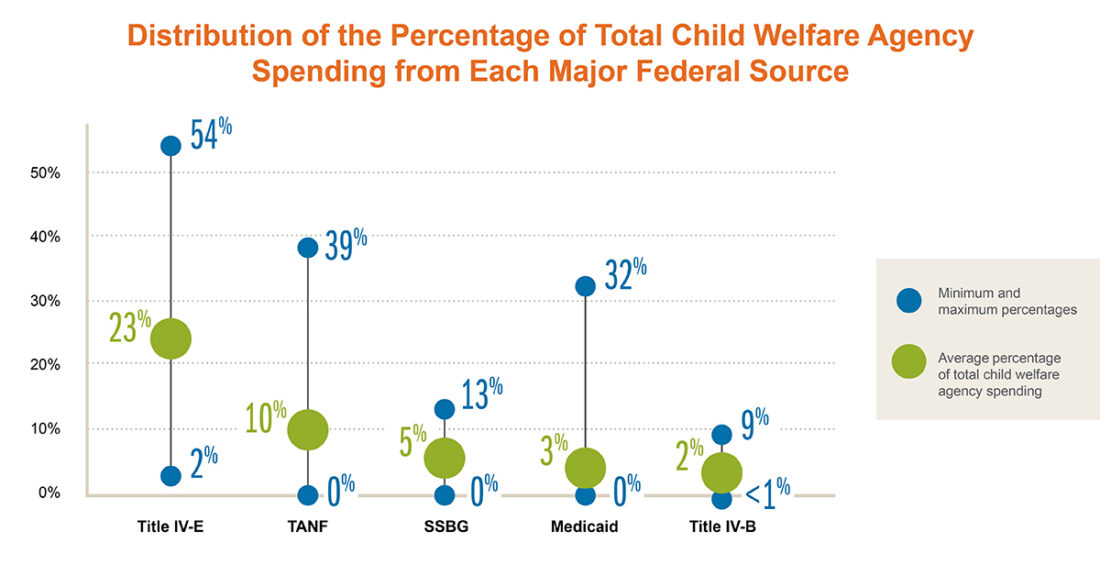 A pair of briefs — introduced below — use Child Trends survey data to examine trends in child welfare financing nationwide. Both publications, created with support from the Annie E. Casey Foundation and Casey Family Programs, share findings that can help policymakers, practitioners, advocates, and others gain a better understanding of how much child welfare agencies spend and which funding streams they use.
"Federal and State/Local Child Welfare Agency Spending per Child, 2004–2014" examines a decade of results from a biennial survey administered to child welfare agencies nationwide. The survey tracks how much agencies spend and which funding streams they utilize. In 2014, for example, $16.3 billion in child welfare expenditures came from state and local sources, with federal sources accounting for the remaining $12.8 billion balance.
Survey results over the 10-year period reveal an overall increase in the average state expenditure per child (from $236 to $255) with a corresponding decrease on the federal side ($216 to $174). Figures were adjusted to account for inflation.
"State Variation in Child Welfare Agency Use of Federal Funding Sources" zeroes in on how states used $12.8 billion in federal funds in 2014. The brief explores how funding streams can be dedicated (used only for child welfare, such as Title IV-E and Title IV-B of the Social Security Act) or nondedicated (used for child welfare and broader activities, such as Medicaid) and tells how each program has its own unique requirements, purposes and processes.
"The Child Trends survey data continues to fill a void of critical information needed by policymakers and advocates who want to improve the investments that states make to better meet the needs of children," says Robert Geen, director of policy reform and advocacy at the Casey Foundation. "This trusted source is even more vital now, as new federal incentives are likely to help states implement innovative solutions that enable children to remain where they belong — with their families."
Watch a webinar about funding evidence-based programs in child welfare with the Family First Act
This post is related to: