CaseyCast Podcast Highlights Delaware's Child Welfare System Successes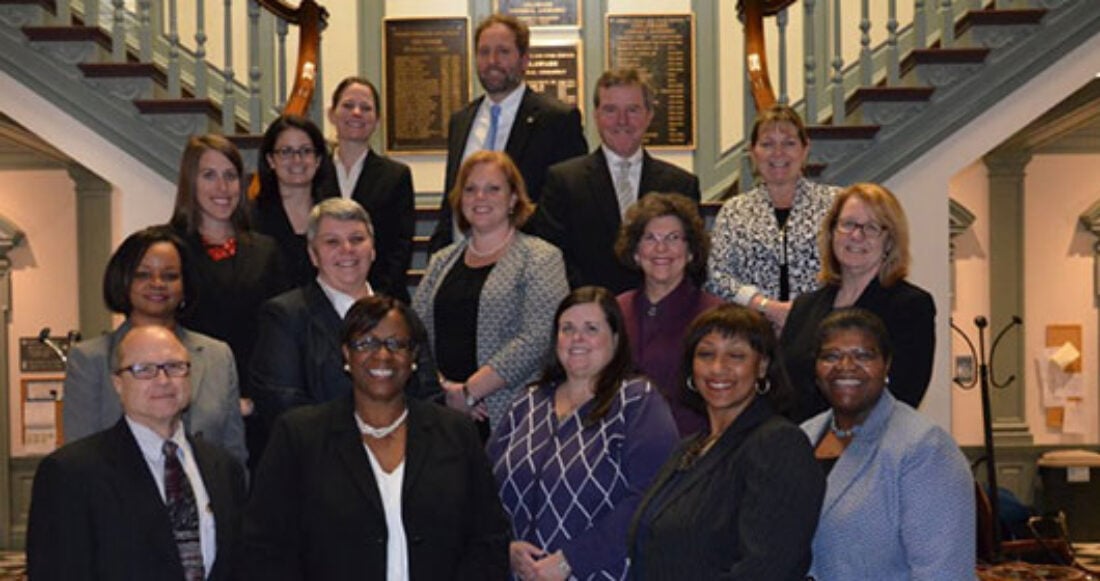 In this episode of Cas­ey­Cast, the Foundation's Lisa Hamil­ton and Delaware's Divi­sion of Fam­i­ly Ser­vices Direc­tor Shirley Roberts strike up an inspir­ing con­ver­sa­tion about the state's evolv­ing child wel­fare system.
Their 22-minute talk explores how Delaware has addressed some of the field's most ingrained and intractable chal­lenges relat­ed to aid­ing chil­dren and fam­i­lies in care.
Best prac­tices high­light­ed in this dis­cus­sion include:
Devel­op­ing a kin­ship pro­gram to help reduce the num­ber of youth enter­ing fos­ter care.
Launch­ing an after-hours warm-line — in addi­tion to oper­at­ing a cri­sis-dri­ven hot­line — for field­ing care­giv­er calls.
Embrac­ing the prac­tices of fam­i­ly engage­ment and team deci­sion making.
Main­tain­ing close work­ing part­ner­ships with an array of pri­vate and pub­lic agen­cies serv­ing kids and families.
Casey pro­duced this episode of Cas­ey­Cast in hon­or of Nation­al Fos­ter Care Month, a des­ig­nat­ed time to refo­cus on improv­ing the lives of kids and youth in fos­ter care.
For more than 20 years, Casey has worked to help devel­op and enhance America's child wel­fare prac­tices. In 2011, Casey con­sul­tants part­nered with Delaware to rethink and rework how the state's trou­bled child wel­fare sys­tem was serv­ing kids and fam­i­lies in need.
About Shirley Roberts
As the direc­tor of Delaware's Divi­sion of Fam­i­ly Ser­vices, Shirley Roberts over­sees the work of more than 300 employ­ees who are ded­i­cat­ed to pro­mot­ing the safe­ty and well-being of kids and fam­i­lies through­out the state. The divi­sion inves­ti­gates child abuse, neglect and depen­den­cy in addi­tion to offer­ing treat­ment ser­vices, fos­ter care, adop­tion, inde­pen­dent liv­ing and child care licens­ing services.
Links and Show Notes
Find Cas­ey­Cast on Your Favorite Pod­cast Service
Lisa Hamilton: May is National Foster Care month. A time to consider ways that all of us can play a part in improving the lives of children and youth in foster care. For more than 20 years, the Casey Foundation has worked to develop and promote effective child welfare practices. We recently worked with Delaware to help implement strategies to engage families in decision making and to keep teens out of foster care.
Today, I'm excited to talk with Shirley Roberts. Shirley is the director of Family Services, a division within the State's Department of Services for Children, Youth, and their Families. Shirley, welcome to the podcast.
Shirley Roberts: Thank you so much.
Lisa Hamilton: Why don't we start by having you talk about the goals of the Child Welfare System. Some listeners maybe unfamiliar and would like to know what the Child Welfare System is trying to accomplish and the kinds of services it provides?
Shirley Roberts: The goal of our division is prevention, protection, and permanency. We hope to provide services that will prevent any child from being harmed. Whenever there is a concern about risk to a child, or a family that is having some concerns that could potentially lead to risk of harm to those children.
We offer the protective services of our division. That includes a 24/7 hotline that is statewide where anyone can call into our hotline to discuss any concerns even if they're uncertain whether or not it rises to the level of a need for an investigation. If a family is determined to need an investigation, we have investigation units that are in each of our counties.
They're responsible for doing an assessment regarding safety and the need for on-going services for that family. We have treatment units and those treatment units are responsible for on-going service planning and case planning with families to help remedy the risk to children.
If children have been determined to need foster care, they would work with families on the unification planning. We offer our permanency units for those children where its determined that return home, the unification is not a likely outcome. They will work with the youth to either prepare them for other permanency options which could include adoption or to prepare them for adulthood, if they are an older youth.
In addition to those services, what's perhaps unique to Delaware in our division we also have the office of child care licensing. We're responsible for the licensing and monitoring of all child care facilities in the state.
We also house a criminal history unit, so for those that are going to be working with children or vulnerable population such as teachers, child welfare folks, hospital staff. They have to all get a criminal history check and that is housed within our division.
Lisa Hamilton: Those are certainly an important set of services to make sure that children in your state are safe. Nationally, we have seen many years of decline but are starting to see an increase in the number of children coming into foster care. Is this the case in Delaware as well, and if so, why?
Shirley Roberts: We've seen that increase across the board. First, we've seen an increase at our hotline. Delaware is a small state, so the numbers may not seem significant to many states and jurisdictions. We have seen a study increase each year and the number of reports that are coming into our hotline.
This year we anticipate receiving 20,000 hotline reports. A couple of years ago, we worked with Annie E Casey foundation to really address some of the unnecessary foster care entries. We were very successful in reducing the number of teen entries into foster care.
At the time, our actual overall entries had decreased. Over the past probably a year and a half, we have begun to see an increase in the number of children that are entering care. We're pleased that the number of teen entries has continued to remain relatively low as compared to be of all population.
What has been alarming is that we've seen a 31% increase in the number of children in the age group of zero to two that are entering foster care. Even though there are variety of reasons, what we're seeing primarily is that the primary reason is because of heroine use and prescription drug abuse so we have a larger number of children and a large number of infants that are being born drug exposed.
Lisa Hamilton: Does your child welfare agency partner with others to help parents suggest their issue so that they can be reunited with their children?
Shirley Roberts: Fortunately because it is Delaware and we are small state, we do have close relationships with partner agencies. Actually for more than 20 years, we have partnered with one of our private substance abuse treatment agencies to have staff house within our child welfare system.
We have substance abuse liaisons that are housed in our regional offices that are the first line in helping families assess the concerns about a possible drug abuse and to get them connected to services. We also partner with private agencies and the public agency that is responsible for providing substance abuse treatment.
In addition, because substance abuse is such a broad issue, we meet regularly with hospitals, on reporting and concerns regarding mothers and children that are coming into the hospital where drugs might be an issue.
We also meet regularly with home visiting programs and are meeting with the Division of Public Health. It is a very tight knit community that's trying to work with us but it's continues to be struggle for all of us.
Lisa Hamilton: In the unfortunate situation where a child must be removed from their home, foster parents are obviously an important resource both for the children and for the system. Would you talk a bit about the foster parents that you've been able to work with and their descriptions about the reasons they've decided to open their homes and their lives to a child in need?
Shirley Roberts: Let me say, foster parents are amazing because they do open their homes to children that they don't know. That they know we're bringing a variety of possible concerns. The foster parents that do step forward do so because they really do have a belief in being able to help children and really been able to shape their future.
One of the things that I think I would be remiss to say is that foster parents are part of the story and although we do have a large number of children in foster care. We have worked also very hard at using relatives. We have had an increasing reliance on bringing relatives to the table to be able to provide care for their kin.
What's been a challenge is sometimes all the requirements for foster care is it can be difficult for relatives to meet. We have in this past year developed a kinship program that would help relatives be able to go through an approval process, but that would allow them to be able to care for their kin but it does not have the same level of requirements.
One of the things that we have seen since we begin the kinship program is that even though we try to work to make sure that placements are stable for all children that we match them in the best possible home. We've seen the greatest stability when we have been able to have a relative either become a foster parent or relative that's been willing to step forward to do kinship.
With our new kinship program this year, we've had of all the families that step forward, we've had no children that had to be replaced. Foster parents certainly are amazing, kin are amazing, and we absolutely need more families that really are willing to take that challenge to help children successfully move into the next phase of their life and particularly with teens.
Because many people do not see themselves being able to care for teens in their home. I believe teens are amazing, they are the ones that can be so receptive to help. They can be so receptive to help someone trying to get them into adulthood. Sometimes the challenges that teens bring can be scary for folks.
We have worked very hard this past year to getting people really better understand teens and to help teens be part of our recruitment efforts for the peers.
Lisa Hamilton: Could you talk a bit about that kinds of support that your agency provides both to kin who step forward to care for children but also for foster parents?
Shirley Roberts: We have fairly intensive training program, curriculum for foster parents and for kin that are stepping forward. We also have a foster home coordinator that is assigned to each foster home or kin provider to really be the person that any issues that come up, it's the first line.
It's almost like the foster parent has their own case worker to help with a support. One of the things that we saw although that as we were placing teen as we in particular is that sometimes foster parents needed assistance. Sometimes it was after the regular hours of 8 to 4:30.
One of the gaps we have is that other than calling our hotline when crisis may occur, they did not have an avenue. We have been able to develop a warm line for our foster parents. Anytime, an issue comes up and they need someone to talk to a crisis, or they have a question. There is someone there to provide that.
We also provide respite to our foster parents in addition to our variety of other supports. Anything that a foster parent is saying that they need to help support that child, we're trying to be creative in meeting that need, knowing that every family can be quite different, and every child can be quite different.
Lisa Hamilton: I know that you've worked with the Casey Foundation to help achieve your goal of increasing family engagement in your system. Could you talk a bit about why is important to you to focus on this issue and the kinds of strategies you used?
Shirley Roberts: To be perfectly honest, when we started having conversations with Casey about family engagement, I fully was not, I certainly understood family engagement was important, but I had a real learning curve and as we began talking more, and I was learning, and reading, and being educated, it was one of those dull moments that how can you possibly plan for child and not consider family.
It wasn't just about hearing a family's voice but when we are making decisions about safety, family engagement is a key part of being able to assess safety. The more information, the more people you can bring to the table. The more information you have for a family, then you're able to be able to better keep them safe.
It's really important when it comes to permanency. It become what parent is struggling with whatever their issue is, being able to engage a family can be critical for that parent to have added support not just emotionally but to help them to case planning. When Casey came to Delaware, the first reaction for many of our staff was we do family engagement already so this isn't really anything new.
As we really went about doing education to our staff and really getting them to understand what family engagement was, they really understood that meeting with a family and having an interview with them was not engagement. Engagement is really making sure that they are a critical partner in the process. Since that time, we have really worked to make that part of everything that we're doing.
From the time that a call comes in to our hotline, we try to take a more balanced approach in getting, not just the concerns about the family, but also the strengths of the family. We make no decisions about placement removal without getting family input and sitting down and really talking about options. It has been something that has permeated our division and has been a seed that really has been planted in our department, not just in child welfare, but it has started taking hold in other child serving agencies to really be able to understand the power that a family can have in a child's success.
Lisa Hamilton: You mentioned earlier the issue of trying to make sure that older youth and teens have positive experiences when they're in foster care. Could you talk a bit about the work you did in order to make sure that you improve outcomes for teens and find permanent families for them as well?
Shirley Roberts: One of the best things that you can do for teens well before it comes to provide finding a permanent family is to prevent them from having to come into care in the first place. We did a couple of things, one of the things that we did I believe had greatest impact was when we implemented teen decision making.
For those that don't know teen decision making, referred to as TDM, it is a planning meeting that happens when a child is at risk of coming into placement. Or if a child has to come into placement on an emergency basis am meeting occurs just within a few days after that placement.
We were amazed at the number of youth, and particularly teens, that we were able to divert from foster care safely with family members. As many teens as we were able to divert to family, keep them from foster care, that means that on the tail end, you don't have same issues of finding permanency for teens because they've been able to safely remain with their families and the family has been able to develop a safe plan.
There are other times where teens certainly did need to come into care and bringing family to the table was a way of keeping those teens connected to their family.
They were able to continue seeing aunts, and uncles, and participate family events and reunions. One of the saddest things for me is when you have a teen that's aging out of foster care and they've lost that connection to their family and so they're going out in the world on their own.
Even if they do have to age out of foster care, we've not been able to get them with family. They're still very critical and they've been very helpful in supporting a teen through their transition and to adulthood. I just feel like I just can't say enough about the work that we've done and the work with bringing families to the table and trying to achieve good permanent options for children.
We've also had some teens that a few that we've been able to move on to adoption. I think sometimes they have a skewed view of what their families will be able to do for them as they go through their teenage years. Sometimes it's been very helpful in seeing that play out for the teens while they're still in our care.
Sometimes their ideas about what will happen and the supports that they're going to have after 18. They realize that, that may not be there and so they're able to take advantage of some of the supports that we're able to provide while they're still 18. Under 18, and then once they receive, they get to the age of 18 being able to participate in some of our independent living services.
Lisa Hamilton: Shirley, as we celebrate National Foster Care Month, I wonder if you have recommendations for anyone whose interested in supporting a child in foster care, how could they get involved?
Shirley Roberts: I think anyone who's interested in supporting a child in foster care should really just call their local child welfare agency and really look at the options. I know that states are so very different, but there are many ways besides fostering that you can support a youth.
We have young people that are in college that tutor our youth. We have many youth that have many interest whether or not at sports or music. There's ways that you can help nurture and support an interest that our teen has. There's so many opportunities besides actually fostering.
There's ways that you can also support a foster parent there. We have some young people that come in and do art lessons with our youth. It's whatever the youth needs, there are people out there that we know that can meet that need and so I would suggest that they call their child welfare agency and say, "Yes, I am interested in helping a teen. I would like to volunteer, and to find out what those options are."
Because we could certainly use any assistance and we want to take advantage of everyone's talents.
Lisa Hamilton: We certainly hope that folks take you up on those opportunities. If you want to learn more about Casey's work in Delaware. You can find a recent case study on our website, aecf.org. Thank you so much for joining us today Shirley.
Shirley Roberts: Thank you.
This post is related to: