Collaborative Awards More Than $3 Million in Grants to Baltimore City Summer Programs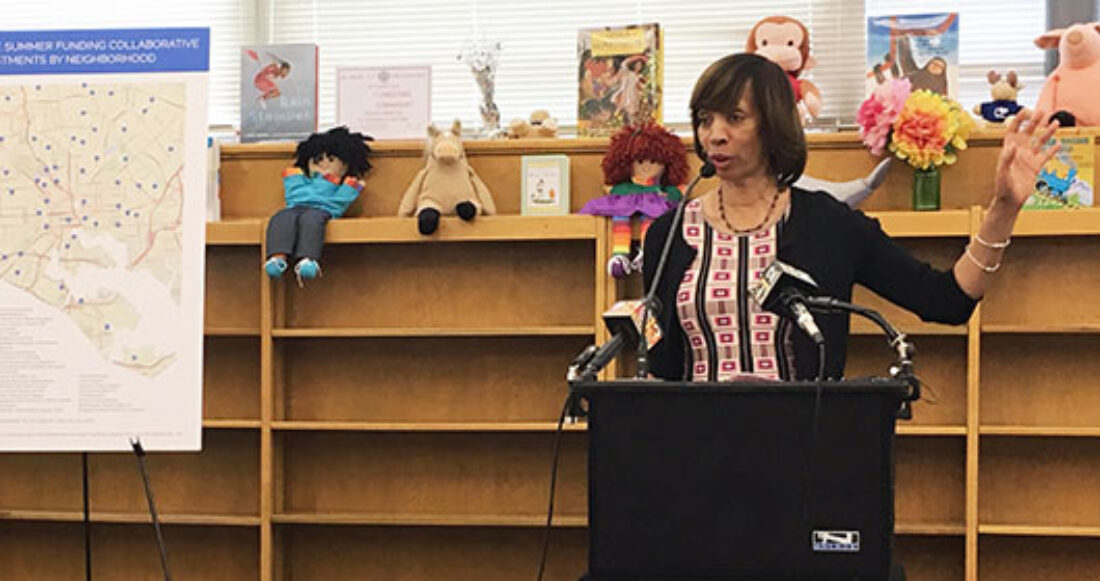 During an event today at the Enoch Pratt Free Library, Mayor Catherine Pugh joined the Baltimore Summer Funding Collaborative as it awarded more than $3 million in grants to support summer activities for Baltimore City's children and youth. The awards were made to 92 nonprofits that serve various city neighborhoods.
Casey is a member of the collaborative along with the Abell Foundation, CareFirst BlueCross BlueShield, Clayton Baker Trust, Family League of Baltimore, France-Merrick Foundation, The Harry and Jeanette Weinberg Foundation, Joseph & Harvey Meyerhoff Family Charitable Funds, Lockhart Vaughan Foundation, The Morton K. and Jane Blaustein Foundation and Under Armour.
"We have to make sure we have summer programs that not only let children play, but that grow their skills," said Pugh. "There are a number of programs that are going to be supported as a result of this money… and the funding really will help us change the mindsets of our [young people]."
Without access to engaging activities over the summer, many students lose knowledge and skills gained during the previous school year – particularly youth from low-income families, who can lose more than two months in reading achievement alone, research shows.
The funders have joined forces to help combat this "summer slide" and provide more young people with quality academic, enrichment, recreational and work experiences. The programs they selected range in focus from literacy, health and wellness, science, technology, engineering and math, youth employment, college and career readiness, environmental education, sports and the arts.
This post is related to: