Creating Opportunity for Families in East Baltimore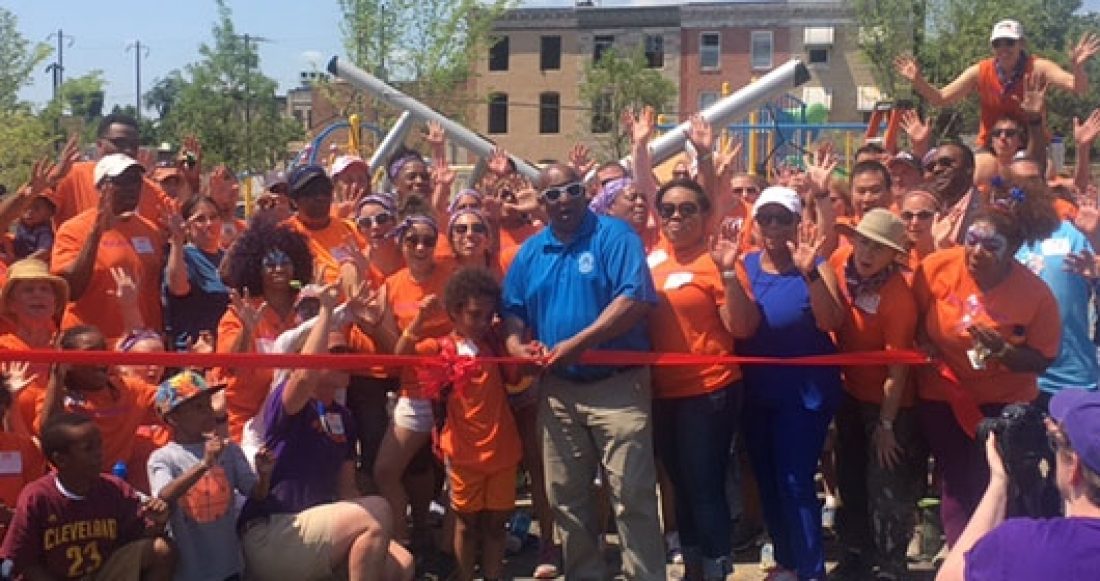 In a ceremony attended by Baltimore's mayor and other dignitaries, a new playground built by hundreds of volunteers opened today in Eager Park, the 5.5-acre green space with playing fields, an amphitheater, walking paths and exercise equipment in the heart of East Baltimore.
The space is the latest symbol of progress and opportunity for the surrounding neighborhoods, which are a primary focus of the Foundation's Baltimore Civic Site and have seen more than $1 billion in new investment since 2004. In addition to the park, a Starbucks that trains youth from low-income families and a new maker space for entrepreneurs recently opened, and several new mixed-income housing developments and a Marriott Residence Inn are under construction.
The playground was built on June 10 by KaBOOM!, a national nonprofit, and more than 200 residents, community leaders and volunteers, based on design submissions from local parents and children. Several public and private partners, including Casey, Bloomberg Associates, East Baltimore Development Inc., the Kennedy Krieger Institute, the New East Baltimore Community Association, The Rouse Company Foundation and The UPS Foundation provided funding for the project. The playground is dedicated to Baltimore native and former Casey trustee Calvin E. Tyler Jr., who has invested heavily in the city over the last several decades.
"This playground is a token of thanks for a son of our great city," said Mayor Catherine Pugh during the ceremony. "Through commitments of his time, expertise and generous philanthropy, Calvin E. Tyler Jr. has continued to give back to Baltimore. By investing in our communities and youth, he is helping to make Baltimore a better place to live, work and play."
Tyler was born in Baltimore in 1942. He attended Baltimore City College and Morgan State University before beginning his career as one of the first UPS drivers in the city. He remained with the company for 34 years, climbing the ranks from delivery driver to senior vice president of operations, and oversaw all delivery services in the United States. Tyler served on the Foundation's board from 1997–2003, and in 2016, pledged $5 million for a scholarship fund at his alma mater — the largest individual donation Morgan State University has received.
"Ensuring that all children grow up in strong families and safe, supportive communities is what it's all about for Casey, particularly here in our hometown," said Patrick McCarthy, the Foundation's president and chief executive officer. "This playground is a manifestation of that commitment, which everyone here today shares, and we hope it will serve as a reminder of the power and potential all residents hold. We are thrilled to see it come to life."
The playground and the surrounding park will serve as a gathering place for festivals, farmers markets and other neighborhood activities.
This post is related to: