Critical Investments Should Target the First Eight Years of Life, Report Finds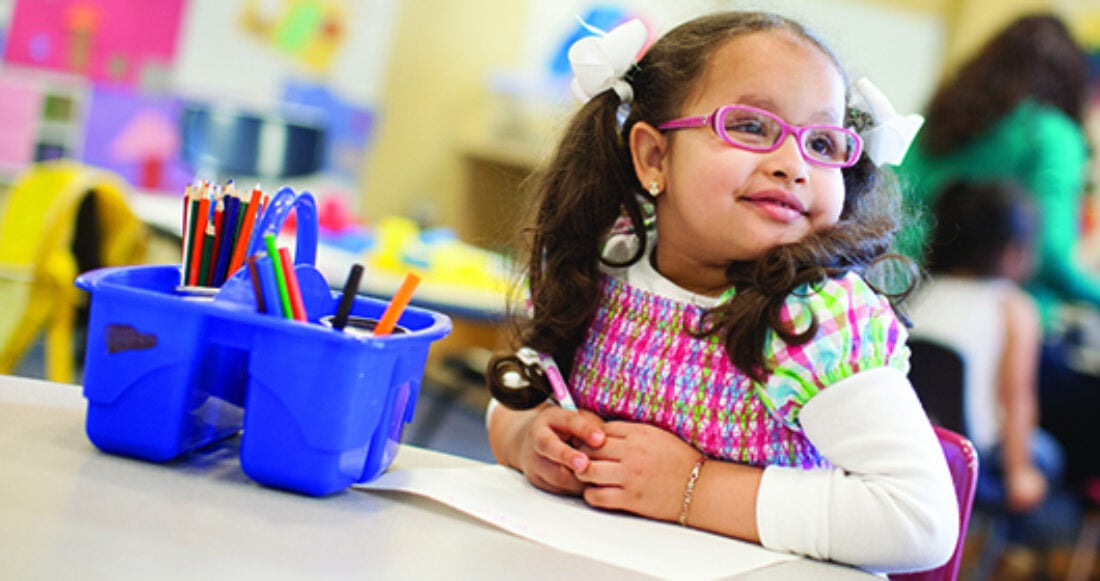 The Annie E. Casey Foundation's lat­est KIDS COUNT pol­i­cy report, The First Eight Years: Giv­ing Kids a Foun­da­tion for Life­time Suc­cess, presents a strong case for invest­ing in the ear­ly years of a child's life. Decades of brain and child devel­op­ment research show that kids who enter kinder­garten with below-aver­age lan­guage and cog­ni­tive skills can catch up — but only if they are phys­i­cal­ly healthy and have strong social and emo­tion­al skills.
"All chil­dren need nur­tur­ing and plen­ti­ful oppor­tu­ni­ties to devel­op dur­ing their cru­cial first eight years," said Patrick McCarthy, pres­i­dent and CEO of the Foun­da­tion. ​"Today's com­pli­cat­ed world can strain fam­i­lies' abil­i­ty to ensure their chil­dren are receiv­ing all the stim­u­la­tion and care they need to devel­op to their full potential."
The report details how a child's ear­ly devel­op­ment across crit­i­cal areas of well-being is essen­tial to make the effec­tive tran­si­tion into ele­men­tary school and for long-term school suc­cess. Accord­ing to a new­ly released analy­sis of the Ear­ly Child­hood Lon­gi­tu­di­nal study that began to track 13,000 chil­dren who were in kinder­garten in 1998–99, by third grade, only 36% of chil­dren were on track in cog­ni­tive knowl­edge and skills, 56% in their phys­i­cal well-being, 70% in their social and emo­tion­al growth and 74% in their lev­el of school engagement.
The analy­sis shows that just 19%of third-graders in fam­i­lies with income below 200% of the pover­ty lev­el and 50% of those in fam­i­lies with incomes above that lev­el had devel­oped age-appro­pri­ate cog­ni­tive skills. This pic­ture is par­tic­u­lar­ly trou­bling for chil­dren of col­or, with 14% of black chil­dren and 19%of His­pan­ic chil­dren on track in cog­ni­tive devel­op­ment. Chil­dren who don't meet these key devel­op­men­tal mile­stones often strug­gle to catch up in school and grad­u­ate on time and are less like­ly to achieve the kind of eco­nom­ic suc­cess and sta­bil­i­ty nec­es­sary to sup­port a fam­i­ly themselves.
For chil­dren to suc­ceed, class­room learn­ing should be inte­grat­ed with oth­er aspects of child devel­op­ment, such as social, emo­tion­al and phys­i­cal devel­op­ment, to cre­ate oppor­tu­ni­ties for chil­dren to devel­op the full array of com­pe­ten­cies they will need in life. Many states and com­mu­ni­ties have already begun the work of bring­ing the pro­grams and ser­vices for young chil­dren and fam­i­lies into a cohe­sive sys­tem. To pre­pare all of America's chil­dren for suc­cess, the report sets forth three broad pol­i­cy recommendations:
Sup­port par­ents so they can effec­tive­ly care and pro­vide for their chil­dren. States and the fed­er­al gov­ern­ment should make it eas­i­er for par­ents to nav­i­gate the array of pro­grams that can help fam­i­lies by align­ing and stream­lin­ing ben­e­fits pack­ages. Chil­dren also ben­e­fit when their par­ents have oppor­tu­ni­ties to gain edu­ca­tion and skills, and when their par­ents have well-pay­ing, good jobs and the chance to build a career.

Increase access to high-qual­i­ty birth-through-age‑

8

pro­grams, begin­ning with invest­ments that tar­get low-income chil­dren. The report urges states to adopt Ear­ly Learn­ing and Devel­op­ment Stan­dards that set clear expec­ta­tions for child devel­op­ment. Invest­ing to ensure that all chil­dren reach impor­tant bench­marks, such as grade-lev­el read­ing pro­fi­cien­cy by third grade, will pay long term div­i­dends. In addi­tion to hav­ing high-qual­i­ty care and edu­ca­tion for all kids, states should ensure access to afford­able and com­pre­hen­sive health care with time­ly screen­ings that can catch dis­abil­i­ties or devel­op­men­tal delays in young children.

Devel­op com­pre­hen­sive, inte­grat­ed pro­grams and data sys­tems to address all aspects of children's devel­op­ment and sup­port their tran­si­tion to ele­men­tary school and relat­ed pro­grams for school-age chil­dren. States should use con­sis­tent mea­sures of child devel­op­ment that pro­vide broad assess­ments of well-being, includ­ing progress across key aspects of devel­op­ment. Coor­di­nat­ed edu­ca­tion­al efforts should use tran­si­tion plan­ning mod­els that help chil­dren move suc­cess­ful­ly through the birth-through‑

8

system.
The First Eight Years: Giv­ing Kids a Foun­da­tion for Life­time Suc­cess includes data on ear­ly child­hood devel­op­ment for every state, the Dis­trict of Colum­bia and the nation. Addi­tion­al infor­ma­tion is avail­able in the KIDS COUNT Data Cen­ter, which also con­tains the most recent nation­al, state and local data on hun­dreds of indi­ca­tors of child well-being. The Data Cen­ter allows users to cre­ate rank­ings, maps and graphs for use in pub­li­ca­tions and on web­sites and to view real-time infor­ma­tion on mobile devices.
This post is related to: