Learning to LEAP: Resources Share Early Lessons on Supporting Youth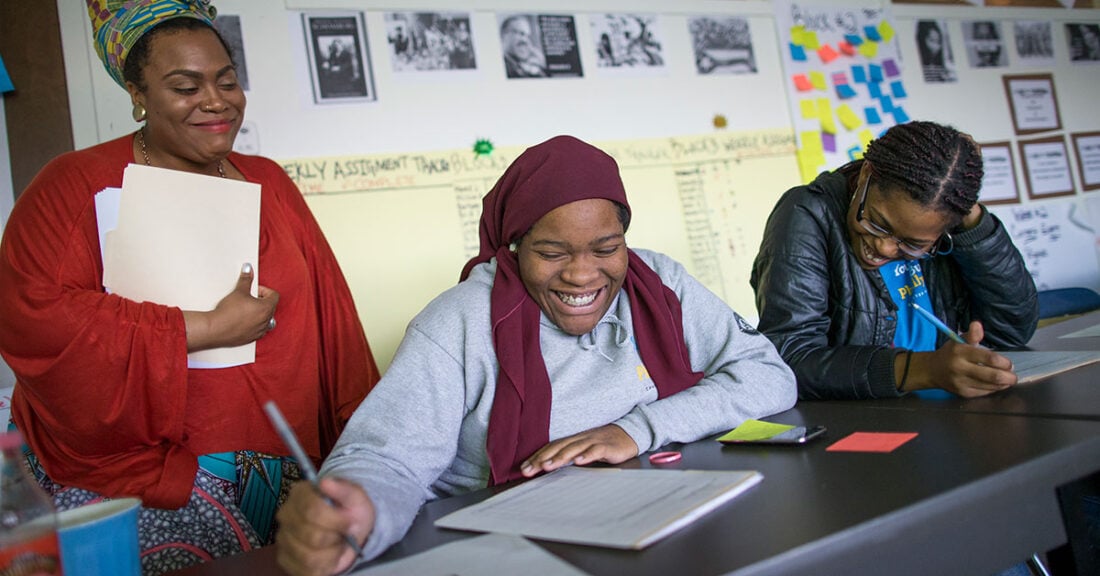 Three new resources have one shared connection: A focus on the Annie E. Casey Foundation's Learn and Earn to Achieve Potential (LEAP)™ initiative.
Now in its third year, LEAP aims to help youth who are homeless or have experience navigating the child welfare and justice systems. The initiative employs two models — Jobs for America's Graduates and JFF's Back on Track — to move these youth onto pathways that can advance their education and employment success.
Ten local partnerships drive this effort, which spans 54 cities across eight states as well as a growing network of funders and four national organizations: Jobs for America's Graduates, JFF, MDRC and School & Main Institute.
The three resources, referenced below, cover key lessons learned in LEAP's early years.
MDRC's data snapshot: engaging young people in LEAP
Since launching LEAP programming in April 2016, the 10 local partnerships have enrolled nearly 2,000 young people in job-training and postsecondary programs at 87 locations nationwide. A data snapshot from MDRC describes LEAP participants, revealing that:
more than 80% are youth of color;
56% have been involved in foster care;
38% have been involved in the justice system; and
46% have experienced homelessness.
MDRC's data snapshot also describes how sites have adapted their approaches to engage LEAP youth. These adaptions include:
providing one-on-one learning opportunities and flexible scheduling to help accommodate participants who are juggling work and parenthood;
integrating trauma-informed practices into their programming as well as a focus on youth resilience;
partnering with other youth-serving organizations to improve data-sharing and referral networks; and
offering a pause option for participants who face unexpected life challenges, enabling them to stabilize their situations before resuming the program.
These findings are part of a larger evaluation, which MDRC will release in 2019.
School & Main's brief: supporting successful transitions from the justice system
"Making Education and Career Pathways Work for Justice-Involved Youth," a brief from School & Main Institute, tells how LEAP partnerships are working to connect justice-involved youth with greater educational and employment opportunities.
It recommends:
focusing on relationships, since cultivating trust is key.
helping youth address their immediate needs, including housing, child care and mental health services, so they can better plan for their futures.
connecting young people with employment opportunities that allow them to earn an income while still participating in LEAP.
developing cross-sector partnerships — with courts, probation officers and other local officials — to provide young people with personalized, integrated support.
starting early since we know that the sooner young people enroll in programming, the less likely they are to reoffend.
JFF's report: shifting postsecondary practices
Postsecondary Systems Change, a report from JFF, examines how LEAP sites are partnering with postsecondary institutions to help young people successfully pursue education and training.
It recommends:
increasing on-campus housing options for young people in foster care, enabling them to remain in their dorms during holidays and other academic breaks when students typically vacate;
offering one-on-one coaching services to help LEAP participants complete the Free Application for Federal Student Aid, review reward requirements and navigate the appeals process if fee- or grade-related barriers arise; and
providing transportation assistance, on-campus child care and other wraparound support services.
"Learning and evaluation are key components of LEAP," says Patrice Cromwell, director of strategic initiatives at the Casey Foundation. "We're excited to share these lessons, and we hope they can help improve youth-serving systems and institutional practices so that more young people — especially those facing some of life's most difficult challenges — can reach their full potential."