Nation Is Missing Opportunities to Strengthen More Than 6 Million Futures as Young Parents Lack Resources to Ensure Families Thrive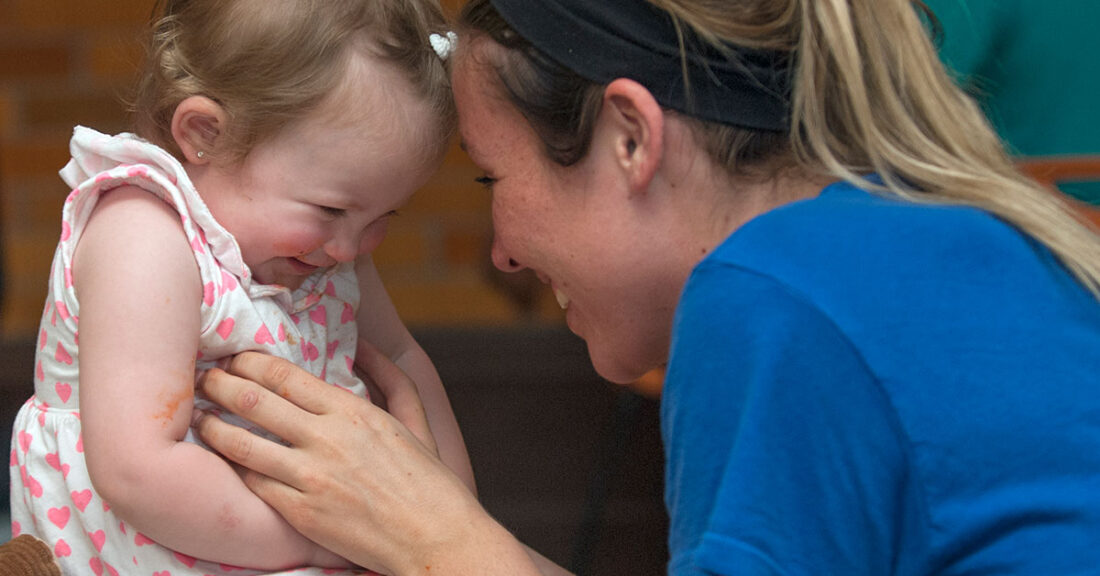 The Annie E. Casey Foun­da­tion today remind­ed pol­i­cy­mak­ers and child advo­cates of the bar­ri­ers young fam­i­lies face — and poten­tial solu­tions that can help them thrive — with the release of Open­ing Doors for Young Par­ents, the lat­est KIDS COUNT® pol­i­cy report. The 50-state report spot­lights a pop­u­la­tion of more than 6 mil­lion, includ­ing 2.9 mil­lion young adult par­ents, ages 18 to 24, and 3.4 mil­lion chil­dren nation­wide liv­ing with young par­ents. With lim­it­ed access to oppor­tu­ni­ties to advance their edu­ca­tion and find a fam­i­ly-sus­tain­ing job, young par­ents face bar­ri­ers to sup­port­ing their chil­dren and ful­fill­ing their own potential.
The Foun­da­tion empha­sized that with­out ade­quate sup­port and resources, young par­ents and their chil­dren are at risk of being left behind per­ma­nent­ly. ​"If we don't sup­port young peo­ple when they become par­ents, we are cheat­ing two gen­er­a­tions out of hav­ing a pos­i­tive future," warned Casey Foun­da­tion Pres­i­dent and CEO Patrick McCarthy. ​"We can help young adult par­ents devel­op the skills they need to raise their chil­dren, con­tribute to their com­mu­ni­ties and dri­ve our nation­al econ­o­my forward."
Rough­ly 70% of chil­dren with young adult par­ents live in fam­i­lies with incomes less than 200% of the fed­er­al pover­ty lev­el. More than half of young par­ents (55%) are peo­ple of col­or, fac­ing chal­lenges exac­er­bat­ed by dis­crim­i­na­tion and sys­temic inequities, and their chil­dren stand to suf­fer the most.
"By help­ing young adult par­ents nav­i­gate the dif­fi­cult tran­si­tions to work and high­er edu­ca­tion along­side par­ent­hood, we can change the odds for them and their chil­dren," says Rosa Maria Cas­tañe­da, senior asso­ciate at the Annie E. Casey Foun­da­tion. ​"The right set of poli­cies and ser­vices for young par­ents can help ensure they, their chil­dren, and our coun­try all suc­ceed together."
Nation­al Trends on Young Parents
The report under­scores the fol­low­ing trends as well as areas of concern:
Edu­ca­tion can make a sig­nif­i­cant dif­fer­ence in earn­ing pow­er for fam­i­lies; sin­gle moth­ers with asso­ciate degrees earn an aver­age of $

152

,

927

more over their life­times than high school grad­u­ates, and $

296

,

044

more with bachelor's degrees. Young par­ents, how­ev­er, are less like­ly to be in school than non­par­ents their age and more like­ly to be work­ing full time.
Fam­i­ly-sus­tain­ing jobs increas­ing­ly require post-sec­ondary edu­ca­tion and spe­cial­ized skills, and young par­ents who have lim­it­ed resources, edu­ca­tion and time are unable to stay com­pet­i­tive in this work­force landscape.
Inflex­i­ble pro­grams and lack of access to sup­port­ive ser­vices remain bar­ri­ers to oppor­tu­ni­ty and fam­i­ly sta­bil­i­ty for young par­ents. Just

5

% of young par­ents receive child­care sub­si­dies, even though

63

% require child care, and

41

% of young par­ents attrib­uted job­less spells to chal­lenges with child care.
Young par­ents are more sus­cep­ti­ble to psy­cho­log­i­cal dis­tress, yet many young par­ents have lim­it­ed or no access to men­tal health services.
Fathers have a crit­i­cal influ­ence on children's devel­op­ment, whether or not they live togeth­er, but they are often left out of pro­grams to sup­port young families.
State Trends on Young Parents
Okla­homa has the largest per­cent­age of young adult par­ents:

18

% of Okla­homans ages

18

to

24

are par­ents, fol­lowed by Alaba­ma, Louisiana, Mis­sis­sip­pi and New Mex­i­co (each with

16

%).
In Flori­da, Geor­gia, Ken­tucky, Louisiana, Maine, Mis­sis­sip­pi and Wis­con­sin, at least three quar­ters of the chil­dren of young adult par­ents live in fam­i­lies with incomes less than

200

% of the fed­er­al pover­ty lev­el. Ver­mont has the low­est per­cent­age (

53

%); no state is below

50

%.
Rec­om­men­da­tions to Sup­port Young Parents
For the past 10 years, the Annie E. Casey Foun­da­tion has invest­ed in build­ing strate­gies that sup­port par­ents and chil­dren togeth­er — a two-gen­er­a­tion approach to human devel­op­ment. Com­mon-sense pro­grams and poli­cies that already exist, com­bined with some fresh think­ing about addi­tion­al approach­es, can address the most com­mon obsta­cles young par­ents face.
To equip young adult par­ents for suc­cess, the Foun­da­tion offers the fol­low­ing recommendations:
Help young par­ents pur­sue edu­ca­tion and employ­ment: States should boost work­force and edu­ca­tion pro­grams with sup­port­ive ser­vices tai­lored to the bar­ri­ers young par­ents face to help them com­pete in a rapid­ly chang­ing labor mar­ket. These should aim to reduce racial and eth­nic dis­par­i­ties with a focus on dis­in­vest­ed communities.
Help young par­ents achieve finan­cial sta­bil­i­ty: Gov­ern­ments should make sure ben­e­fit pro­grams do not exclude young par­ents: Con­gress should low­er the eli­gi­bil­i­ty for the child­less worker's Earned Income Tax Cred­it (

EITC

) to

21

, and states should expand state

EITC

to all work­ers ages

18

to

25

. States should ensure young par­ents and chil­dren have health insur­ance, includ­ing screen­ing for mater­nal depression.
Help young par­ents with child devel­op­ment and healthy par­ent­ing: States should pri­or­i­tize evi­dence-based approach­es such as home vis­its; make fam­i­ly plan­ning and repro­duc­tive care acces­si­ble to reduce repeat unplanned preg­nan­cies; increase access to infant and tod­dler care that is both high-qual­i­ty and afford­able; and pri­or­i­tize care that equips young par­ents to under­stand children's devel­op­men­tal stages.
Keep fam­i­lies togeth­er and pro­mote suc­cess for young par­ents involved in sys­tems: States should lever­age new fed­er­al pro­vi­sions to extend addi­tion­al sup­port until age

26

for par­ents in fos­ter care, and they should avoid sep­a­rat­ing babies from chil­dren sole­ly because the new young par­ent is in fos­ter care. Agen­cies should con­sid­er tar­get­ed matched-sav­ings pro­grams such as Oppor­tu­ni­ty Pass­port™ to help sys­tem-involved young par­ents save for basic assets and needs.
This post is related to:
This post is part of the series: