New Guide for Child Welfare Leaders Provides Improvement Roadmap for Kids and Families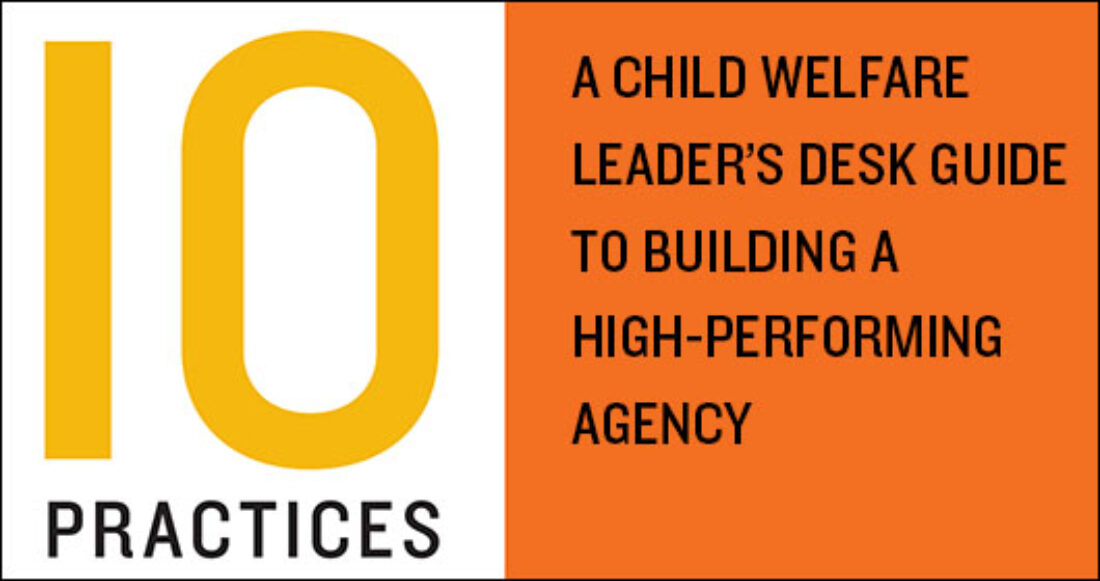 Evaluating and installing improved practices has not always been a strong suit for government agencies. That is changing as more agencies — including some responsible for child welfare — use data to determine what works and use that knowledge to improve services.
A new tool from the Annie E. Casey Foundation, "10 Practices: A Child Welfare Leader's Desk Guide To Building a High-Performing Agency," helps new and experienced child welfare leaders develop an effective agenda for agency improvement. The desk guide provides a structured, yet flexible roadmap for change that draws on research on what works to effectively help children and families.
Leaders play a critical role
"Leaders know there is a clear business case to be made for improving their agencies," says Tracey Feild, director of Casey's Child Welfare Strategy Group. "The desk guide puts all the information leaders need to know in one place, so they and their staff can compare their outcomes to other agencies across the country and install improvements proven to make a difference for children, families and communities."
The desk guide has two parts. The first briefly describes 10 best practices and outcomes for measuring where an agency stands compared to others in the field. "Busy leaders can use information to develop a snapshot of their strengths and opportunities for improvement, then take action," Feild says.
Part Two is more detailed. It includes 20 pages of links to research, materials and tools that agency staff members can use to advance policies, practices and programs. Appendices provide information on urgent topics, such as how to upgrade data collection and measure racial and other disparities in child outcomes.
"The 10 practices in this desk guide can help motivate internal and external partners to change for the better. When child welfare improvements are thoughtfully chosen, sequenced and installed, agencies do a better job of meeting the needs of children and families while ensuring quality and controlling costs," Feild says.
Quality work promotes better outcomes
Among desk guide recommendations:
Focus on outcomes.

If agencies can only make one step toward improvement, they should focus on outcomes, defined as

what happens to children and families in their care

. Agencies can do this by dedicating themselves to tracking outcomes systemwide – and tying agency success to being effective.

Get control of caseloads.

An agency will only limp along if staff members don't have the time and energy to work directly with children and families and make good decisions. "Caseworkers must have reasonable caseloads. If they don't, agencies experience high staff turnover that fuels poor decision making, spurs poor child and family outcomes, requires inordinate recruitment and increases training costs." What are reasonable caseloads? The desk guide suggests limiting investigative staff to 8-10 new cases a month and in-home caseworkers to 12-15 cases at a time.
Proven strategies
"The desk guide's proven strategies will help leaders make the case for change, improve child and family outcomes and provide a fiscally sound path toward agency advancement," Feild says. "Research is reshaping our knowledge of what works; it is imperative that public systems act on that knowledge."
This post is related to: