Nonprofit Evolves Into an Affordable Housing Landlord for Former Foster Youth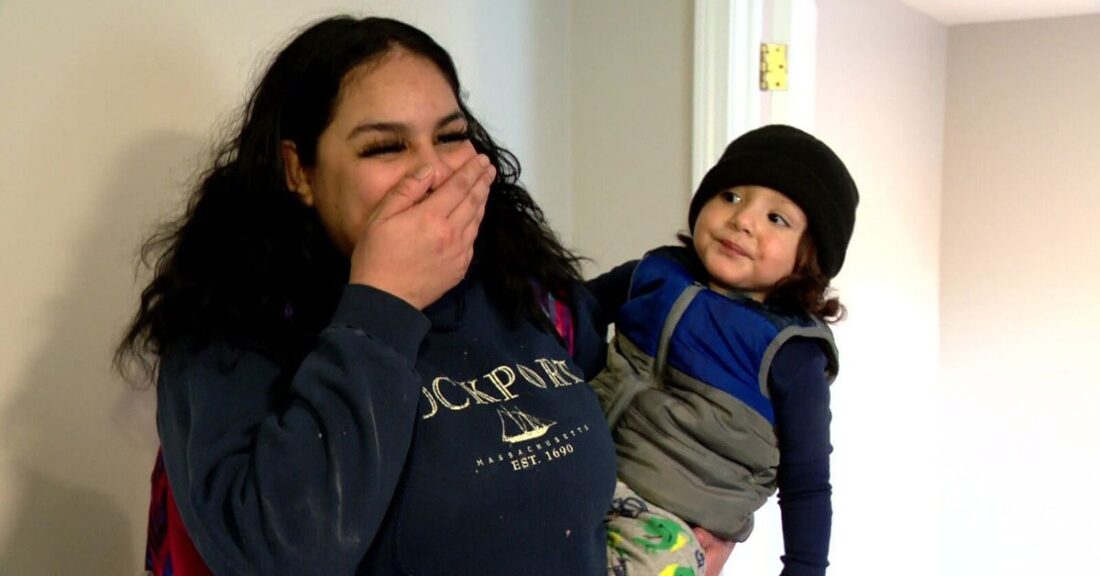 Tears of joy flowed at Fos­ter For­ward​'s Jan­u­ary 2022 rib­bon-cut­ting cer­e­mo­ny. The Rhode Island non­prof­it had spent months prepar­ing a mul­ti­fam­i­ly house that it had pur­chased, ren­o­vat­ed and fur­nished with help from donors. And, at long last, it was ready.
The emo­tion­al mile­stone is the first of many for Fos­ter For­ward, a site of the Annie E. Casey Foundation's Jim Casey Youth Oppor­tu­ni­ties Ini­tia­tive® that is ded­i­cat­ed to help­ing cur­rent and for­mer youth in fos­ter care succeed.
Sta­ble Hous­ing and More
The house's new ten­ants — three young women and their chil­dren — have gained more than a new address for the next three years. They're also get­ting a rare fresh start in a hous­ing mar­ket where afford­able rentals are scarce.
As part of the oppor­tu­ni­ty, each young person:
Pays only

30

% of their income toward rent.
Receives sub­si­dized rent sup­port­ed by fed­er­al and oth­er hous­ing vouchers.
Gets aid through the Jim Casey Initiative's Oppor­tu­ni­ty Pass­port®, a match sav­ings pro­gram that helps young peo­ple build their finan­cial capa­bil­i­ties.
Receives help with edu­ca­tion and employ­ment, two areas that — in addi­tion to hous­ing — address basic needs that sup­port their suc­cess to live independently.
"What Fos­ter For­ward is doing is crit­i­cal because they are knit­ting togeth­er a strat­e­gy that pro­motes con­nec­tion to school, work and oth­er oppor­tu­ni­ties for young peo­ple who have expe­ri­enced fos­ter care," says Cather­ine Lester, an asso­ciate direc­tor with the Casey Foun­da­tion. ​"It is excit­ing to see this hous­ing option come online as a brick-and-mor­tar resource that can help with begin­ning to pro­vide the sta­bil­i­ty young peo­ple need to begin to heal so that they real­ly are able to learn, to work, and to nur­ture the rela­tion­ships that mat­ter most to them."
A Famil­iar Challenge
The prop­er­ty is locat­ed in Paw­tuck­et, where apart­ments can rent for any­where between $990 to $1,200 a month, depend­ing on the loca­tion, size and con­di­tion of the unit. This price range is dis­heart­en­ing­ly high for hun­dreds of local youth who have exit­ed fos­ter care, are liv­ing inde­pen­dent­ly and lack the sup­port and safe­ty net of a per­ma­nent family.
Assum­ing the role of land­lord is a piv­ot for Fos­ter For­ward, which has spent years help­ing home­less youth search for clean, safe apartments.
An esti­mat­ed 200 Rhode Island young peo­ple ages 18 to 24 are home­less, says Fos­ter For­ward Exec­u­tive Direc­tor Lisa Guil­lette. About a third of these youth are par­ent­ing or are preg­nant, accord­ing to the state's 2018 Point-In-Time Count, which uti­lizes snap­shots and sur­veys of the home­less pop­u­la­tion. Youth of col­or, youth who iden­ti­fy as LGBTQ and youth who have expe­ri­enced fos­ter care are dis­pro­por­tion­ate­ly rep­re­sent­ed with­in this age group, the data indicates.
The pre­vail­ing solu­tion to date, hous­ing vouch­ers, help young peo­ple pay for shel­ter. But many fac­tors — includ­ing a reluc­tance to rent to young ten­ants and a lack of safe, clean afford­able options — pre­vent youth from using the vouch­ers to secure suit­able apartments.
A Nec­es­sary Pivot
Upon decid­ing that the prob­lem was ​"intractable" in the region served by Fos­ter For­ward, the orga­ni­za­tion began house hunt­ing, accord­ing to Guillette.
"After more than a decade as a sup­port­ive ser­vices provider for young peo­ple leav­ing fos­ter care, we were at an impasse help­ing them find safe and afford­able rental options," says Guil­lette. ​"A gen­er­ous dona­tion from a pri­vate char­i­ta­ble foun­da­tion and the advent of the fed­er­al Fos­ter Youth to Inde­pen­dence vouch­ers pro­pelled us from bystander to landlord."
But the shift to land­lord — and the task of trans­form­ing a fix­er-upper — was far from seam­less. Fos­ter For­ward encoun­tered local zon­ing restric­tions that pro­hib­it­ed it from cre­at­ing a fourth unit in the house. The prop­er­ty also lacked suf­fi­cient park­ing to sup­port anoth­er unit, and a request for a vari­ance was denied.
Today, Guil­lette remains unde­terred. ​"While hard­ly inex­pen­sive or easy to exe­cute, this high­ly tar­get­ed small test of change cre­ative­ly lever­ages and braids fund­ing in sus­tain­able ways that will ulti­mate­ly spring­board our efforts to repli­cate and scale," she says.
The scale she's envi­sion­ing is sig­nif­i­cant: Guil­lette has set a long-term goal for Fos­ter For­ward to estab­lish more than 100 homes just like its Paw­tuck­et house. Real­iz­ing this vision would help young peo­ple through­out the state access afford­able hous­ing — and get a much-need­ed jump­start on their path to success.