Prioritizing Housing Security for Young People and Families During the Pandemic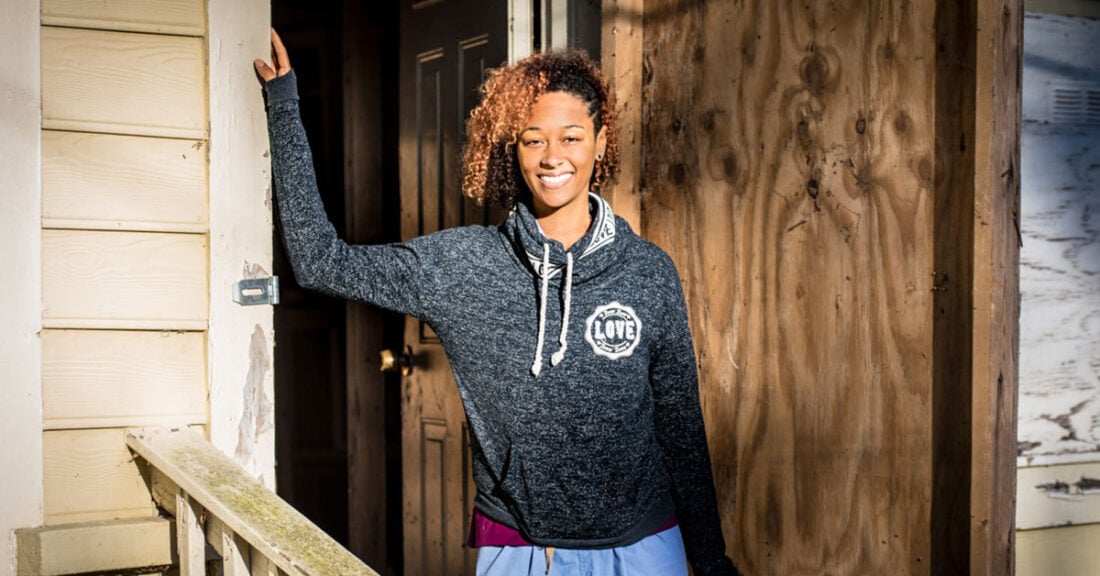 Even before the COVID-19 pan­dem­ic, mil­lions of Amer­i­cans — dis­pro­por­tion­ate­ly Black and Lati­no young peo­ple and fam­i­lies — were fac­ing hous­ing inse­cu­ri­ty, includ­ing severe cost bur­dens, evic­tions, fore­clo­sures and homelessness.
As the nation grap­ples with the out­break, which has only exac­er­bat­ed these issues and under­ly­ing inequities, the Annie E. Casey Foun­da­tion has expand­ed its hous­ing-focused investments.
Casey plans to lever­age its knowl­edge, resources and rela­tion­ships — built over decades — to sup­port nation­al and local part­ner­ships aimed at improv­ing hous­ing secu­ri­ty and sta­bil­i­ty. This work will include:
pre­serv­ing and expand­ing afford­able housing;
pro­mot­ing new sources of financ­ing for both afford­able hous­ing and edu­ca­tion­al, health and oth­er sup­ports for families
"We are adapt­ing and expand­ing our strate­gies and are part­ner­ing with oth­er stake­hold­ers — includ­ing those in the pub­lic, pri­vate and non­prof­it sec­tors, along with com­mu­ni­ties — to improve hous­ing sta­bil­i­ty for those most vul­ner­a­ble to home­less­ness and oth­er issues," says Charles Rutheis­er, a Casey senior asso­ciate who man­ages the Foundation's nation­al hous­ing portfolio.
Why hous­ing is vital to young peo­ple, fam­i­lies and communities
Hous­ing is much more than a roof over one's head. A place to call home is a basic human need — one of safe­ty, sta­bil­i­ty, sup­port and belong­ing. Sta­ble hous­ing roots chil­dren, young peo­ple and fam­i­lies in com­mu­ni­ties, enabling them to access oppor­tu­ni­ties that are nec­es­sary for them to thrive and build a bright future.
Research shows that sta­ble hous­ing leads to:
increased edu­ca­tion­al achieve­ment and improved health outcomes;
greater fam­i­ly sta­bil­i­ty, with stronger bonds between chil­dren and parents;
improved access to jobs as well as resources and ameni­ties, includ­ing pub­lic ben­e­fits pro­grams; and
stronger com­mu­ni­ties, as young peo­ple and fam­i­lies build greater ties to neigh­bors and the places they live.
By con­trast, hous­ing insta­bil­i­ty makes it dif­fi­cult for young peo­ple and oth­ers to fin­ish school or gain work expe­ri­ence that leads to a career and greater eco­nom­ic sta­bil­i­ty. It also cas­es trau­ma for youth and adults that can lead to myr­i­ad chal­lenges, includ­ing strug­gles with men­tal health and over­all well-being. Addi­tion­al­ly, hous­ing insta­bil­i­ty under­mines com­mu­ni­ties, as the peo­ple involved are unable to build strong ties to the places they live.
Hous­ing chal­lenges and characteristics
Each year in the Unit­ed States, mil­lions of young peo­ple and fam­i­lies face hous­ing inse­cu­ri­ty, includ­ing home­less — and the COVID-19 pan­dem­ic has only exac­er­bat­ed this cri­sis. Among young adults, some groups run a greater risk of expe­ri­ence hous­ing insta­bil­i­ty, such as: youth of col­or; peo­ple with­out a high school diplo­ma, peo­ple from low-income back­grounds; and les­bian, gay, bisex­u­al, trans­gen­der or ques­tion­ing youth. In addi­tion, about 1.1 mil­lion kids of young par­ents expe­ri­enced home­less­ness in 2017.
The caus­es of hous­ing instability
Fac­tors that have fueled hous­ing insta­bil­i­ty in recent years include:
Ris­ing hous­ing costs. The fore­clo­sure cri­sis and Great Reces­sion of the late

2000

s pushed mil­lions of peo­ple — espe­cial­ly peo­ple of col­or — out of home­own­er­ship. In response, many for­mer home­own­ers turned to rent­ing, which has dri­ven up rental costs over the last sev­er­al years. At the same time, mid­dle- and upper-income earn­ers have con­tin­ued to gen­tri­fy for­mer­ly low-income com­mu­ni­ties of col­or — espe­cial­ly on the West and East Coasts — and hous­ing costs in these areas have risen as a result.
The absence of afford­able options. Local, state and fed­er­al gov­ern­ments have tak­en too few steps to pre­serve or cre­ate afford­able hous­ing. Con­se­quent­ly, res­i­dents who earn low wages are often stuck with hous­ing options that are unde­sir­able in terms of their loca­tion, qual­i­ty or both.
Insuf­fi­cient pro­tec­tions against evic­tions and fore­clo­sures. Renters and home­own­ers often lack the means of pro­tect­ing them­selves from dis­place­ment due to evic­tions and fore­clo­sures. This issue is most intense in the South, where mid-sized cities with pop­u­la­tions that are at least

30

% Black tend to see high­er rates of evic­tions — espe­cial­ly among moth­ers, domes­tic vio­lence vic­tims and women of col­or who earn low­er wages.
The eco­nom­ic effects of the pan­dem­ic. The COVID-

19

pan­dem­ic has put mil­lions of house­holds at risk of evic­tion or fore­clo­sure, espe­cial­ly as fed­er­al relief pro­grams end and stays on evic­tions spurred by the pan­dem­ic expire. This risk has wide-rang­ing impli­ca­tions and could even impact vot­er turnout for the Novem­ber pres­i­den­tial elec­tion, since relo­cat­ing res­i­dents may need to scram­ble to re-reg­is­ter and find polling locations.
"The nation must grap­ple with its hous­ing cri­sis, espe­cial­ly with so many mil­lions of Amer­i­cans fac­ing height­ened risks," says Amoret­ta Mor­ris, direc­tor of Nation­al Com­mu­ni­ty Strate­gies for the Casey Foun­da­tion. ​"We hope that more gov­ern­ments, fun­ders and com­mu­ni­ty orga­ni­za­tions join the push to address hous­ing insta­bil­i­ty, par­tic­u­lar­ly for young peo­ple and their fam­i­lies in great­est distress."
Learn about a tool kit with strate­gies for pre­serv­ing afford­able housing
This post is related to: