Progress at Pittsburgh Yards in Atlanta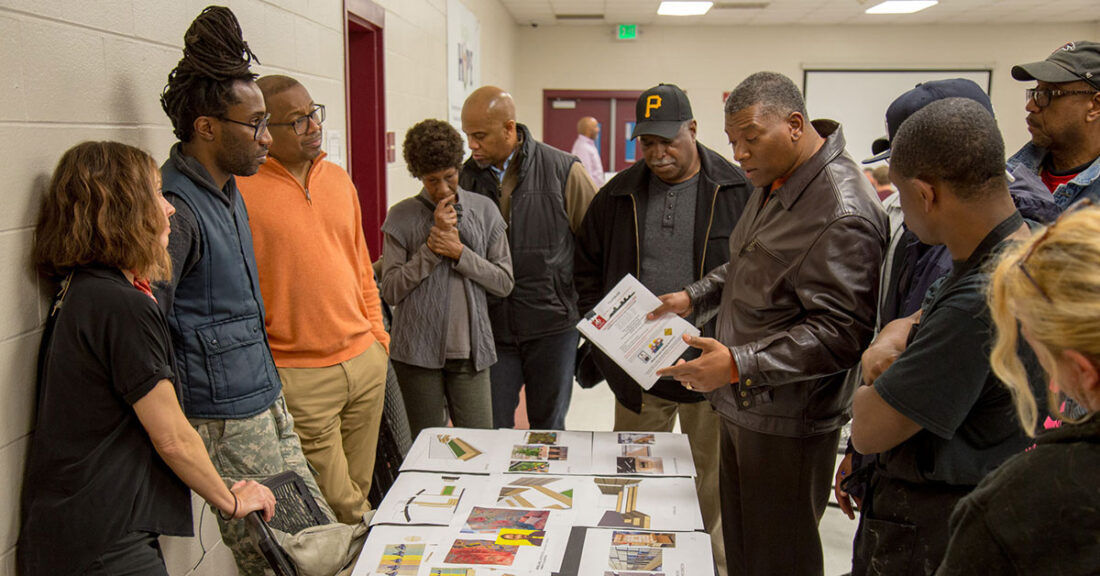 With more than 85% of phase-one construction complete, Atlanta's Pittsburgh Yards™ is on track for an early 2020 opening. Within the next decade, the project developer plans to transform the 31-acre site into a commercial, recreational and community anchor that offers living-wage employment, long-term career and entrepreneurship opportunities for residents in and around the city's Neighborhood Planning Unit V (NPU-V). The Casey Foundation is supporting the project.
Here's a quick look at the progress made since the groundbreaking in 2018.
The Nia Building at Pittsburgh Yards
The first phase of redevelopment at Pittsburgh Yards has focused on a structure that stood for decades on the property's eastern side. Once a bare steel frame, the 61,000-square-foot building has been fitted with 101 leasable coworking spaces, a shared-use construction workshop and kitchen, conference spaces, an amphitheater and five apartment units. Upon opening, the building will serve as a hub for small businesses and makers, a gathering space for neighborhood functions and the eventual home of the Foundation's Atlanta Civic Site office.
Its name, the Nia Building™, reflects a Swahili term meaning "purpose." It was chosen, along with names for the various building spaces and surrounding streets, by residents as part of a community-led design and voting process.
NPU-V Residents Continue to Lead
Residents have taken the lead in shaping many other design and architectural elements at Pittsburgh Yards, including the site's visual identity. In 2018, community volunteers worked with local design firm HUMINT to develop a collection of color palettes, taglines and logos. Several options were put to a broader neighborhood vote, and the winning selections were unveiled at one of the monthly community engagement meetings.
In addition, working group members developed a set of criteria for use of the public greenspace and participated in processes to identify a property management firm and local artists and craftspeople to execute multiple public projects in the Nia Building.
Most recently, PY Community Inc. — an organization founded and led by residents — launched an initiative that allows community members to purchase engraved bricks that will be integrated within Pittsburgh Yards. The proceeds will be used to purchase additional onsite fixtures, including an outdoor clock and benches, which community members hope will serve as a reminder of the site's railroad history.
Jobs and Business Development Remain Priorities
A diverse network of workforce partners is being tapped to ensure that residents secure construction-related and permanent jobs at Pittsburgh Yards and that businesses owned by women and people of color are sought for subcontracting opportunities. As of July 2019, more than 60% of construction contracts for phase one have gone to firms owned by people of color.
Other efforts to support local entrepreneurs are also underway. The Accelerate Southside program, for example, will provide access to affordable real estate and technical assistance to Southside residents who wish to locate their businesses in Pittsburgh Yards and surrounding areas.
"We're excited about what's on the horizon at Pittsburgh Yards," says Kweku Forstall, director of Casey's Atlanta Civic Site. "And we couldn't be more grateful for the time, energy, input and dedication that the developer and stakeholders — especially residents — have put into bringing this vision to life."
This post is related to: