Providing Food and Jobs for Atlanta Residents During the Pandemic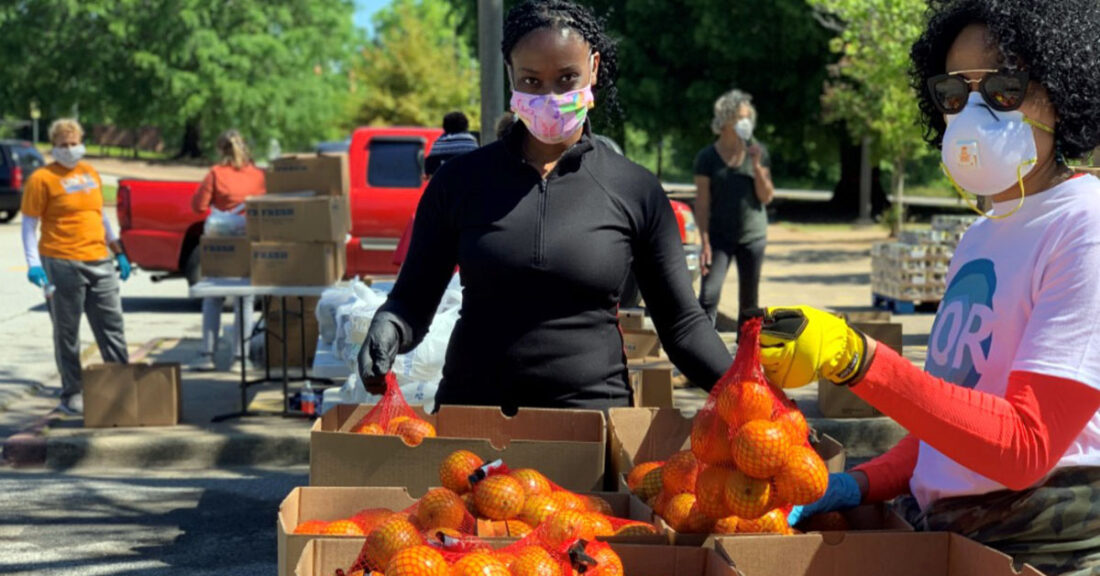 Over the past several months, thousands of Atlantans have found themselves struggling to afford groceries after the COVID-19 pandemic put them out of work. At the same time, many churches, food pantries and relief organizations have faced difficulties keeping up with requests for food and have seen a dip in volunteers — as many people have stayed home to avoid potential exposure to the novel coronavirus.
The Atlanta-based humanitarian organization, CARE, has worked to help address each of these issues. Since April, the nonprofit has partnered with community organizations, the Atlanta school system and tech companies such as TaskRabbit to provide groceries to those in need and connect Atlanta-area residents to jobs supporting food-relief efforts. Those jobs have included tasks like picking up groceries from supermarkets for food pantries; packing and sorting items; and delivering food packages to residents' homes.
So far, CARE and its partners have purchased and provided roughly 450,000 meals to Atlanta-area residents who were impacted by the coronavirus outbreak, and some $250,000 in income has been generated for local people assisting the relief efforts.
CARE has launched similar efforts in Akron, Ohio; Houston, Texas; Louisville, Kentucky; central California and the Bay Area. In those areas, thousands of meals have also been provided and tens of thousands of dollars in income for residents has been generated, too.
"We understand that this effort is only part of what's necessary to address the income loss and hunger needs that have been created by the pandemic," says Ryan Shepard, executive director of CARE's Global Innovation Hub, which runs the food and jobs program. "Still, we're glad to see this initiative has helped residents access groceries that they desperately need and has helped people gain much-needed income."
Providing jobs
Initially, CARE's food program in Atlanta — which is supported by the Annie E. Casey Foundation and various other funders — mostly connected residents to jobs through gig-work apps like TaskRabbit. Through these apps, community partner organizations providing food assistance in partnership with CARE could find local people who needed work and could help with operations.
As more community organizations and funders got involved, partners started hiring local people directly to work several hours a week making deliveries and assisting in other ways. "Community organizations have prioritized hiring local people who know the neighborhoods well and can help identify specific needs," says Marcus Sabbs, a consultant in Atlanta who is helping run the food program with CARE. "These workers know the people who live in these communities and understand who needs the most help."
These nonprofits have also introduced practices to ensure that other needs are being met. For instance, residents hired by local nonprofit CHRIS 180 — which is helping to distribute food in partnership with CARE — have performed wellness checks when they make grocery deliveries to homes. During the checks, residents are asked about their health and other needs and are referred to services. "We're able to learn more about people's situations and what they need beyond just food," Sabbs says.
Assisting immigrant and refugee communities
With Casey support, CARE also recently partnered with the Atlanta-based Latino Community Fund in its efforts to provide food and other groceries to families in immigrant and refugee communities — particularly those with household members who have limited English skills, are undocumented or work in jobs deemed essential during the pandemic.
"The families we serve through a network of partners and community members are often overlooked by large nonprofits and established food distribution systems that don't have connections to these communities," says Gilda Pedraza, executive director of the Latino Community Fund. "We think it's vital that organizations understand these communities' needs and have the language skills to serve them during this difficult time."
Since March, the Latino Community Fund and its partners have served over 12,000 families with grocery boxes that include culturally appropriate items — such as rice, beans and tortillas — for the primarily Hispanic families it serves.
"We're glad to partner with CARE and its network of providers to deliver food to communities and ensure that residents have opportunities to stay connected to the workforce," says Erika Smith, a senior associate with the Casey Foundation. "These efforts have helped those in need while also providing residents with ways to serve their communities during this difficult time."
Learn about ways to help low-income workers during uncertain times
This post is related to: